Roaring Guardians: The Mari-Cha Lion with Asian Traditional and Contemporary Art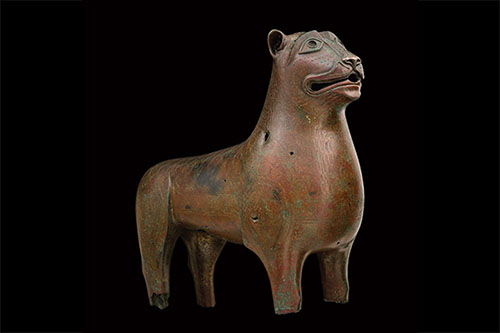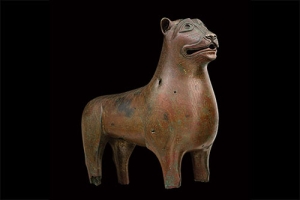 Mari-Cha Lion Southern Italy (?) Mid-11th – mid-12th century Bronze H. 73 x W. 82 x D. 35 cm Photography by Scott Brooks, courtesy of the Mari-Cha Collection
Mari-Cha Lion Southern Italy (?) Mid-11th – mid-12th century Bronze H. 73 x W. 82 x D. 35 cm Photography by Scott Brooks, courtesy of the Mari-Cha Collection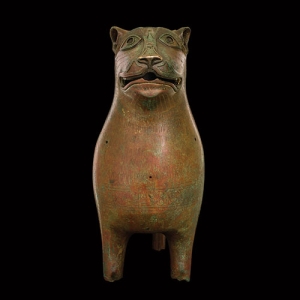 Mari-Cha Lion Southern Italy (?) Mid-11th – mid-12th century Bronze H. 73 x W. 82 x D. 35 cm Photography by Scott Brooks, courtesy of the Mari-Cha Collection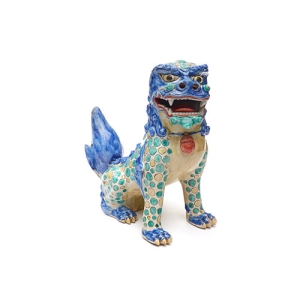 Two Lion-Dogs Edo period, late 17th century. Japan, Saga Prefecture. Porcelain painted with overglaze enamels (Arita ware, Kakiemon style). Each, H. 29.5 x L. 27.3 x W. 14.6 cm Asia Society, New York: Mr. and Mrs. John D. Rockefeller 3rd Collection, 1979.238.1-2. Photography by Synthescape, courtesy of Asia Society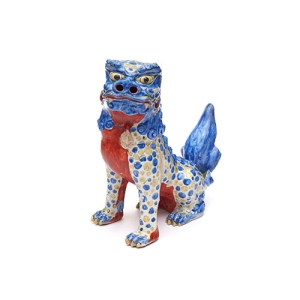 Two Lion-Dogs Edo period, late 17th century. Japan, Saga Prefecture. Porcelain painted with overglaze enamels (Arita ware, Kakiemon style). Each, H. 29.5 x L. 27.3 x W. 14.6 cm Asia Society, New York: Mr. and Mrs. John D. Rockefeller 3rd Collection, 1979.238.1-2. Photography by Synthescape, courtesy of Asia Society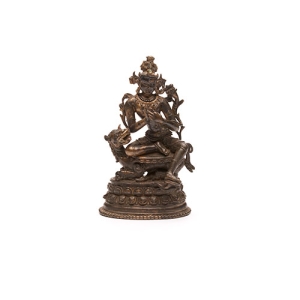 Bodhisattva Manjushri Seated on a Lion. Pala period (8th–12th century), mid-11th century. India, Bihar or Bengal. Gilt copper alloy with inlays of silver and copper. H. 14 x W. 8.89 x D. 5.08 cm Asia Society, New York: Mr. and Mrs. John D. Rockefeller 3rd Collection, 1979.35. Photography by Synthescape, courtesy of Asia Society
Lions have been a symbol of courage, majesty and protection across centuries and regions. This exhibition explores the religious, imperial and vernacular significance of the lion symbol by presenting the remarkable Mari-Cha Lion, a rare mid-11th to mid-12th century South Italian bronze sculpture bearing Arabic decorations, on public view in Hong Kong for the first time, alongside a selection of Asian objects from the Mr. and Mrs. John D. Rockefeller 3rd Collection, local museums and other private collections. Contemporary artworks by seven Asian artists— Khadim Ali, Sher Ali, Ho Tzu Nyen, Ranbir Kaleka, Kwan Sheung Chi, Vũ Dân Tân and Samson Young — will also be displayed to illustrate how the lion iconography is reinvented today. This exhibition highlights the malleability and endurance of the lion as a powerful cultural symbol.

This exhibition is led by in-house curator Dominique Chan and Assistant Curator Joyce Hei-ting Wong from Asia Society Hong Kong Center, with guest curator for the Mari-Cha Lion, Richard Camber, an independent scholar on medieval art.
---
Promotional Videos:
Sponsor:

About the Exhibition
Exhibition Period: January 20, 2016 - February 19, 2017
Exhibition Venue:
Chantal Miller Gallery
Asia Society Hong Kong Center
The Hong Kong Jockey Club Former Explosives Magazine
9 Justice Drive, Admiralty, Hong Kong
Opening Hours:
Tuesday - Sunday: 11am - 6pm
Last Thursday of each month: 11am - 8pm
Closed on Mondays 
Last Admission: 30 minutes before closing
Admission: Free
Gallery Guided Tours
Saturday | 2:30pm (In English) | 3:30pm (In Cantonese)
Sunday | 2:30pm (In English) | 3:30pm (In Cantonese)  
Gallery tours are open to the public. No registration is required.