White House Visit for Myanmar's Thein Sein Historic, and Earned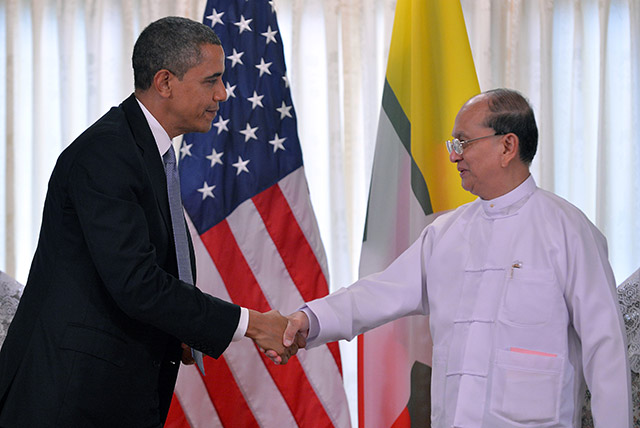 U.S. President Barack Obama shakes hands with Myanmar's President Thein Sein (R) after a meeting at the regional parliament building in Yangon on November 19, 2012. (Jewel Samad/AFP/Getty Images)
This post was co-authored by Asia Society Senior Advisor Priscilla Clapp, a retired minister-counselor in the U.S. Foreign Service and former Chief of Mission at the U.S. Embassy in Burma.
After more than half a century of brutal, debilitating military rule, Myanmar is in the process of a calculated top-down course reversal, which has unleashed a bottom-up awakening of political, economic, and civil society activity. Former general Thein Sein, the unlikeliest of reformers, stands at the helm of this stunning transition.
In a show of just how far Myanmar has come, President Thein Sein is in Washington to meet President Barack Obama at the White House on Monday. The last time such a visit occurred was nearly 50 years ago during the Lyndon Johnson administration. The trip follows Obama's visit to Myanmar — the first by a sitting U.S. president — last November.
As he approaches the half-way point of his five-year term, Thein Sein has already set in motion an impressive array of reforms.
Just months into his presidency, he met with Aung San Suu Kyi to begin a process of reconciliation with the political opposition that brought the National League for Democracy (NLD) into the parliament through by-elections in April 2012. He began a peace process with minority nationality groups to address their long-standing differences with the central government. The government gradually released hundreds of political prisoners and established a commission to review the remaining cases. After press censorship had been eased, independent daily newspapers were permitted to launch in April 2013.
Throughout this process, the space for civil society has opened up and nongovernmental organizations have been encouraged to form and participate in political life and economic and social development.
On the economic side, Thein Sein's reforms have succeeded in unifying the country's multiple currency exchange rates and taking the first steps to develop a modern banking system. This has injected transparency into foreign exchange earnings, whose manipulation under the previous system had allowed the state to divert and expropriate foreign earnings. Both inflation and government spending have been brought under control and banking restrictions have been gradually eased. A microfinance law was finally completed and in late 2012, a new foreign investment law was passed, substantially easing previous restrictions and barriers to foreign investment. The telecommunications sector was opened to foreign investment, with the promise of bringing the price of cell phones within reach of the broader population.
Although still not at an adequate level, spending on health and education has quadrupled and military spending has been reduced.
Thein Sein is focusing the third year of his term on administrative reform, removing bureaucratic impediments and corruption in government and the business environment in order to ensure that reforms translate into tangible benefits for the broader population.
To this end, he established the Public Services Performance Appraisal Task Force to review the operations of all government ministries dealing with the public, cut red tape, streamline decision making, restructure organization where necessary, and change organizational culture to improve the delivery of public services. He also created an Anti-Corruption Committee and signed onto the Extractive Industries Transparency Initiative (EITI) and the U.S. Open Government Partnership, setting up a working group in the president's office to make the necessary preparations to meet these standards.
In response to these efforts, President Obama has extended "the hand of friendship" to Myanmar and opened the door for the United States to become an active source of support and encouragement in meeting the enormous challenges that lie ahead.
Monday's landmark meeting comes at a critical point for Thein Sein and the people of Myanmar. From now until the next general elections in 2015, Myanmar's reform leaders will face a range of consequential decision points that will test their capacity and resolve.
Among the most urgent priorities are developing effective policies for minority equality, instilling social and religious tolerance across Myanmar's diverse society, creating jobs for the vast majority of the population who live in poverty (per capita gross domestic product amounts to $2.25 per day), continuing to transform the military's political and economic roles, rooting out entrenched corruption, and firmly establishing the rule of law.
Transitions are never smooth and it is likely that things on the ground in Myanmar will get messier before they get better, especially as we start to see winners and losers in the process. Economic development will be uneven, investment will not be broad based, disputes over land rights will not be easily resolved, people will be displaced, and ethnic and sectarian conflict will continue until acceptable solutions for all involved can be reached.
There are many difficult choices ahead for Myanmar's reform leaders and the next couple of years will determine in large part whether the transition underway succeeds. Given what is at stake, the United States can and should be a reliable partner to Myanmar as the country works to ensure current positive trends to 2015 and beyond.