Video: Artist Sarah Sze Crosses the 'Line' at Asia Society Museum
Step into Asia Society Museum's latest exhibition — Sarah Sze: Infinite Line — and you might find more than a few items you have lying around your house: toothpicks, pills, bottle caps, fans, glasses, key chains. The Wall Street Journal recently wrote about Sze's "dizzying room-size installations using household bric-a-brac and a mad scientist's obsessive flair."
In the above video, the acclaimed American artist gives a guided tour of her Asia Society installation, giving viewers a rare glimpse into her process. This is the first exhibition to focus on the relationship between her drawing and sculptural work. As the title might suggest, it explores the notion of line, literally and figuratively, in a variety of media, from drawings to sculpture to installation.
Also, for the first time in nearly a decade, Asia Society's large second floor wall of windows facing Park Avenue will be uncovered to reveal one of Sze's installations that lives outdoors. 
In an interview with Asia Society Museum Director Melissa Chiu, Sze said, "The viewer's perspective and how information is revealed to the viewers as they move through time and space are for me actually what the experience of the work is always about."
Read the complete interview and visit the exhibition site to learn more. Sarah Sze: Infinite Line will be on view through March 25, 2012 at Asia Society Museum in New York City.
View some photos of Sze's Asia Society exhibition below. (All photos by Shreeya Sinha.)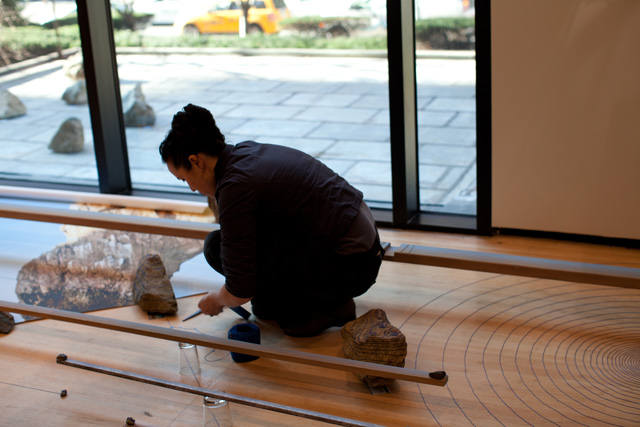 Artist Sarah Sze works on her installation at Asia Society Museum in New York, where for the first time in nearly a decade the second-floor Park Avenue-facing window has been uncovered.