#TBT: In 1986, Philippine President Corazon Aquino Quips About Women in Politics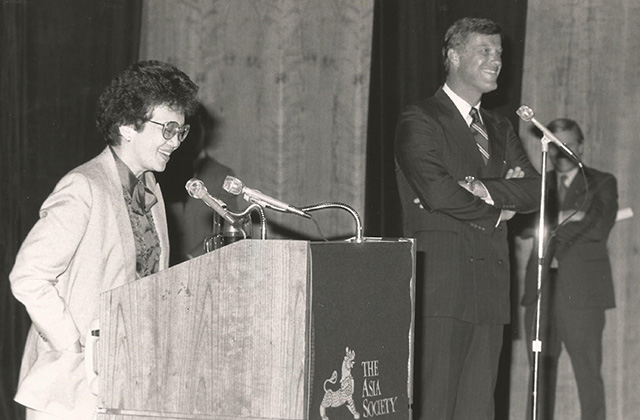 Philippine President Corazon Aquino speaks at Asia Society in 1986. (Robert Glick/Asia Society)
In 1985, after 20 years of holding near absolute power, Philippine President Ferdinand Marcos called for snap elections a year before his term was set to end in hopes it would ease foreign pressure and dispel doubts about his legitimacy. A serious opponent emerged in Corazon Aquino, whose husband — a longtime political opponent of Marcos — had been shot to death at an airport two years earlier in an assassination involving high-level military personnel. Though Marcos' involvement was never definitively proven, widespread public suspicion helped galvanize opposition to his rule.
In the lead up to the 1986 snap election, Marcos went on the offensive against Corazon Aquino, accusing her of being supported by communists and even saying she was "just a woman" that belonged in the bedroom. Marcos was ultimately declared the winner of the election, but reports of fraud, intimidation, and violence rendered it illegitimate in the eyes of much of the Philippine public. This sparked the four-day People Power Revolution, which forced Marcos into exile and allowed Aquino to become the Philippines' first female president.
In the above photo from September 1986, Aquino speaks at an Asia Society event alongside Asia Society President Robert B. Oxnam. In response to a question about the role of women in the revolution and in Philippine politics, Aquino quipped, "My favorite song is 'Anything You Can Do, I Can Do Better.'"
Each week for "Throwback Thursday" (#TBT), we'll reach into our archives to find a photo from the organization's nearly 60-year history. Some photos will feature important moments, some will feature important people, and others still will just be photos we love. Do you have an Asia Society photo you'd like us to consider including in this series? Please email the photo and any related details to photos@theasiablog.org (we regret that we won't be able to respond directly to each inquiry).