#TBT: In 1964, Nepali Dancer Strikes a Pose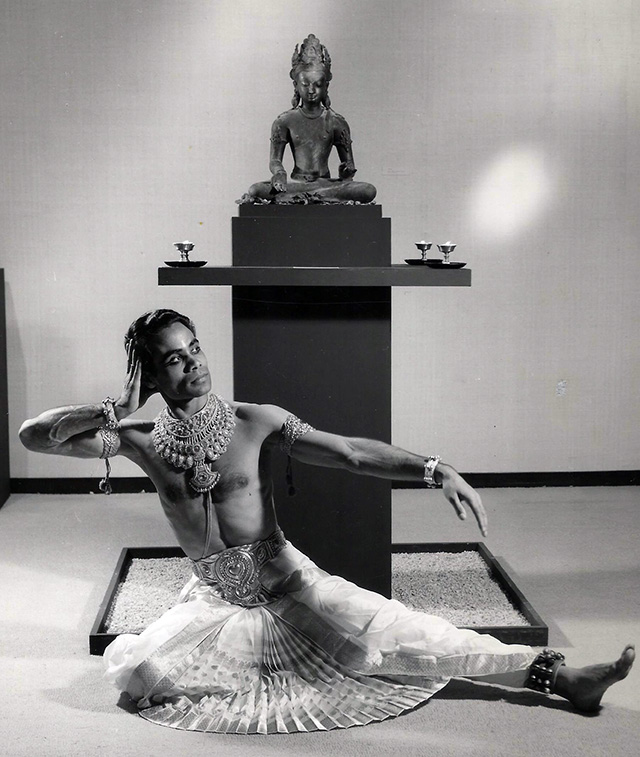 Nepali Dancer Bali Ram poses in front of a 14th-century sculpture of Avalokiteshvara, on loan from The Golden Monastery in Patan, Nepal, at Asia Society's "The Art of Nepal." (Asia Society)
When Bali Ram was a child in the Kathmandu Valley of Nepal, he showed an unusual sense of rhythm. Recognizing this potential, he went on to study dance at a prestigious academy in New Delhi, India and perfected intensely intricate moves that each carried special meaning. Upon graduation, he worked with Mother Teresa to help the poor and performed for visiting dignitaries in order to help raise funds for her mission. The exposure he gained through this experience thrust him onto the international stage and allowed him to travel the world, partnering early on with famous dancer and the first Miss India, Indrani Rahman (who regulary performed at Asia Society in the 1960s). Ram eventually moved to the United States to further study modern dance, where he rubbed elbows with the likes of John F. Kennedy, Marilyn Monroe, Bob Dylan, and Pablo Picasso. 
While living in New York City, Ram was visited in his apartment one day by John D. Rockefeller 3rd, who invited him to check out the relatively new organization he had founded: Asia Society. Ram ended up giving regular performances at the institution and often even gave classes in Indian cuisine afterwards. In the summer of 1964, Asia Society held an exhibition titled The Art of Nepal, which displayed Buddhist artifacts dating back more than six centuries. In conjunction with the exhibit, Ram performed classical Indian and Nepali Dance. In the above and below photos, he poses with items on display in the exhibition.
Each week for "Throwback Thursday" (#TBT), we'll reach into our archives to find a photo from the organization's nearly 60-year history. Some photos will feature important moments, some will feature important people, and others still will just be photos we love. Do you have an Asia Society photo you'd like us to consider including in this series? Please email the photo and any related details to photos@theasiablog.org (we regret that we won't be able to respond directly to each inquiry).
 

Nepali Dancer Bali Ram poses in front of a 15th-century sculpture of the Bodhisattva of Wisdom (Manjushri), on loan from the Cleveland Museum of Art at Asia Society's "The Art of Nepal." (Asia Society)