#TBT: In 1991, Korean Dancers Have Moment of Zen...With a Paintbrush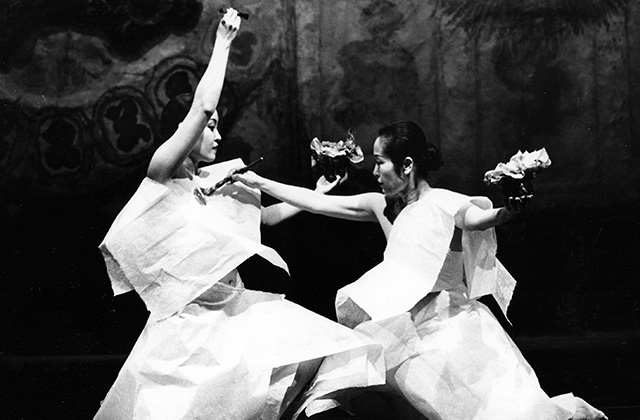 Eunjin Hwang (L) and Sun Ock Lee performing "Zen Dance — Lotus" at Asia Society's "Korean Zen" performance in 1991. (Asia Society)
In September 1991, as part of Korea Week in New York City, Asia Society held a two-day event titled "Korean Zen" featuring Korean dancer and choreographer Sun Ock Lee. A practicioner of Zen Buddhism, Lee incorporated elements of serenity and surprise through rapid — but fluid — movements requiring intense focus. "The Buddhist search for enlightenment remains, one senses, a private matter for Ms. Lee," read a New York Times review of the performance. "But by also seeking this state through her artistry, she shares the search with others. A viewer might well be bored by the unhurried pace onstage, but more likely, stands to be drawn in by the magnetic force of the dancers' concentration."
In the above photo, Lee paints calligraphy on the rice paper tunic of fellow dancer Eunjin Hwang during a segment called "Zen Dance — Lotus."
Each week for "Throwback Thursday" (#TBT), we'll reach into our archives to find a photo from the organization's nearly 60-year history. Some photos will feature important moments, some will feature important people, and others still will just be photos we love. Do you have an Asia Society photo you'd like us to consider including in this series? Please email the photo and any related details to photos@theasiablog.org (we regret that we won't be able to respond directly to each inquiry).