For Pakistan's Elite, Facebook Turns Into a Political Battleground Ahead of Election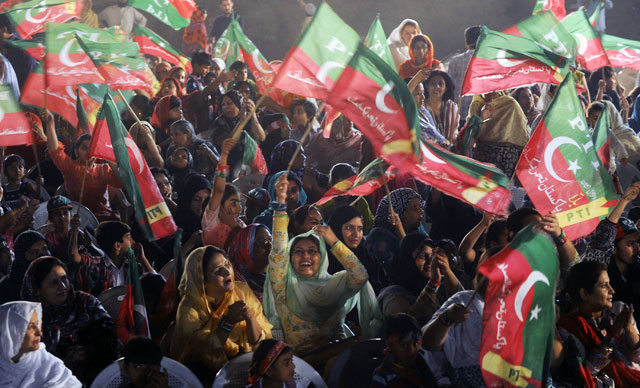 Supporters of Pakistan Tehreek-e-Insaaf (PTI) or the "Movement for Justice" party wave party flags at the election campaign in Lahore on May 5, 2013. A roadside bomb exploded at an election rally in southwest Pakistan the same day, killing two people, officials said as violence continued ahead of historic polls on May 11. (Arif Ali/AFP/Getty Images)
If Facebook had a vote button, Pakistan's liberal elite would be able to cast their votes in the upcoming elections without an existential threat to their lives. In a dramatic escalation of pre-election violence, religious extremists are deploying improvised explosive devices (IEDs) to choke "secular" and "liberal" mass politics at the street level, raising the possibility of a bloody election day.
Amid this climate of physical insecurity, Facebook is turning into an unlikely virtual platform that allows Pakistan's elite to remain actively engaged in political campaigning. While the platform might be virtual, the emotions on Facebook are very real.
"The political debate on Facebook is very emotionally charged," says Shehzad Ghiaz, a standup comedian based in Karachi. Recently, Ghiaz was at the receiving end of sharp criticism on Facebook after he posted a meme comparing Pakistani politicians to characters from the American television series Games of Thrones.
"Talks about God, worships demons" read the meme, while describing the leader of one of the most influential right-wing religious political parties in Pakistan. "Is cool with rape/live sacrifices. Would kill his own brother for the throne."
Shortly after Ghiaz posted the meme on his fan page, it went viral, with over 300,000 views, 1500 likes and 3000 shares.
Almost immediately, an army of virtual supporters came to the rescue of their beloved political leader: this meme "must be from a secular and western apologist," commented one young man. Another supporter asked people to report this post to Facebook for being "offensive." This is despite the fact that Ghiaz clearly stated in his status that the meme was meant to "exaggerate what is happening to make it funny, (its) not meant to be offensive to anyone!"
"I'm not surprised by the reaction," says Ghiaz, who has witnessed many political battles on Facebook, including a few in which people label their opponent a "Jewish agent" when they have serious disagreements with each other's political or religious worldview. "These differences in opinion have always existed in our society," argues Ghiaz, "but Facebook gave the Pakistani people a chance to express their opinions without getting shot at in return."
"Facebook certainly allows you to use language that wouldn't be acceptable in a face-to-face conversation," argues Norbert Almeida, a security expert and one of Pakistan's most prolific Twitter personalities. "But that doesn't necessarily translate into a different political landscape in the real world. Take the case of Musharraf, who was a king on Facebook but couldn't muster significant public support on the ground in Pakistan when he returned from exile," says Almeida, while referring to the former President's underwhelming reception from the Pakistani public, despite the fact that he boasts about his Facebook fan base being one of the largest for any political leader in the country.
Understanding the "real world" impact of social media on Pakistan's elections is analogous to debating the role social media played in triggering the Arab Spring. Out of a population of more than 180 million people, there are only 8 million Facebook users and 3 million Twitter users in Pakistan. Twitter is only beginning to find its voice in the political landscape, while Facebook has captured the attention of a majority of Pakistan's Westernized elite.
"We've seen a dramatic uptick in engagement on Facebook," says Dr. Awab Alvi, who leads the social media team for Pakistan Tehreek-e-Insaf, the political party which pioneered the use of social media to engage voters in Pakistan. "All the other political parties are waking up to the reality of social media now, but we should get the credit for waking up the youth on social media, particularly the elite crowd."
With elections only days away, Pakistan's political parties are scrambling to attract elite voters onto their Facebook fan pages with elaborate social media strategies, even as they remain unsure of the elite's actual participation in the elections due to the volatile security situation. Come Election Day, voter turnout in elite Pakistani districts will finally determine whether all this political brouhaha on Facebook is a storm in a teacup or an inflection point with the potential to change Pakistan's political landscape forever.