The Obama-Modi Summit: Experts Outline Predictions and To-Do Lists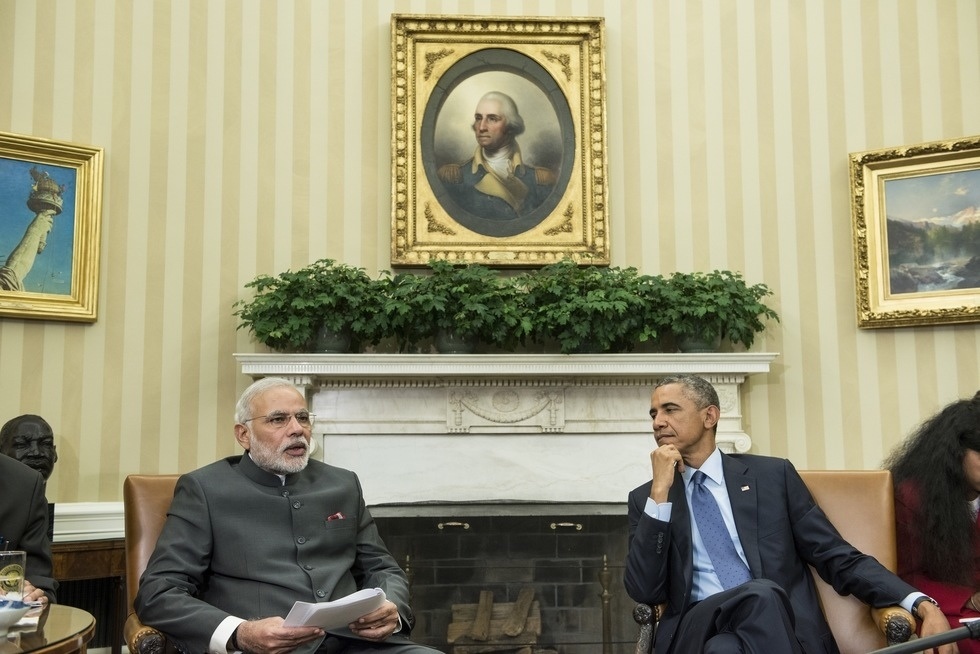 Indian Prime Minister Narendra Modi (L) makes a statement to the press as U.S. President Barack Obama listens after a meeting in the Oval Office of the White House on September 30, 2014. (Brendan Smialowski/Getty Images)
This weekend, President Barack Obama will visit India to meet with Prime Minister Narendra Modi. With a host of issues in play between the two countries and across South Asia, what should the two leaders work on? And how might the visit affect the India-U.S. relationship? Anubhav Gupta, Senior Program Officer with the Asia Society Policy Institute, asked nine India analysts for their takes on these questions and shared ideas of his own. Their responses had much in common but also traced a wide range of outcomes from the summit.
Several analysts argued that India and the United States have to generate specific policy agreements in order to show that their relationship has become stronger. Alyssa Ayres of the Council on Foreign Relations wrote that Obama and Modi have "cleared the hurdle of a difficult period in bilateral ties and should now draw both countries closer." Likewise, C. Raja Mohan of the Observer Research Foundation wrote that the second Obama-Modi meeting in four months "is expected to help advance [U.S.-India ties] in a decisive manner." For Marshall Bouton, Senior Fellow for India at the Asia Society Policy Institute, "the challenge for the two leaders now is to match the symbolism with substance and the possibility with action."
Obama and Modi have plenty of unfinished business to tackle, some analysts said. Milan Vaishnav of the Carnegie Endowment for International Peace wrote that the two leaders "must turn their attention to consummating past promises rather than making new ones." Pramit Pal Chaudhuri, Foreign Editor for the Hindustan Times, predicted, "Most of what will be accomplished during the summit will revolve around further extending what was outlined in the joint statement issued by the two leaders after Modi's September visit to Washington."
Defense cooperation between India and the U.S. ranked high on the analysts' to-do lists. Renewing the U.S.-India defense framework agreement, which is scheduled to expire this year, stood out as an important endeavor for Bouton, Chaudhuri, Mohan, and Harsh V. Pant of King's College London. Other analysts argued that India and the U.S. must find joint ways of improving security across South Asia — a task made all the more urgent now that the U.S. has withdrawn most of its troops from Afghanistan and India faces a heightened risk of terrorist attacks.
Ayres recommended that the U.S. "confer more closely and more frequently with India than ever in the past and to find ways to support India's concerns." Michael Kugelman at the Woodrow Wilson International Center for Scholars said counterterrorism should be "the most immediate order of business" and suggested that Obama and Modi build on the joint statement they made in September "to combat the Lashkar-e-Taiba, Jaish-e-Mohammed, and other Pakistan-based organizations that target India."
Enhancing two-way trade and investment in defense will be a priority at the summit, according to Bouton, Pant, and Vaishnav. "A moribund defense trade and technology initiative has been revived and the two governments want to announce a joint project for one or two weapons systems by the time Obama arrives," Chaudhuri wrote.
Along similar lines, several scholars argued that India and the U.S. must also find some remedy for India's 2010 law that holds the suppliers of equipment used in civilian nuclear reactors liable for accidents. The law has prevented both countries from following through on their Civil Nuclear Cooperation Initiative, which they announced ten years ago to help India expand its nuclear energy capacity. Ayres and Bouton noted that India and the U.S. could usefully expand their joint research and development efforts for clean energy, and thereby address climate change and energy security concerns at once.