Can Obama's Visit to India Revitalize U.S.-India Relations?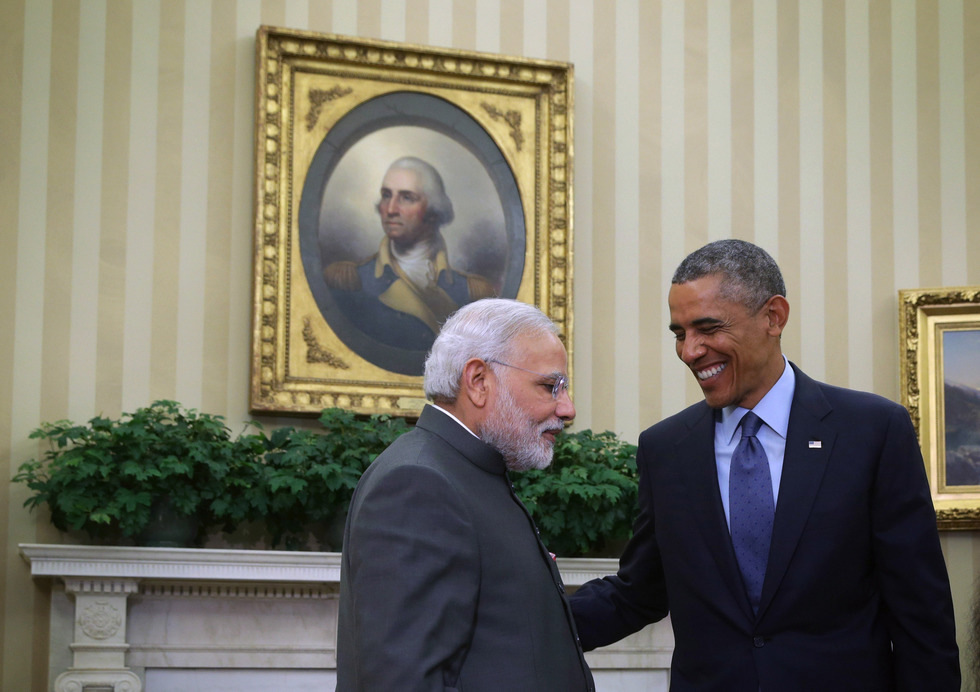 U.S. President Barack Obama meets with Indian Prime Minister Narendra Modi in the Oval Office of the White House on September 30, 2014. (Alex Wong/Getty Images)

Read commentary from nine more India analysts on what issues they think should be on the agenda for the Obama-Modi meeting and what the two leaders might be able to accomplish during their summit.
The year 2005 marked a turning point in U.S.-India relations. Not only did the two nations announce a framework for the groundbreaking (and now somewhat infamous) civil nuclear agreement, they also agreed on a "New Framework for the U.S.-India Defense Relationship" that articulated the two governments' strategic ambitions for the relationship. Much like the civil nuclear agreement, the defense framework carried great expectations on key issues—interoperability and large weapons sales—that have gone unfulfilled. Nonetheless, the framework has led to nearly $15 billion in U.S. military sales to India, more frequent joint military exercises (India has more joint military exercises with the U.S. than with any other country), and more regular counterterrorism cooperation.
Now, ten years later, the defense framework is set to lapse, giving the two countries an opportunity to revitalize what President Barack Obama called "one of the defining partnerships of the 21st century" when he first visited India in 2010. With this in mind, Obama is headed to India this weekend for a summit meeting that is buoyed by symbolism and expectation. Obama and Prime Minister Narendra Modi have an opportunity to provide a renewed vision for the strategic partnership and get to work on some pressing matters of common concern.
The trip is indisputably historic. Obama will become the first U.S. President to visit India twice and the first to be a guest during India's Republic Day celebrations. The fact that Obama hosted Modi in Washington only four months ago suggests that both leaders value the bilateral relationship. With the Republic Day invitation, Modi began to fulfill his promise to prioritize the U.S. relationship. For its part, the Obama Administration has helped rebuild a strained relationship through sustained diplomatic engagement since Modi's election. John Kerry visited India for the second time as U.S. Secretary of State earlier this month for the Vibrant Gujarat Summit and to set the stage for Obama's visit. India has become a regular stop for other U.S. cabinet members as well.
The Republic Day summit will be a test for both governments. Though the two sides have had little time to work on joint initiatives since Modi's September visit, concrete signs of progress would help show that both sides are determined to strengthen their ties. Renewing the defense framework for another ten years is an obvious, albeit important, step, as both sides have already expressed their willingness to renew this important strategic document. Another lingering item that the two leaders will focus on is the vexing nuclear liability issue, which has so far deterred American nuclear suppliers from entering the Indian market.
In addition to making progress on old fronts, the two leaders will discuss areas of shared interest. On the economic front, the two countries recently launched the U.S.-India Investment Initiative to encourage greater investment in India by American companies. The upcoming summit may also result in further developments supporting Modi's "Make in India" initiative. However, major agreements on economic and trade issues are unlikely due to domestic politics, policy differences between the countries — on issues including intellectual property, work visas, and taxation — plus a lack of clarity regarding India's economic reforms at this time. Areas in which progress is more likely are regional security and counterterrorism, as well as energy and climate change.
First, India is concerned that the recently completed withdrawal of most U.S. troops from Afghanistan will destabilize the country and the region and expose India to greater terrorist threats. Obama can help gain Modi's trust by acknowledging these concerns and providing assurance that the U.S. will remain engaged by working with regional partners to safeguard stability in Afghanistan and will continue to pressure Pakistan to fight terrorism. At the same time, in making the case for the resumption of an India-Pakistan diplomatic dialogue and reduced skirmishes at the border, Obama can nudge India to improve ties with Pakistan. Reducing instability in South Asia is necessary if India wishes to be an effective force for stability in the broader Indo-Pacific region, along with the United States.
One concrete way for India and the U.S. to improve regional security is to intensify their bilateral efforts to fight terrorism. These efforts have been a success for the relationship, and enhancing them could help mitigate India's growing concerns about radicalism. Al Qaeda opened a branch in India last year, and ISIS is causing alarm as a potential recruiter of Indians to its cause. These developments should encourage the U.S. and India to enhance intelligence sharing and counterterrorism cooperation. ISIS was a subject of discussion when John Kerry met with Modi earlier this month, and the summit may feature a discussion on how India can better support the international community in its battle against ISIS and with peace operations in general.
Climate and energy is another area where the two leaders can use dialogue to diminish potential stumbling blocks. As Kerry has made clear, a priority for the U.S. on this front is to make sure India backs a global climate deal at the Paris climate conference later this year, which is not guaranteed given India's domestic policies and priorities. Modi has already shown that he is willing to be a deal breaker in multilateral negotiations — last July, India blocked a WTO agreement that would have eased trade restrictions. Bilateral diplomacy between the U.S. and India ultimately saved that multilateral deal, and this upcoming summit presents an opportunity for the U.S. and India to iron out their differences ahead of the global negotiations. Though a grand deal similar to the one the U.S. reached with China last November is not likely by this weekend, Obama and Modi could prudently identify broad parameters during their summit.
To achieve this, the U.S. could redouble support for India's energy security and clean energy programs to help India along a sustainable growth path. Greater investment in Modi's ambitious solar program would be a good start. And by enhancing research and innovation in clean technology and finance, the U.S.-India Partnership to Advance Clean Energy (PACE) can help build clean energy markets in India. The two countries can also deepen bilateral cooperation on the issues they have already identified: energy efficiency, climate resilience, green grids, deforestation, hydrofluorocarbons, air quality, and more.
By communicating a credible strategic framework and building trust and linkages through greater cooperation on regional security, energy and climate issues, the two countries can build the kind of partnership where compromise on difficult issues will become possible. The U.S.-India relationship has already come a long way, but it's time for a new chapter.