Looking for Signs of 'Real Change' as a New Iranian Leader Visits New York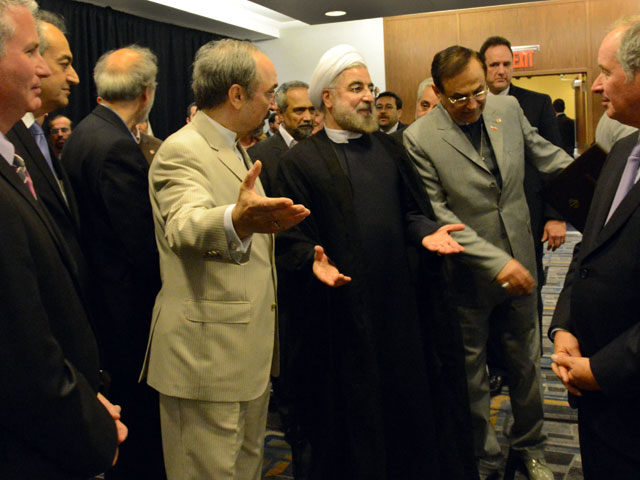 Iranian President Dr. Hassan Rouhani (C) arrives with his entourage for an Asia Society event in New York, September 26, 2013. (Kenji Takigami/Asia Society)
Throughout Hassan Rouhani's chaotic, much-watched week in New York, diplomats and journalists and just about everyone else watched for signs that the man's actions might match his tone, and his words — both so starkly different from those of his predecessor. In this sense, all the mild-mannered and mild-sounding Rouhani had to do was show up in New York this week, to sit for the interviews and private gatherings and be himself; the contrast with former President Mahmoud Ahmadinejad was inescapable.
For the past several years, Ahmadinejad would arrive in New York in September, bringing his sly grin and penchant for verbal bombshells. In the U.N. General Assembly, the U.S. delegation would walk out; but at the hotel where the Iranian delegation stayed, just south of Central Park, leading members of the press would troop in for an annual rite, the hour-long question-and-answer session over breakfast or lunch. For those seeking headlines, or offensive tirades, Ahmadinejad rarely disappointed; he doubted the Holocaust and doubted the history of 9/11, insisted there were no political prisoners in his country, and called homosexuality "one of humankind's ugliest behaviors".
On one of those issues — the jailing of regime opponents — change has already come. Before leaving Tehran, President Rouhani freed dozens of political prisoners, and at an Asia Society gathering in New York he pledged to do more, saying "we'd like to see empty prisons" in the near future. But on other matters Rouhani provided no specific proposals or concessions, only hopeful-sounding talk of a "window of opportunity" for nuclear negotiations, and a repeated pledge to "fast track" the process. It was probably premature to expect anything more, particularly not in the public dialogue.
While we wait for real change ("deeds, not words," as U.S. officials keep saying) there is the unmistakable change in atmosphere.
In years past, Ahmadinejad would rant and offend and in the process bury any hopes for rapprochement. "There is a daft self-satisfied internal logic to his answers," The New Yorker's David Remnick wrote after one of those breakfasts, "as if they were as convincing to him as the Unabomber's manifesto was to the Unabomber." This year the U.S. delegation not only stayed in its seats as Rouhani spoke; Secretary of State Kerry actually held face-to-face talks with the new Foreign Minister Javad Zarif. And while there was no Obama-Rouhani handshake ("Perhaps next time," ran a Tehran headline), the two men spoke by phone — the first such U.S.-Iran contact in more than three decades.
And in place of the Ahmadinejad New York circus, there were gatherings like the one the Asia Society hosted for Rouhani — a hot ticket for reasons of substance, not theater. Here, waiting patiently in airport-like security lines (that much was the same as past years), were think tankers, financiers, and major media figures — Steve Schwarzman and Tom Friedman; Ann Curry and Roger Altman; and so on. All had the same interest, and question: How different is the new man in charge? (Incongrously, the fight promoter Don King appeared, clutching Iranian flags and flashing his trademark grin).
Rouhani parried, but gently. He smiled often, but it was a welcoming face, nothing like the smug look of his predecessor. Nuclear weapons? We don't want them. Facebook and Twitter? We'll allow more freedoms. Those prisoners. We'll let them go.
Of course none of this means peace is at hand, nor the "new era" Rouhani referred to at the Asia Society event. But, tone and optics matter, and there is no question that expectations for breakthroughs have not been this high since the revolution.
In years past we watched the circus, and wondered at every step: "How low would Iran's President go?" Now, we dare to hope.