Kimono-Clad Caroline Kennedy Cracks Open Barrel of Sake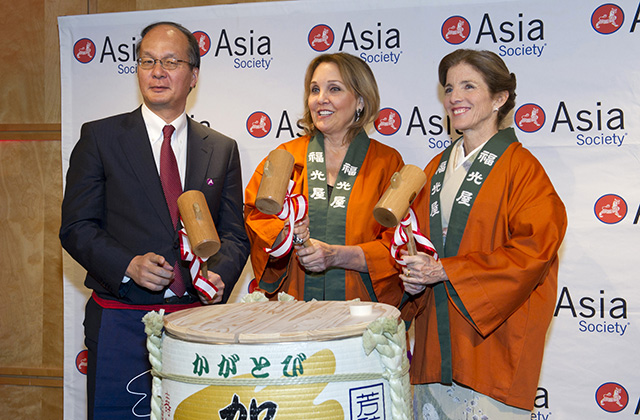 (L to R) Japanese Ambassador Reiichiro Takahashi, Asia Society President Josette Sheeran, and U.S. Ambassador to Japan Caroline Kennedy prepare to break open a sake barrel in a traditional Japanese ceremony. (Elena Olivo/Asia Society)
U.S. Ambassador to Japan Caroline Kennedy, Consul General of Japan in New York Reiichiro Takahashi, and Asia Society President and CEO Josette Sheeran joined together Thursday at Asia Society in New York to kick off the center's Season of Japan and exhibition Kamakura: Realism and Spirituality in the Sculpture of Japan. From Asia Society New York's blog:
To mark the ocassion, Sheeran, Kennedy, and Takahashi broke open a sake barrel with wooden mallets in a traditional kagami-biraki celebratory ceremony. In her remarks, Ambassador Kennedy recalled over the previous few days meeting with students from the Bronx, Tokyo, and Okinawa who had done a poetry exchange by teleconference, as well as 20 Japanese kids who'd been studying hip hop in New York for two years. "It's our job to make sure that those alliances continue," she said. "This alliance between the U.S. and Japan is one of the most important in the world."
Read the full post on Asia Society New York's blog.