Kevin Rudd: Amid Tensions, Asia Needs More Robust Regional Institutions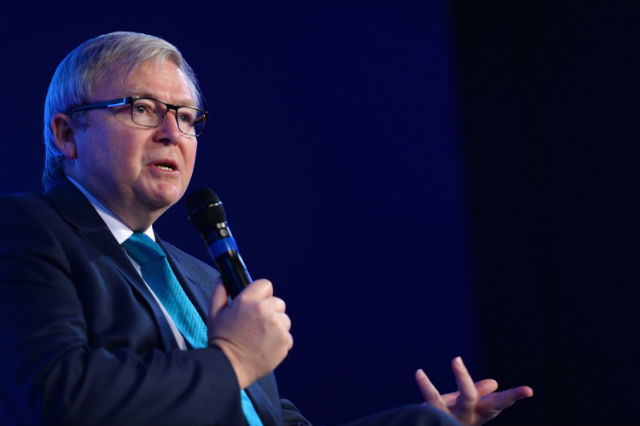 Former Prime Minister of Australia Kevin Rudd will speak on Asia's challenges at the World Economic Forum in Davos this Saturday. (Leigh Vogel/Getty Images)
While Asia's growth outlook for 2015 is a positive one, the region also faces inherent challenges, such as geopolitical tensions and structural economic reform. Commenting on the World Economic Forum's report Outlook on the Global Agenda 2015, Kevin Rudd, former Australian Prime Minister and incoming president of the Asia Society Policy Institute, highlighted Asia's need for stronger regional institutions.
"The truth is, regional institutions in the Asia-Pacific are not as robust as those that have evolved in Europe," said Rudd. "Because the Asia-Pacific region looms as being the strategic cockpit of the 21st century, we need more robust institutions than those we have at present."
Rudd also noted the global impact of China's economic reform program, which the Asia Society Policy Institute explored in a major report published in October 2014.
"If China succeeds in this direction, then we are going to have a buoyant half century ahead," Rudd said. "If not, it won't only be China that faces a massive problem. The rest of Asia will too, and given the global importance of the Chinese economy, so will the rest of the world."
To discuss the challenges Asia faces in 2015 and beyond, Rudd will join the panel Rebuilding Trust in Asia tomorrow (January 24) at the World Economic Forum's Annual Meeting in Davos, Switzerland. The panelists will address issues including public-private business coordination, cultural diplomacy, and a common natural resource agenda for Asia.
Watch a live webcast on Saturday, January 24 at 3:15am ET (9:15am CET) as Kevin Rudd participates in Rebuilding Trust in Asia, a panel discussion hosted by the World Economic Forum.