Japan Is Leading the Global Trend Toward Simplicity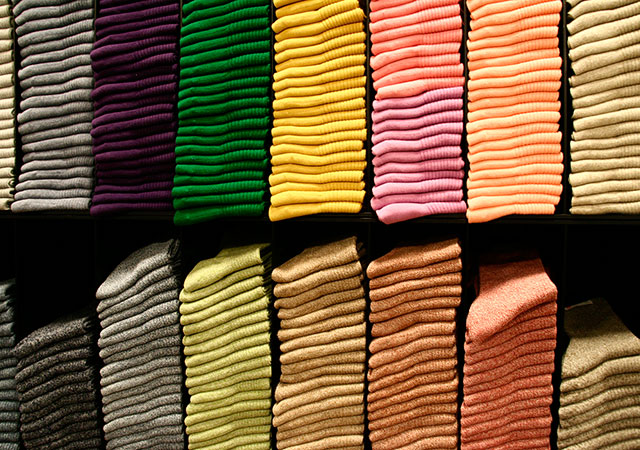 Stacks of colorful basics at Uniqlo. (Kiwi He/Flickr)
The Japanese have long celebrated simplicity as a lifestyle, embracing ideas rooted in the ancient Japanese religion of Shinto. 
Now as Japanese brands gain mainstream popularity overseas, the Japanese lifestyle philosophy and design aesthetic has become a global trend, one led by companies like Uniqlo and Muji.
"Designed with our Japanese values of simplicity, quality and longevity to be always basic, never boring," is the brand's credo, found directly on its website. "Made with such modern elegance that it becomes the building blocks of your life and your style."
This back-to-basics premise is also a major part of Muji's ideology, which boasts "selection of materials, streamlining of process and simplification of packages" as the brand's three main principles.
The two companies share a utilitarian philosophy that resonates with the Japanese organizing consultant-turned-author Marie Kondo gain a cult-like following. Kondo is the author of The Life-Changing Magic of Tidying Up, a lifestyle book that helps people transform living spaces from cluttered chaos into serene order and has, since its publication in 2014, sparked a worldwide sensation.
Kondo's 2014 book was published in 30 different countries, sold 4 million copies worldwide, and led to a second lifestyle book, Spark Joy. Uniqlo boasted 1,574 stores worldwide as of 2015, according to Forbes, and has an aggressive plan for expansion in several promising markets. Muji, which began in the 1980's as a store that sold home goods, continues to sell its version of zen by expanding the brand into apps, clothing, food products and even apartments.  
Not everyone in Japan is on board with this minimalist trend, however.
"It looks to me that we are entering a cheap, functional, no-character goods decade in Japan," Kyochi Tsuzuki, photographer and author of Tokyo: A Certain Style, said in the New Yorker. Tsuzuki's book offers a counter to Kondo's take on Japanese influence.
"I wanted to show you the real Tokyo style," he said. "Call it pathetically overcrowded, call it hopelessly chaotic … hey that's reality."