Interview: Sharmeen Obaid Chinoy, the First Pakistani Oscar Nominee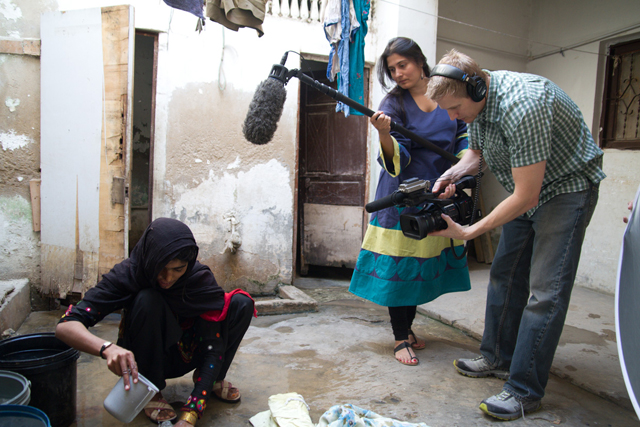 Sharmeen Obaid Chinoy (C) filming 'Saving Face' in the south of Punjab, Pakistan. (Sharmeen Obaid Films)
UPDATE: Sharmeen Obaid Chinoy made history on February 26, 2012, becoming the first Pakistani to win an Academy Award. Asia Society President Vishakha Desai released the following statement:
Last night, Asia Society Asia 21 Young Leader, Sharmeen Obaid Chinoy won an Academy Award for her short documentary Saving Face. The film brings to life the terrible tragedy of acid attacks in Pakistan, following the story of two attack survivors from Pakistan and the surgeon who tries to help them move forward in their lives.

Through its Asia 21 Young Leaders Initiative the Asia Society provides a forum that brings together the top young leaders from government, business, academia, and other sectors from across Asia and the United States to thoughtfully explore the most challenging issues facing the Asia-Pacific community and develop proposals for how these challenges can be collaboratively addressed. The Asia Society extends its congratulations to Sharmeen and her co-director, Daniel Junge, for winning the award, but more importantly, for furthering the conversation to address this important issue.
Asia Society in New York will play host to a members-only screening of Saving Face on March 5. Below, please find our February 10 interview with Sharmeen. You also might enjoy this post she wrote for Asia Blog in December. First, here she is backstage after winning her Oscar.
Investigative journalist and visual storyteller Sharmeen Obaid Chinoy, already the first Pakistani to win an International Emmy Award, recently became the first Pakistani to be nominated for an Academy Award. Her film Saving Face is up for the Oscar in the Best Documentary, Short Subject category.
Saving Face focuses on the work of British-Pakistani plastic surgeon Dr. Mohammad Jawad, who traveled to Pakistan in order to perform reconstructive surgery on women who have been victims of acid throwing.
Saving Face not only showcases the plight of hundreds of women accross Pakistan who fall victim to acid violence each year, it also takes a look into a historic bill passed by Pakistan's parliament proposing strict punishment for perpetrators of the crime. The film is set to premier in the U.S. on March 8, 2012 on HBO. 
Chinoy, an Asia Society Associate Fellow who was an Asia 21 Fellow in 2011, spoke to Asia Blog via email about the strong tradition of storytelling in Pakistan, the impact of digital media technologies on her work, and what an Oscar nomination means to her. 
In the 10 years since you started your career as a filmmaker, how has storytelling in Pakistan evolved, especially with the changes in the digital media landscape?
Pakistan has always had a rich history of story telling. We have a tradition of oral history and narrative driven content which is reflected in our literature, art and music. When I started my career 10 years ago, Pakistan had two state run TV channels — now we have over 80 privately owned channels along with dozens of radio stations and newspapers. This coupled with a booming digital media community has had incredible results on the documentation of our culture and access to information and news. Digital media in particular, breaks barriers between the storyteller and the audience allowing for more voices in the public sphere. The fluidity and inclusive nature of this medium has been specifically beneficial for the youth of Pakistan.
We have a thriving blogging community and filmmakers and artists have the opportunity to promote and distribute their work online. This is an exciting time to be part of the creative community in Pakistan. Our music is bringing people together, our literature is garnering international acclaim and our film industry is breaking boundaries and expanding. I am thrilled by the possibilities presented by an open and free media, and hope that we continue to patronize these institutions.
What are some of the challenges of being a documentary filmmaker in Pakistan, especially as a woman? And what kind of obstacles did you come across while filming Saving Face?
The obstacles faced by documentary filmmakers in Pakistan have more to do with access to funding as compared to gender bias or any other forms of prejudice. We do not have a history of documentary films in Pakistan, thus TV channels and production houses are not forthcoming with investments. Pakistani's have always displayed an interest in such content, and we have a multitude of stories to tell with a community that is eager to share them.
While we did not encounter any physical danger whilst shooting Saving Face, we did have to struggle with the mindset of local communities. Acid violence is most prevalent in the Seraiki belt in the Punjab province, a cotton growing region in which acid is readily available as it is used in the fields. The Seraiki belt has some of the lowest levels of education and highest levels of unemployment in the country, and this has resulted in a culture that has over time come to accept certain forms of violence against women. During the first few days of shooting we faced difficulty when trying to connect with communities and reaching out to survivors. However once we settled into the towns and began making connections we did not face any further obstacles.
What do you think winning the Oscar will mean for Pakistan's image and stature abroad? And what does the Oscar nomination mean for you personally?
I think that its important for Pakistanis to share their talent and skill with the rest of the world. I am proud to be representing Pakistan on such a prestigious platform and I hope that I am the first of many Pakistanis to do so. In terms of our image abroad, I think it will be interesting for people to see a different side of Pakistan, even if it is just for one night.
Winning the Oscar would be an indescribable feeling for me. This is the stuff that dreams are made of. As a filmmaker I have always hoped to one day be nominated for an Oscar, but now that it is here I am having trouble articulating how I feel about it!
Most Pakistanis have lived with the reality of acid attacks for some time now. Did you find this was an issue relatively unknown to most people outside of Pakistan? How widespread is this problem within Pakistan?
Officially, there are over 100 cases of acid violence reported in Pakistan every year, though it is estimated that the real numbers are far higher. Globally, it is found most often in South Asia, Cambodia and Jamaica. While many people are aware of acid violence, it is less likely that they have met a survivor or interacted with organizations that are working to eradicate this form of assault.
I made Saving Face so that it could be used as an educational tool to spread awareness and promote dialogue. Zakia and Rukhsana, the two main characters in the film are inspiring women who have shown grace and bravery when faced with unimaginable circumstances. Their narratives will engage the audiences and hopefully bring light to this issue.
You make films about very controversial issues. How is your work received in Pakistan and abroad?
As an investigative journalist, I feel that it is my duty to address issues that people do not want to discuss. My films have been received very well internationally and the feedback I receive has shown that people are grateful for the awareness and information. Unfortunately, due to contractual restraints I have been unable to show my films to large audiences in Pakistan. The few screenings that I have held in educational capacities and to private audiences have resulted in similar responses to those of international audiences. There are pockets of people who feel that my work displays a negative image of Pakistan to the west, but I feel that it is important to address issues instead of running away from them, and that the first step is to accept that we have faults just like every other country.
In your experience, have issues such as violence against women and children gotten worse over time, or is there more awareness now? Do you feel that your work as a filmmaker has been able to impact some of these issues?
Even though I am not in a position to comment on whether violence against women and children has decreased over the years, I do think that communities have become better equipped at addressing and spreading awareness about these issues. With the help of the media, non-governmental organizations and an active public, people are able to organize into bodies that can effectively combat violence against marginalized communities.
My films have benefited causes in two ways. After they air I receive countless emails from people who want to help but don't have the mechanisms to do so. In certain instances, this has resulted in outreach initiatives that aid communities afflicted by conflict and in others it has helped characters in my films gain the resources they need to remove themselves from dangerous circumstances and environments. Primarily, my films have helped spread messages to communities that have previously been unaware of issues.
What has happened to some key people in Saving Face since filming? Are they aware of the global attention their stories are receiving?
I am in touch with Dr. Jawad, and he is thrilled at the attention that Saving Face has received. I also speak with Zakia and Rukhsana, acid attack survivors and main characters in the film, and they are happy to hear that the film will now be able to reach a wider audience. Their main goal was to tell their story and showcase the way many women around the world are impacted by acid violence.
What projects are you currently working on?
I am currently working on two projects geared for local television in Pakistan. We are still in production and are aiming to have them on air later this year.
And finally, perhaps the most important question: Have you decided yet what you will be wearing to the Oscars?
I am wearing Karachi based designer Bunto Kazmi for the ceremony, and will be wearing Sana Safinaz and Saniya Maskatiya for Oscar related events. I will be wearing jewelry by Kiran and Shehrezade from Labels. I am really excited to showcase local Pakistani talent, all of whom are women!
Watch a trailer for Saving Face below. (1 min., 09 sec.)