Interview: Gisue Hariri on Her Persian Influences and Women in Architecture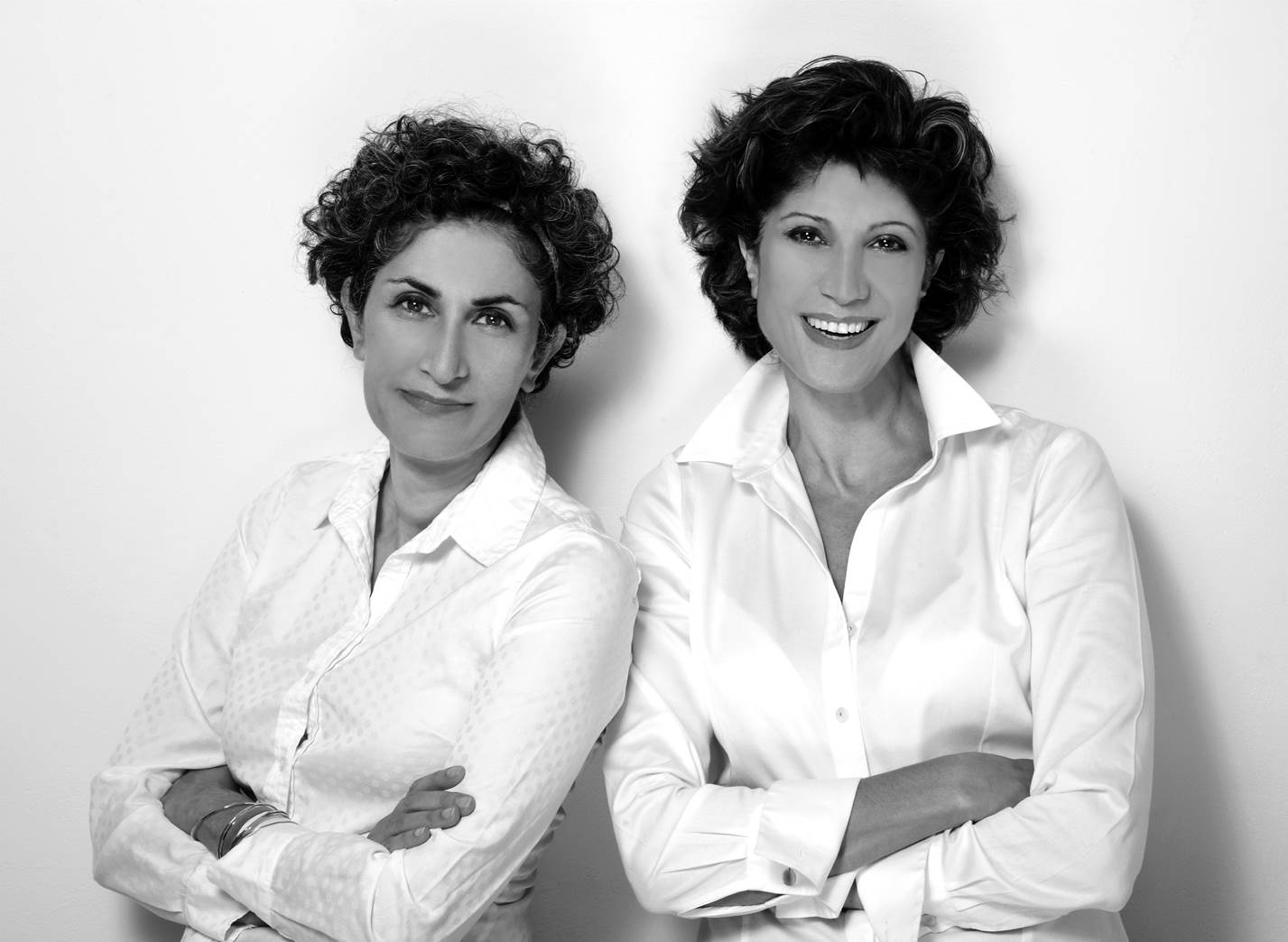 Gisue Hariri (R) and Mojgan Hariri (L), sisters and co-founders of Hariri & Hariri. (Karin Kohlberg)
In the male-dominated field of architecture, Gisue Hariri and Mojgan Hariri have been a complementary force for over 20 years, pushing the boundaries of modern and technically inspired design. The Iran-born sisters came to America and studied architecture at Cornell University in the 1970's. Together they established their New York firm Hariri & Hariri in 1986. They have expanded and redefined the standard definition of architecture by a holistic approach in designing, masterplans, buildings, interiors, furniture, products and, more recently, jewelry and accessories.
The Hariris are often cited as innovators of cutting-edge materials and digital technology that are integrated into futuristic yet organic designs, from luxury residences like the iconic Sagaponac House in Long Island, New York to large-scale multi-use projects like the Sternbrauerei in Salzburg, Austria, which is currently in construction. Their work has been shown at the MOMA, National Building Museum, and the Barcelona Museum of Contemporary Art, among other institutions.
Here, Gisue shares with Asia Society their family experiences, Persian influences, meaningful inspirations and insight.
To mark Asian Pacific American Heritage Month, we'll be running Q&As with noteworthy Asian Americans throughout May and beyond. Read them all here.
Before coming to the U.S. for college, you were born and raised in Iran. How did your family and upbringing affect who or where you are today? Was there a cumulative or specific turning point when you realized you wanted to pursue architecture and come to America?
My sister and I are one and a half years apart and grew up in a small Iranian town in the south, attending public schools early on as my father's profession required that we live far in the desert near the oil fields. The desert became both deeply isolating and nurturing. Isolation encouraged our imagination to run wild and develop ideas that a more conventional childhood would have found odd, and we often had to invent our own world, toys and games.
My earliest recollection is when, at the age of 12, I announced to my family that I was going to be an architect. While I was determined to pursue this path, I had only a youthful understanding of what that meant and no realization that one day it would be a way of life, a way of seeing the world, a way of harnessing my past and constructing the future.
We were raised in a family that valued education as a tool necessary for living in the modern world and believed in higher education specially for women. Pursuing college education was encouraged from early on as a means to contribute to the construction of the modern Iran.
How strongly does your cultural heritage inform your approach to architecture, interior and product design? In what ways?
Growing up in the desert, the environment tends to strip everything down to the essential without diminishing its extraordinary presence and beauty. While outwardly harsh, one intimate with its nature finds sensual lines and magnificent vistas that embolden the senses and a void that is constantly being tested and carved by the fierce winds. We always try to understand the essence of each project and begin our work with original concepts. Sensitive to each environment we build upon, we make sure that each project is simple, efficient and environmentally sustainable.
Iran's rich cultural heritage in arts, music, literature, poetry and sciences — all brought together in its extraordinary architecture — was certainly influential, and it is a long shadow under which I find myself. Every summer we would visit my grandparents in Isfahan. My father's hometown is one of the few places in the world that leaves one with astonishment and awe. It is a city of amazing Persian gardens and magnificent blue-domed mosques and palaces mostly built by Shah Abbas the Great in the 17th century. There are pedestrian bridges like no other in the world and picturesque, organic bazaars, and a host of smaller but exquisite mosques and pleasure pavilions. Isfahan is truly the museum of Persian architecture. The tactility, materiality and use of art and craft throughout our projects, regardless of scale and program, are what we carry within us from the visits to Isfahan.
The use of geometry, craft, technology is apparent in all our projects. Inspired by the renowned Persian polymath figures like Omar Khayyam — a philosopher, mathematician, astronomer, and poet who wrote treatises on mechanics, geography, mineralogy, and music — we developed our holistic approach to design and architecture.
Sternbrauerei, a luxury residential and multi-use complex in Austria, is currently one of the largest all-encompassing projects Hariri & Hariri has taken on. Would you consider this to be one of your most successful and/or challenging endeavors?
This project, which we won in an international competition, is important to us not only because we were the winners among the world's best-known architects, such as Souto Moura (Portugal), Snøhetta (Oslo), Kengo Kuma (Tokyo), Yamaguchi (Osaka), Toshiko Mori (NY), Delugan-Meissl (Vienna), Langhof (Berlin), to name a few. This 80-million-dollar mixed-use development also demonstrates our "holistic" philosophy, where we have designed the master plan, the architecture of the six new buildings, renovation of an existing vault, some of the interiors, and the main landscape elements as well.
This project includes 80 luxury apartments, exhibition space, a gallery and lecture hall in the old brewery's underground vaults, a spa and wellness center, a café and restaurant facilities and an underground parking garage. It is neither the scale nor the challenges we confronted that makes our Salzburg project significant. It is this relationship between architecture and nature that we have created, a dialogue and meditative experience we have carved at the edge of the rock wall, which guides and invites the public through the site. For us architecture is more than construction of buildings, it is where our dreams transcend realities of life. It is a commitment that will carry you to places you had never dreamed of and know could exist before you began.
Finally, this project is one of the very few new constructions permitted in the historic city of Salzburg, offering Mozart's birthplace as a destination for the architecture of the 21st century.
What is the inspiration or reasoning behind the faceted crystal-like forms that are incorporated into a lot of your work?
We have been fascinated by the articulation of abstract and geometric forms and patterns derived from nature, which is also apparent in both Persian architecture and modern architecture in the West. Somehow, as you can imagine, from very early on we have been collecting rocks, studying geological formations and recently crystals.
We have always been interested in the organic relationship among man, nature and architecture. What is interesting to us is not soft, curvilinear nature, but the faceted, edgy, asymmetrical rocks and crystals in nature.
Women and Asian Americans are still a minority in the architecture field. Hariri & Hariri is one of the few successful established firms founded by women. Even if your gender or ethnicity do not define you as architects, do you encounter any inherent challenges being in this profession? Any advice for other women who aspire to careers in your industry?
I believe women are still minorities in the field of architecture in general, regardless of their ethnicity. When my sister and I were studying at Cornell Architecture School in the late '70s, early '80s, there were very few women studying with us and no women teaching us. There were a very few women practitioners that no one knew. So, my first commitment was to teach and be present in the studios while working simultaneously to get some projects built. We have to nurture and create opportunities for women in architecture, as I truly believe that women have a lot to offer the field of architecture. We need to be mentors and sponsors to younger women architects. According to the Architectural Record essay by Sarah Williams, "men still largely control architecture's higher reaches. And they're more likely to lavish attention on younger men."
My advice to both men and women in positions of influence and awarding projects is to recognize that it is their responsibility to find and recognize women in architecture. The media has a responsibility to publish and introduce the work of women architects to the larger public. The society as whole has a responsibility to create equal opportunities for women architects. Finally, women have a responsibility to support one another rather than competing with one another. Until we respect, recognize, and appreciate women's contribution to the field of architecture we cannot change the boys' club culture that exists globally in architecture.
Asia Society has an upcoming landmark exhibition, Iran Modern, featuring 20th century works by Iranian artists. Today, there's a solid presence of notable Iranian American figures (Shirin Neshat, Christiane Amanpour, Elie Tahari) including yourself. How does the positive exposure of Iranian history, culture and representation in America make you feel?
We look forward to Iran Modern this fall at the Asia Society. This exhibit will be extremely important as it will exhibit not only the history and wealth of Persian art and culture and modern art in Iran, but it will also bring a positive cultural exposure and juxtaposition against the daily political media coverage showing Iranians as a backward, fanatic, religious people dwelling in the past. It will show the rich culture of Iran, its modern art of the 20th century, and its internationally awarded and respected artists.
As Iranian/American, we both take pride in being part of two amazing cultures simultaneously. We admire figures like Shirin Neshat, Christiane Amanpour, Elie Tahari, among others, for their contribution and solid presence. Art and architecture to us is a global language that connects humanity and brings us all together as one community.