Interview: Classical Violinist Jennifer Koh Finds Her Own Path to Music with Meaning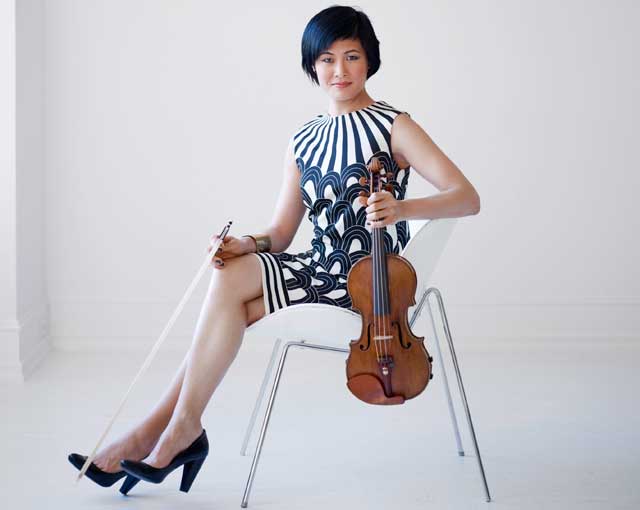 Jennifer Koh. (Juergen Frank)
Over the past decade, violinist Jennifer Koh has established herself as a major performer in the classical music world, not only through her virtuosic command of her instrument but also through her commitment to exploring an unusually wide swath of repertory. She has scaled monuments like Bach's Sonatas and Partitas for solo violin and many of the major concertos — while at the same time demonstrating her contemporary bona fides by commissioning and premiering new works by Jennifer Higdon and Mizzy Mazzoli, among other composers, and taking the lead instrumental role in the ongoing revival of Philip Glass and Robert Wilson's watershed 1976 opera Einstein on the Beach.
Koh's albums, meanwhile, stand out from the music-biz norm by similarly juxtaposing old and new. Critics have been noticing: her most recent release, 2012's Bach and Beyond Part 1, was named a "CD of the Week" by the Chicago Tribune and one of the "Best Classical Recordings of 2012" by the New York Times.
Koh was born in Chicago to Korean parents, avid music lovers who enrolled her in a Suzuki-method school at a young age. By age 11 she was performing with the Chicago Symphony, and by age 14 she had come to the attention of Isaac Stern, who pointed her toward the Curtis Institute of Music in Philadelphia. Koh, however, took a detour by studying English at Oberlin College before heading to Curtis and, eventually, an international career.
AsiaBlog caught up with the New York-based violinist via email.
To mark Asian Pacific American Heritage Month, we'll be running Q&As with noteworthy Asian Americans throughout May. Read them all here.
You were a teenage prodigy who won major international competitions. But you then majored in English at Oberlin before resuming your musical studies at the Curtis Institute. How did those undergraduate years when you weren't exclusively focused on the violin later shape your attitudes toward music and a performing career?
I loved my time as an English major at Oberlin and I am incredibly grateful to have had that college experience. College gave me the space to explore everything I was curious about. During my time at Oberlin, I came to an understanding that finding my own path was the most important part of being an artist. Now I don't fear failure as much because I had the space to experiment and sometimes fail, and I've come to accept this as an important part of the artistic process. Instead of only seeing two paths to a musical understanding, I try to keep myself open to every path.
You've simultaneously made a name for yourself both as a Bach interpreter and as an exponent of new music by contemporary composers. We'd love to hear how these two strains inform or complement each other when you're recording and performing.
I just see myself as a musician and playing Bach or works by contemporary composers — or any composers, for that matter — feels natural to me. I like playing and exploring music that I find really meaningful and compelling. But I do love creating musical programs and projects that have a deeper subtext and personal context. Recently I've been exploring the impact artists have made beyond their own lifetimes on other artists throughout history.
You played in front of President First Lady Michelle Obama and the then-First Lady of Korea, Kim Yoon-Ok, in Virginia in fall 2011. Is there any aspect of your Korean heritage that has informed your approach to music-making or your career overall?
First of all, playing for Michelle Obama and First Lady Kim was a great, great honor, and I was so excited!
The question of identity is something that I've been starting to explore in a larger musical context. In a way, I think that my "Korean-ness" is so much a part of who I am that I cannot separate it from myself. But in another way, when I was growing up, "difference" was not encouraged and I think I tried to reject the "Korean-ness" in myself.
Now, I find myself more curious about discovering that part of myself and exploring Korean culture. I was fortunate to receive a grant from the Asian Cultural Council in 2012 and I actually went to Korea to explore Korean shamanism and music because I wanted to understand that part of Korea and how I could feel connected to it.
In a 2008 book by Mari Yoshihara, Musicians from a Different Shore: Asians and Asian Americans in Classical Music, you allude to awkward encounters with Europeans who express surprise that performers of Asian descent can play what they regard as "their" music. Five years later, do you think those attitudes are becoming a thing of the past, or is there still some work to do?
I have come more to an acceptance of who I am both as a Korean American as well as a human being, and my strengths and goals as a musician are much clearer to me now. There are certain people and musicians that I trust implicitly and whose advice is very important to me — but in general, because I know what I want to do and be as a musician, other people's opinions actually matter less to me now!
So honestly, while I am sure there is still much work to do, this is something that I pay very little attention to now.
Lastly, for us fans: your recent New York Times profile hinted tantalizingly at a possible Beethoven project in your future. Can you divulge any more details about that?
I am working on presenting a program in 2015 about immigration and displacement and discovery of identity through art and specifically through classical music. "Bridge to Beethoven" is about coming to an understanding of oneself in a foreign context through music. I will be commissioning three composers, Vijay Iyer, Anthony Cheung and Andrew Norman, to write works in conversation with this idea and by extension, in conversation with Beethoven.
To many, Beethoven signifies "Classical Music" but it is important to remember that he was essentially a foreigner in Vienna and at the same time a revolutionary both as a musician and artist, changing the role and definition of what an artist is.
Video: Jennifer Koh discusses her Bach and Beyond project (3 min., 28 sec.)