Interview: AP's Dogged Reporting Challenges 'Good-News Narrative' in Myanmar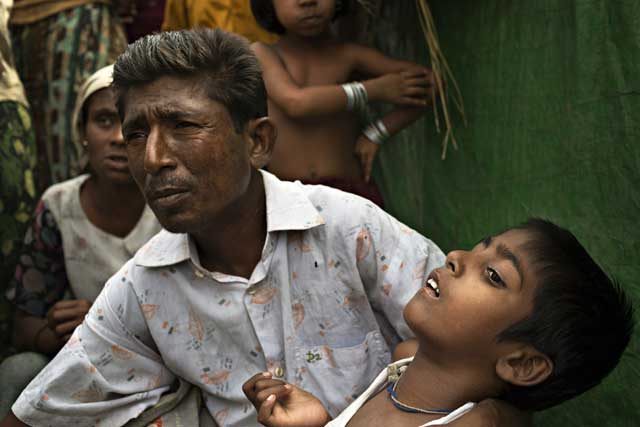 Roshida Moud, 12, is held by his father as the latter explains that his son was hit in the head with a stone during the 2012 Rakhine violence, in Sittwe, Myanmar, on May 6, 2014. (Andre Malerba/Getty Images)
Throughout 2013, the Associated Press team in Myanmar published "Portraits of Change," a wrenching, revelatory series focusing on the rise in sectarian violence and discrimination against Myanmar's Rohingya Muslim minority as the country emerged from decades of isolation and military dictatorship. From a March 2013 massacre of Muslim schoolchildren to the transformation of a Rohingya neighborhood into a sealed-off ghetto that spring, the AP presented an unsparing look at the ethnic hatred unleashed after nearly half a century of military rule. "Portraits of Change" made the Associated Press a finalist for Asia Society's 2014 Osborn Elliott Prize for Excellence in Journalism on Asia, with the jury hailing AP's coverage as "ambitious" and "beautifully written."
Reached at various locations overseas, members of AP's Myanmar team answered questions about "Portraits of Change" via email.

On Wednesday, June 18, 2014, Asia Society celebrates the winners of the 11th Osborn Elliott Prize for Excellence in Journalism on Asia with a discussion moderated by The New Yorker's Ken Auletta.
Months after AP's reports, the treatment of Myanmar's Rohingya has become the subject of high-profile reporting from the New York Times columnist Nicholas Kristof, NPR, and CNN, among other outlets. Do you think the greater international attention could force Myanmar's government to become more accountable for what's happening to the Muslim minority there?
Robin McDowell, acting Yangon Bureau Chief
Intense media coverage has forced the U.S., Britain and others in the international community to adjust their good-news narrative for Myanmar, but there is a limit to how much pressure they are willing to exert on the new, nominally civilian government. While reformists in the administration have started to publicly address allegations of systematic discrimination and persecution against Rohingya Muslims, so far it's been largely for appearances.
The real power still lies with hard-liners within the central and Rakhine state government, and they are either unwilling or unable to challenge increasingly powerful Buddhist extremists. So, while it's critical the media continue to shine a spotlight on abuses, we do not expect the situation for the Rohingya to improve before the 2015 elections. In fact, things will probably continue to get worse.
At what point in 2013 did you and your colleagues decide that your reporting from Myanmar was going to be a series? Was the coverage initially conceived that way, or did the story eventually seem to warrant this kind of comprehensive treatment?
Leon Drouin-Keith, Asia-Pacific Enterprise Editor
We envisioned the "Portraits of Change" series early in 2013, led by Asia-Pacific News Director Brian Carovillano (now Managing Editor for U.S. news) and Enterprise Editor Ken Moritsugu (now Tokyo Bureau Chief). The idea was to show how the changes sweeping through Myanmar were affecting individual lives, for better and for worse. It was an avenue that helped produce a broad spectrum of stories, from a well-connected tycoon to kids hauling rocks for pennies a day.
But the portraits alone did not tell the whole story. Several of the stories we submitted, including Todd Pitman's examining the March 21 massacre in Meikhtila in unflinching detail, did not fit in the "Portraits" concept but still needed to be told.
AP journalists working on the "Portraits of Change" series in Myanmar have been subjected to smear campaigns, official surveillance, and other kinds of intimidation. In the face of this pressure, what steps (if any) can the organization take to ensure the safety of its reporters?
Todd Pitman, Bangkok Chief of Bureau
The Associated Press does all it can to protect its staff in the field in Myanmar, as in all countries around the world. But keeping journalists safe in Myanmar means AP does not openly discuss the steps it takes.
---
Video: Oz Prize Finalists on Struggles of Reporting in Asia (5 min., 3 sec.)