How You Can Help Hurricane Sandy Victims in New York City's Chinatown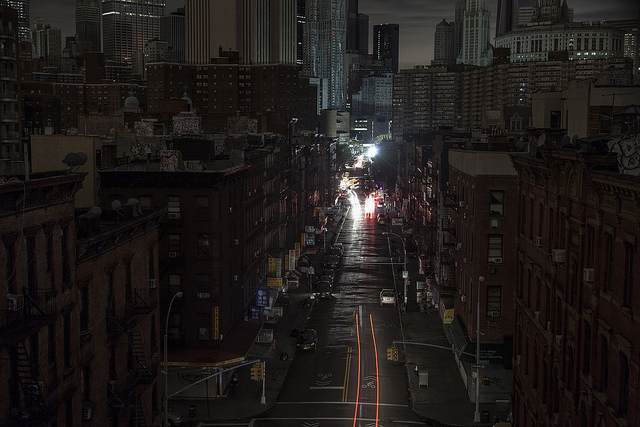 A darkened street in Chinatown, lower Manhattan, after Hurricane Sandy. (Several seconds/Flickr)
There are many ways to help the victims of Hurricane Sandy, and one Asian community organization is particularly suited for helping residents facing language barriers in New York's Chinatown.  The group CAAAV: Organizing Asian Communities has not only provided supplies to stranded high-rise residents and electricity to a relief station office, but it has also offered translation services for basic information.
Many other New York and New Jersey areas with large immigrant populations were severely affected by the storm, such as Flushing, Coney Island, Far Rockaway, and Atlantic City. According to an article at New American Media, non-English media organizations were critical in translating urgent warnings before the storm to their communities because most storm preparation instructions were only in English. 
According to CAAAV, one of the most pressing problems is the fact that high-rise builidings as tall as 26 floors are still without power and water, which has stranded people who cannot walk down, such as the elderly. The group is currently calling for donations and volunteers to deliver food, water, batteries, other supplies, and information. Mandarin, Cantonese, and Spanish-speaking volunteers are particuarly needed. For more information on how to help, visit the organization's website.