Experts Weigh in on Modi's India After One Year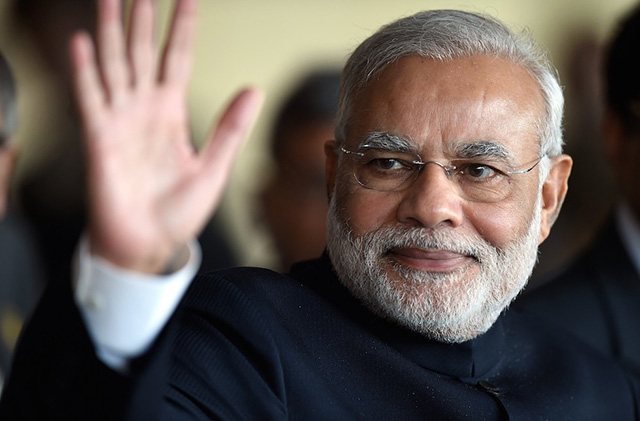 Indian Prime Minister Narendra Modi. (Evaristo Sa/Getty Images)
In May 2014, India's National Democratic Alliance (NDA), led by the Bharatiya Janata Party (BJP), decisively won the national election over the rival United Progressive Alliance (UPA), led by the Indian National Congress party. Not only did the BJP secure a majority in the lower parliament, but it won enough seats to govern without the support of other parties — the first time this had been achieved in India in three decades. The historic victory gave incoming Prime Minister Narendra Modi a mandate to enact major reforms after years of political stagnation. So how has Modi used that mandate in the year since? On Tuesday, the Asia Society Policy Institute hosted a panel of experts in New York to discuss this question and how India's economic and foreign policy trajectory has shifted. Here's what some of the panelists had to say: 
Rakesh Mohan
Executive Director at the International Monetary Fund representing India, Sri Lanka, Bangladesh and Bhutan; Former Indian Chief Economic Advisor
One point is in terms of optimism and how the world looks at [India]. I did a survey of all the growth forecasts for 2015-2016 — both domestic and foreign. The range has been 7.5 to 8.5 percent, and guess who's the most optimistic: Citibank. They're more optimistic than the Reserve Bank of India, more optimistic than the government of India. The point is that this is how the perception has changed and people's confidence has changed. Also, the credit rating agencies — Moody's has gone from "stable" to "positive," S&P from "negative" to "stable." Again, that's verification of what the mood and people's expectations are. Clearly optimism is in the air. And those who put money in the stock market a year ago have made out like bandits.
Despite all of this, despite confidence going up, private investment has yet to pick up, and that's what we are waiting for. There is a very tough external market; exporters are having great difficulty right now. A good number of corporate balance sheets are stressed, which is why it's important to pick up public investments to get things going while corporate balance sheets improve, and therefore improve bank balance sheets. 
Sandra Peterson
Group Worldwide Chairman and Member of the Executive Committee at Johnson & Johnson
I think first and foremost the business community in general has been thrilled by the change in administration, but I think you have to put it in a broader context. I think most business leaders, when they're thinking about making investments in various countries, couldn't rattle off all the wonderful things we've heard [recently]. I think their knowledge, their understanding, and their experiences of operating in India over the last 20 or 30 years, you can't change that image in 12 months. Some of the things we've begun to see in terms of stability around reform, like a little bit more predictability, has been helpful. But I think in general what we all need to recognize is that we can't change the image overnight.
I think we're also at a very interesting point because if you look at the alternatives of where large companies can be investing in Asia, there are lots of options. But if you think about what has happened recently in the change of administration in China at the same time that we've seen a change in administration in India, I think it gives a large opportunity for India to develop a much more attractive place for foreign investment. China for most business leaders has become less predictable than it used to be. … So I think it is a big opportunity for India at the moment to develop more predictability and find the right way to talk about its messy democracy in a positive way.

Shekhar Gupta
Columnist and Former Editor-in-Chief of the Indian Express
I could count the ideas [of the previous United Progressive Alliance-led government]: direct benefit transfer of subsidies, rolling back of fuel subsidies, power sector reform at all levels, public-private partnerships in many areas of infrastructure, a unique identity program to give every Indian a biometric identity, the land boundary agreement with Bangladesh… all these things were ready to be done. But the previous government was not able to do them because its politics were not right and because its political masters did not give the prime minister, the prime minister's office, and the government the kind of control and respect they must have in a system like India's. They were not able to move.
So the big change in India now is not that India has had a big change of heart or a big change of mind and all of a sudden we have a very evolved form of government. We just have a government. We have a government whose train runs. So in the past one year, 80 or 90 percent of the good news on the economy and foreign policy that you've seen coming out of this government is basically them cooking up all these vegetables and masalas that the previous government had already cut and kept ready. It was all half done. So the difference between 2014 and 2014 onwards is having a government whose train runs. 

Shivshankar Menon
Former Indian National Security Advisor
One of the biggest differences in substance, I think, is the doubling down on the relationship with the U.S. I would go so far as to actually say it's a strong pro-Western tip. If you look at the things this government has announced, like that the prime minister will visit Israel, no Indian prime minister has done that before. You look at the substance in the relationship with the U.S., which has been revived. The Defense Technology Initiative might be something we started in 2012 with Ash Carter, but today it has real substance. You look at the joint vision statement for the Asia-Pacific, which was issued after President Obama's January visit on Republic Day. So there is, I think, certainly a substantive shift there, which is important.
There are other things as well. We have always, at least since the beginning of reform in 1991, spoken of the economic thrust behind diplomacy. But I think we see it much more clearly today with the manner in which foreign policy is being carried out. The other example of course is the willingness to raise the level of the trilateral with Australia and Japan — something that's been on and off the agenda for the past eight years or so.

Ashley Tellis
Senior Associate at the Carnegie Endowment for International Peace
Something that is very new for India is [Modi's] emphasis that the United States and India must jointly do things together for the world. Previous governments had implicitly adopted the premise that the United States is far more powerful than India, and therefore the kind of collaboration that one can imagine would always be asymmetrical collaboration. Even though I believe that India still is obviously still not on par with the United States when it comes to economic power capacity and political power capacity, Modi certainly has not let his inhibitions about the relative lack of capacity come in the way of very boldly proposing things that the United States and India should do in third countries. ... This is something obviously very welcome in the United States and represents a new beginning.
The one unfinished business in my mind is deeper bilateral engagement on the economy, because no matter how much our strategic interests happen to converge, our ability to carry the kind of partnership that both countries want will be weakened considerably if the material foundations that tie the two economies together do not become as mature as they ought to be.

Indrani Bagchi
Senior Diplomatic Editor with the Times of India
The aspect of Modi which has been a bit of surprise has been, after the first couple of times we heard him, we thought that suddenly we'd elected a missionary. The first thing he did was sort of ram everybody with a broom and said, "Clean out your offices." The UPA government used to have their social agenda, they had the rural employment guarantee programs, and the unique identification system, but Modi has a different level — sometimes you feel he's doing a project of national renewal between the Clean India-Swachh Bharat Abhiyan, the Digital India, the cleanup Ganga projects — all of these. He even used his August 15 speech at the Red Fort to tell parents to control their sons and not daughters. He said it's the sons who are responsible for the violence on women, which is something very few Indian leaders have taken the trouble to address. There is that missionary zeal that he has about transforming society.
---
Video Clip: How Modi is 'Cooking Up' Policies Prepared by the Previous Indian Government (4 min.)
Video Clip: How India is 'Speed Dating' Major World Powers, But Has Yet to Set Clear Foreign Policy (3 min., 23 sec.)
Video: India's Ambassador to the U.S. on Narendra Modi's First Year as Prime Minister (30 min.)
Video: India's Economy Under Modi: One Year In (1 hr., 1 min.)
Video: India's Foreign Policy Under Modi: One Year In (1 hr., 19 min.)