Modi's Mandate, and Other Reasons Why India's Election Results Are So Historic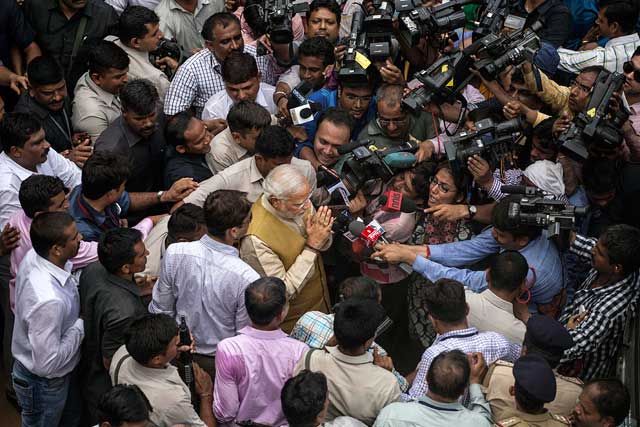 BJP leader Narendra Modi surrounded by supporters, security, and media after visiting his mother on May 16, 2014 in Ahmedabad, India. (Kevin Frayer/Getty Images)
The opinions expressed in this article are solely those of the author and do not necessarily reflect the views of Asia Society.

On May 19, 2014, the Asia Society Policy Institute will present a special luncheon and discussion on India's elections, the results, and what they mean for Asia and the world. Speakers will include Bobby Ghosh, World Editor of TIME magazine; Devesh Kapur, Director of the Center for the Advanced Study of India at the University of Pennsylvania; and Frank Wisner, former U.S. Ambassador to India.
The Hindu nationalist party, the Bharatiya Janata Party, returned to power in India after a 10-year gap. However, this election victory is different for a number of reasons.
One, the scale of the BJP candidate Narendra Modi's win has been phenomenal. The BJP secured an absolute majority of 282 seats — 10 more than required for a parliamentary majority. Along with other electoral allies, Modi will have a huge 334-seat cushion — and more parties are set to join the ruling coalition in the next few days. This is the largest mandate for a national party in India's normally fragmented polity since 1984. The outgoing Congress Party, a party that has dominated Indian politics since independence, has been reduced to its lowest-ever tally of 46 seats. By winning 32 percent of the vote and reducing the Congress to less than 20 per cent, as well as winning seats and vote share in parts of southern and eastern India where it previously hasn't existed, the BJP emerged as a genuinely national rather than merely North Indian political party.
Two, Modi now has the mandate to carry out the wide-ranging policy reforms that are seen as necessary to revive a stagflating Indian economy. Even before the results were out, the Mumbai stock exchange had rallied to its highest-ever level. This reflected corporate excitement at the idea of Modi — a three-term chief minister of the state Gujarat with a reputation for decisive and pro-business administrative skills. Over 70 pieces of legislation are pending in Parliament. Economists argue that just a half-dozen reforms would add two or three percentage points to India's present sluggish 5 percent growth and kickstart a paralyzed investment cycle.
Three, the Modi government will be watched closely for signs of majoritarian discrimination, especially against India's Muslim minority. Modi is seen with suspicion by the country's sizable non-Hindu minorities because of his suspected acquiescence in, if not encouragement of, anti-Muslim riots in 2002. He will easily be the most sectarian prime minister India has ever elected. The evidence seems to be that while Modi may have winked at the 2002 riots, subsequently he concluded religion was not the way to win votes and focused instead on economic development and governance issues. About 15 percent of Gujarati Muslims reportedly voted in favor of the BJP in the last state election. My sense is that apocalyptic visions of a Prime Minister Modi tearing apart India's secular fabric are grossly exaggerated. Whatever his views, the fact is that there are a sizable number of checks and balances in the Indian polity, including the media and judiciary, to keep Modi from straying off the democratic liberal path.
Four, Modi will represent a slightly different foreign policy vision, one that will place an unusual focus on economic issues and be less concerned about India's role on the world stage. This more inward-looking India reflects its present economic situation, but also fits in with a Hindutva (political Hinduism) worldview that is unduly concerned with the reform of Hindu culture and society — and not much about the rest of the world. The new Indian prime minister will also have a tense relationship with the United States because of Washington's imposition of a visa ban on Modi after the 2002 riots.
This was an election campaign largely fought over economic issues — the outgoing prime ministership of Manmohan Singh was blamed for stubborn food inflation and a swathe of corruption cases. Modi's legacy as prime minister will be built around what he can do to resuscitate the Indian economy. And that will be the dominant theme in Indian politics for the next five years.