China's Online Community Reacts to Mo Yan's Nobel Prize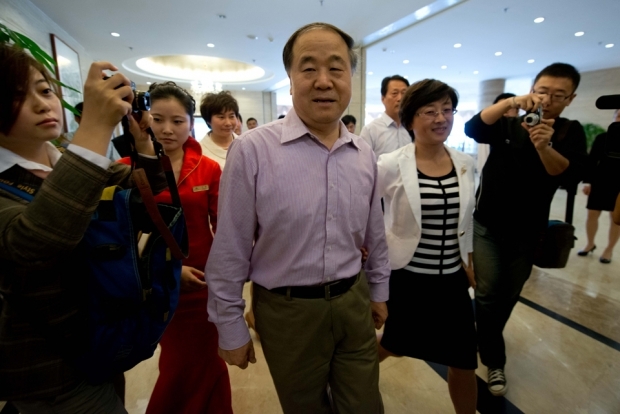 Chinese author and 2012 Nobel Prize in Literature winner Mo Yan arrives for a press conference at a hotel in Gaomi in China's Shandong province, October 12, 2012. (Ed Jones/AFP/GettyImages).
Upon hearing the news that novelist Mo Yan was awarded the 2012 Nobel Prize in Literature, a flurry of messages about the fifty-seven-year-old Shandong native circulated on weibo, China's equivalent of Twitter, expressing decidedly mixed opinions about whether the author of novels like Red Sorghum, Republic of Wine, and The Garlic Ballads deserved such an exalted prize or, indeed, whether the prize should even be taken seriously in China.

This story originally appeared on Asia Blog partner site ChinaFile, a new online magazine from Asia Society's Center on U.S.-China Relations.
On the weibo service run by Tencent, China's largest Internet company, messages about Mo Yan jumped from just 18,500 on Wednesday to 563,000 after the announcement of his $1.2 million prize.
The last time a Chinese national won a Nobel Prize—the Peace Prize—it was 2010, when jailed dissident intellectual Liu Xiaobo was honored, much to the chagrin of China's leaders. Previous awards to Chinese had been similarly consternating. The Chinese-born writer Gao Xingjian, whose work was widely criticized and even banned in China, won the Nobel Prize in Literature in 2000, while living in exile in Paris. The Dalai Lama, the Tibetan spiritual leader, won the Peace Prize in 1989.
Mo Yan's real name is Guan Moye. Mo Yan is a pen name which means "don't talk," or "shut up" in literary Chinese. This prompted an online joke about the problem the four recent award recipients posed to Chinese public discourse.
"There have been four Nobel winners born in China recently. The first few, we can't speak of. The last is okay to discuss, but his name is Mo Yan," wrote a weibo user calling himself Wei Junxian. "In other words, these four respectively are 'Mo Yan,' 'Mo Yan,' 'Mo Yan' and 'Mo Yan.'"
In another weibo post, user Han Jieming imagined the comic scene at the award ceremony: "Mo Yan goes to the podium and introduces himself: My name is "shut up."
Others were outright critical of Mo Yan, whose book Red Sorghum is perhaps best known in the West because of a film version by director Zhang Yimou. Well-known leftist public critic Han Deqiang wrote in a weibo post that he had never much liked Mo Yan:
[He] denies the will with lust, denies the upper body with the lower body, denies humanity with beastliness, denies structure with stream of consciousness, denies reality with daydreaming, denies society with the individual, and denies the Communist Party and the New China with a landlord bastard's complaints. Thus, the West pays attention.
Popular publisher Shen Haobo reflected on the meaning of the Western award to the Chinese literary arts, saying that he felt that neither Mo Yan nor popular self-exiled poet Bei Dao were the best practitioners of their craft: "Bei Dao has been so close to the Nobel several times and never got it. I can't help but sigh. Writing doesn't need to be proved by an award, but winning the award depends on one's destiny."
Welcoming Mo Yan's prize was the the People's Daily, the official newspaper of the Chinese Communist Party, which posted the exultant weibo message:
Mo Yan wins the Nobel in Literature! This is the first time a Chinese national writer has won this award. Chinese writers have waited too long for this day. The Chinese people have waited too long, too. Chinese literature should go abroad and Chinese writers should go out to the world. China will not just have one Mo Yan. As long as writers dare to face their own hearts, don't fail to live up to this age, and the environment for creation keeps improving, more excellent work will certainly be born.