China, the U.S., and Islamic Terrorism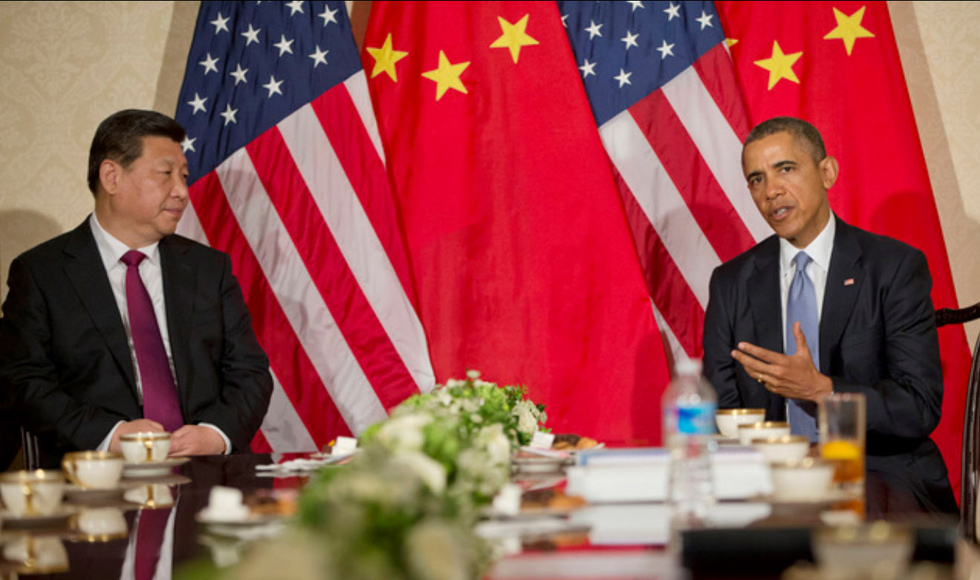 President Xi Jinping of China and President Barack Obama of the United States meet in the Netherlands in 2014. (U.S. Embassy The Hague/Flickr)
November has been a terrible month in the fight against Islamic terror. Last Thursday, a pair of suicide bombers afiliated with the Islamic State struck downtown Beirut, Lebanon, killing 43. The following evening, a coordinated series of attacks planned and executed by ISIS adherents in Paris claimed 129 more lives. This week, separate attacks in Yola, Nigeria, and Bamako, Mali killed 32 and 27, respectively.
The geographic scope, variety, and brutality of the attacks has pushed terrorism to the forefront of international public consciousness more than at any point since 9/11. Accordingly, attention paid to the geopolitical rivalry between China and the United States has dimmed, as both countries rhetorically agree on the importance of combating Islamic extremism. Orville Schell recently told Asia Blog that the Paris attacks may even spur cooperation between Washington and Beijing. 
"My hope that out of the tragedy of Paris the U.S. and China will conclude that it is more important to come together around areas of common interest such as anti-terrorism and climate change," he said. "If this turns out to be the case, the catastrophic events of the last week in Paris could turn out to have an unexpected providential effect."
Is a China-U.S. partnership in the struggle against extremism feasible? Andrew Small, transatlantic fellow at the German Marshall Fund of the United States and the author of the new book, The China-Pakistan Axis: Asia's New Geopolitics, sounded a skeptical note. Writing in the latest conversation for ChinaFile, Small argued that China's "unwillingness to draw clear lines between the terrorist, the political activist, and the aggrieved citizen makes certain forms of cooperation—such as detailed intelligence sharing—very problematic." 
In the same conversation, Wei Zhu, an associate with the religion program of the Social Science Research Council in New York City, cited China's complaint that Western countries offer insufficient sympathy for the country after its own terrorist incidents, such as a knife attack at the Kunming railway station that killed 29 last year.
"The fear and terror caused by these attacks are real, as are the anger and frustration shared by many Chinese at how the West views attacks by Uighur militants; that is, with not enough concern and seriousness," Wei wrote.
However the two countries cooperate in the fight against Islamic terror, President Obama clearly hasn't forgotten about the points of contention in the Sino-American relationship. On Tuesday, appearing on the sidelines of the Asia Pacific Economic Cooperation summit in Manila, Obama called on China to halt construction of artificial islands in the South China Sea — a request likely to fall on deaf ears in Beijing.