After Paris: Is China Still on Presidential Candidates' Radar?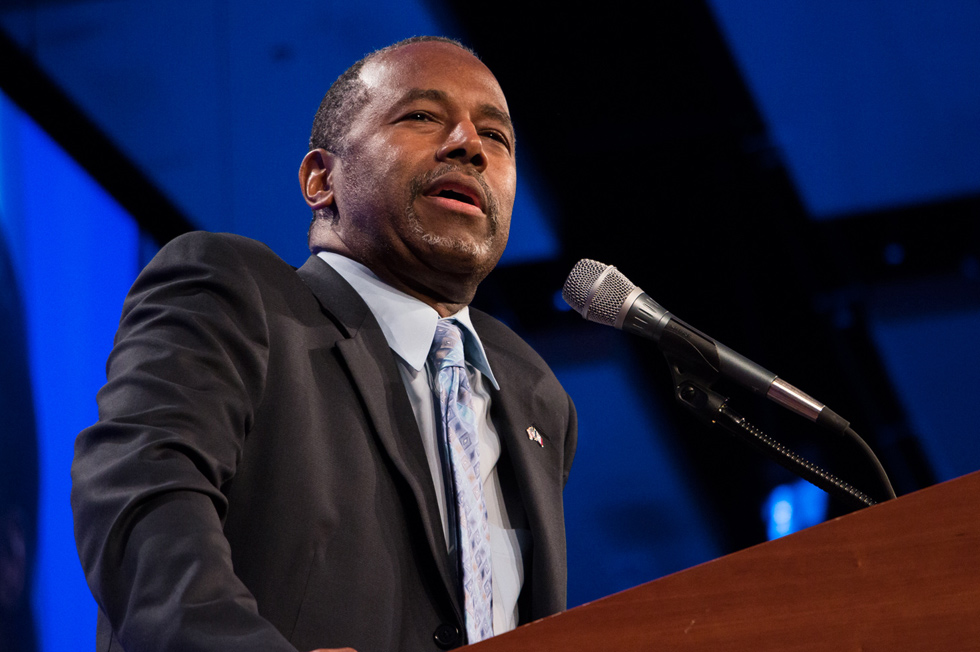 Republican presidential candidate Ben Carson speaks at the annual Lincoln Dinner in Des Moines, Iowa, in May. (John Premble/Flickr)
In the days since coordinated terrorist attacks in Paris left 129 dead, foreign policy has again emerged as a major issue in the 2016 U.S. presidential campaign. During a debate held Saturday in Des Moines, Iowa, Bernie Sanders and Martin O'Malley pressed frontrunner Hillary Clinton on her foreign policy acumen, prompting the former secretary of state to cite her experience as a senator from New York during 9/11. Meanwhile, the 14 remaining Republican presidential candidates incorporated the Paris attacks into their stump speeches, using the incident to call for tighter controls on immigration and a more robust military response to the Islamic State.
This recent focus on ISIS, however, doesn't mean that the presidential candidates have forgotten about China, and the East Asian country was a frequent topic of conversation during last Wednesday's Republican debate in Milwaukee, Wisconsin. According to ChinaFile's tracking tool, five of the candidates — Donald Trump, Rand Paul, Chris Christie, Ben Carson, and Ted Cruz — brought up the country in conversations ranging from trade to cybersecurity. Regarding the latter subject, Christie said that "if the Chinese commit cyberwarfare against us, they are going to see cyberwarfare like they have never seen before."
Carson, for his part, said that China had become involved in the Syrian conflict — a claim denied by both Beijing and the White House. (The retired neurosurgeon later promised to release evidence for his statement.) 
One subject likely to recur during the campaign is the South China Sea. In recent years, countries such as Vietnam, the Philippines, and Japan have challenged China's maritime claims, arguing that they fall within the countries' exclusive economic zone. On the sidelines of the Asia Pacific Economic Cooperation summit in Manila on Tuesday, President Obama pledged $250 million to five countries in the region and called on China to halt construction of artificial islands in contested waters.
Despite these tensions, the campaign focus on China may not be entirely adversarial. 
"My hope that out of the tragedy of Paris the U.S. and China will conclude that it is more important to come together around areas of common interest such as anti-terrorism and climate change," said Orville Schell, the Arthur Ross director of the Center on U.S.-China Relations at Asia Society. "If this turns out to be the case, the catastrophic events of the last week in Paris could turn out to have an unexpected providential effect."
Watch the complete program: China, the U.S., and the 2016 Vote