Book Excerpt: 'The Valley of Amazement ' by Amy Tan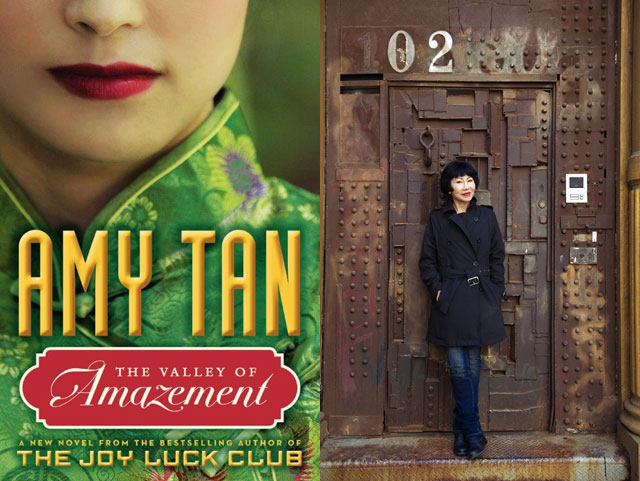 "The Valley of Amazement" (Ecco/HarperCollins, 2013) by Amy Tan (R). (Rick Smolan/Against All Odds Productions)
In her first novel in eight years, The Valley of Amazement (HarperCollins 2013), Amy Tan has woven an evocative narrative about the profound connections between mothers and daughters, a theme that returns readers to the territory of Tan's breakout novel The Joy Luck Club.
Shanghai, 1912. Violet Minturn is the privileged daughter of the American madam of the city's most exclusive courtesan house. But when the Ching dynasty is overturned, Violet is separated from her mother in a cruel act of chicanery and forced to become a "virgin courtesan." Half-Chinese and half-American, Violet grapples with her place in the worlds of East and West. Back in 1897 San Francisco, meanwhile, Violet's mother, Lucia, chooses a disastrous course as a sixteen-year-old, when her infatuation with a Chinese painter compels her to leave her home for Shanghai.
Spanning more than 40 years and two continents, The Valley of Amazement takes readers from the collapse of China's last imperial dynasty to the beginning of the Republic and recaptures the lost world of old Shanghai through the inner workings of courtesan houses and the lives of the foreigners living in the International Settlement.
Tan will be joined by Orville Schell, Arthur Ross Director of the Center on U.S.-China Relations, at Asia Society New York on Thursday, March 6 to discuss the reconstruction of memory and family stories in writing fiction. A book sale and signing will follow the discussion. (For those who can't attend in person, the program will also be a free live webcast on AsiaSociety.org/Live at 6:30 pm New York City time; the online audience is encouraged to submit questions to moderator@asiasociety.org or or via Twitter or Facebook using the hashtag #askasia before and during the webcast.)
Tan also recently introduced The Valley of Amazement to a packed house at Asia Society Texas Center. Click here for coverage of that event.
---
Chapter 1
Hidden Jade Path
Shanghai
1905 – 1907
Violet
When I was seven, I knew exactly who I was: a thoroughly American girl in race, manners, and speech, whose mother, Lulu Minturn, was the only white woman who owned a first-class courtesan house in Shanghai.
My mother named me Violet after a tiny flower she loved as a girl growing up in San Francisco, a city I have seen only in postcards. I grew to hate my name. The courtesans pronounced it like the Shanghainese word vyau-la — what you said when you wanted to get rid of something. "Vyau-la! Vyau-la!" greeted me everywhere.
My mother took a Chinese name, Lulu Mimi, which sounded like her American one, and her courtesan house was then known as the House of Lulu Mimi. Her Western clients knew it by the English translation of the characters in her name: Hidden Jade Path. There were no other first-class courtesan houses that catered to both Chinese and Western clients, many of whom were among the wealthiest in foreign trade. And thus, she broke taboo rather extravagantly in both worlds.
That house of flowers was my entire world. I had no peers or little American friends. When I was six, Mother enrolled me in Miss Jewell's Academy for Girls. There were only fourteen pupils, and they were all cruel. Some of their mothers had objected to my presence, and those daughters united all the girls in a plot to expel me. They said I lived in a house of "evil ways," and that no one should touch me, lest my taint rub off on them. They also told the teacher I cursed all the time, when I had done so only once. But the worst insult came from an older girl with silly ringlets. On my third day, I arrived at school and was walking down the hallway when this girl walked briskly up to me and said within hearing distance of my teacher and the younger class girls: "You spoke Chinee to a Chinee beggar and that makes you Chinee." I could not bear one more of her insults. I grabbed her ringlets and hung on. She screamed, and a dozen fists pummeled my back and another bloodied my lip and knocked out a tooth that had already been loose. I spit it out, and we all stared for a second at the glistening tusk, and then I clutched my neck for dramatic effect and shrieked, "I've been killed!" before collapsing to the floor. One girl fainted, and the ringleader and her pack scampered off with stricken faces. I picked up the tooth — a former living part of me — and the teacher quickly put a knotted kerchief to my face to staunch the blood, then sent me home in a rickshaw with no parting words of comfort. Mother decided on the spot that I would be tutored at home.
Confused, I told her what I had said to the old beggar: "Lao huazi, let me by." Until she told me that lao huazi was the Chinese word for beggar, I had not known I was speaking a hodgepodge of English, Chinese, and the Shanghainese dialect. Then again, why would I know the word beggar in English when I had never seen an American grandpa slumped against a wall, mumbling with a slack mouth so that I might have pity on him? Until I went to school, I had been speaking my peculiar language only in Hidden Jade Path to our four courtesans, their attendants, and the servants. Their syllables of gossip and flirtation, complaints and woe went into my ear and came out of my mouth, and in conversations I had with my mother, I had never been told there was anything amiss with my speech. Adding to the mess, Mother also spoke Chinese, and her attendant, Golden Dove, also spoke English.
---
Excerpted from The Valley of Amazement by Amy Tan. Copyright © 2013 by Amy Tan. Excerpt courtesy of Ecco, an imprint of HarperCollins Publishers. All rights reserved. No part of this excerpt may be reproduced or reprinted without permission in writing from the publisher.