Asia 21 Young Leaders Help Make History at Afghanistan Presidential Debate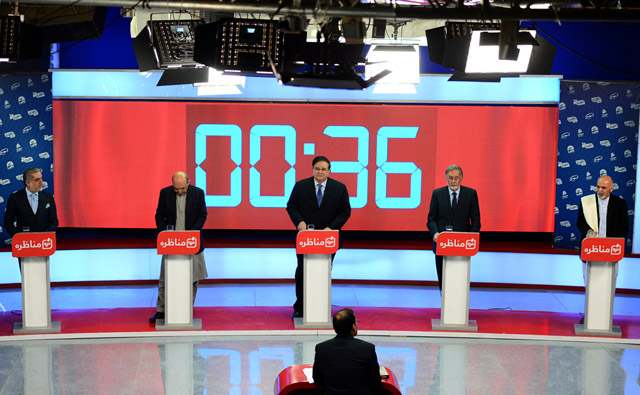 L to R: Afghan presidential candidates Abdullah Abdullah, Qayum Karzai, Abdul Rahim Wardak, Zalmai Rassoul and Ashraf Ghani take part in a debate at Tolo TV station in Kabul on February 4, 2014. (Wakil Kohsar/AFP/Getty Images)
In a first for Afghanistan, the war-torn country's leading presidential candidates met Tuesday night in a live televised debate. Tolo News, an independent news channel in Afghanistan, aired the historic event, which The Wall Street Journal said showed "an increasingly sophisticated approach to political campaigning." Five of Afghanistan's 11 presidential candidates participated in the debate: Abdullah Abdullah, Ashraf Ghani, Zalmai Rassoul, Abdul Rahim Wardak and Abdul Qayoum Karzai.
Two Tolo News executives have Asia Society connections. Saad Mohseni, chairmain of Moby Group, the media company which owns Tolo News, and Lotfullah Najafizada, head of Tolo News, are both active in Asia Society's Asia 21 Young Leaders initiative, a network of emerging Asian leaders under the age of 40. You can read Tolo News' coverage of the debate in English here.
"In a country where close to 70 percent of the population is under the age of 25, Afghanistan's next president must have the needs of this next generation front and center in any policy discussions," said Mike Kulma, executive director of global leadership initiatives at Asia Society. "The Asia Society's Afghan Young Leaders Initiative is bringing together the country's up-and-coming leaders to make sure that their energy and passion are captured and that their voices are heard."
Here's more on Tuesday's debate from The Wall Street Journal:
The debate was aired as Afghan newsrooms prepare for blanket coverage of the campaign. Local media outlets are launching dedicated campaign websites, editors are dispatching reporters to the provinces, and candidates are prepping for a series of unprecedented debates.

The vote, which would mark the first democratic transfer of power in Afghanistan's history, will decide whether the fragile democracy—and its fledgling independent media—will survive as international aid winds down and U.S. and international troops leave in December.

Lotfullah Najafizada, the head of Tolo News, described a meeting with 100 or more reporters and editors on Sunday, the day the campaigning officially began.

"What's happening in the next 60 days is not a typical campaign period—it's something which is going to determine our future," Mr. Najafizada recalled telling his staff. "This is really a struggle for survival."
Mohseni and Najafizad were not the only people with Asia Society ties at the debate on Tuesday. Presidential candidate Abdullah Abdullah, runner-up in the 2009 election, is a member of the Asia Society Global Council and has spoken to Asia Society audiences on several occasions. And candidates Ashraf Ghani and Zalmai Rassoul have particpated in public events at Asia Society in New York, Ghani most recently in 2009 and Rassoul in 2013.