From 9/11 to 3/11: How Survivors of Two Disasters Help Each Other Cope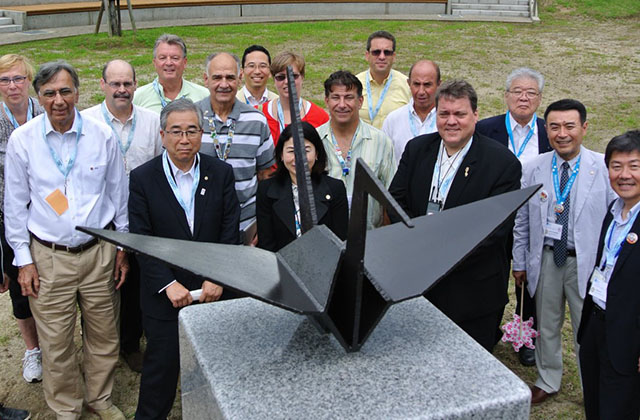 Participants in an exchange between 9/11 and 3/11 survivors pose in Kaisezan Park, Koriyama, Fukushima Prefecture with a steel origami crane in 2013. The crane was fashioned from World Trade Center wreckage and presented by the 9/11 Tribute Center on the first outreach trip in 2012. (9/11 Tribute Center)
When a 9.0 magnitude earthquake struck beneath the Pacific Ocean on March 11, 2011, it sent a tsunami careening across Japan's coastline that wiped out entire towns and triggered the world's worst nuclear meltdown since Chernobyl. A decade earlier on September 11, 2001, men wrested control of four passenger jets over American skies and steered them toward iconic buildings, launching an attack that claimed thousands of lives.
The two disasters were separated by 10 years and 6,700 miles — one an act of nature, the other of man — and struck two seemingly very different societies. But in recent years, people affected by 9/11 and 3/11 have come together to cope, and, in the process, charted new waters in post-trauma recovery.
"Loss is loss, whether it comes from terrorist attack or a tsunami," said Ann Van Hine, whose husband Bruce Van Hine, a firefighter, was killed on 9/11. "In a way we were bringing hope to the people of Japan, because we were further along on the journey to recovery, and they could see that there is a future … even though at that time it didn't seem possible."
Van Hine is one of a few dozen people directly impacted by 9/11 that has traveled to Japan in recent years to meet with victims of the 3/11 earthquake and tsunami — a mutual support exchange that sprouted from an unlikely series of events involving Japanese 9/11 victims, origami, and a desire to forward the field of disaster psychiatry.  
In 2006, the September 11th Families' Association established the 9/11 Tribute Center in lower Manhattan, which allowed survivors, family members of victims, and others directly affected by the attacks to lead educational tours and share their stories as docents. To date, nearly 400,000 visitors have participated. Meriam Lobel, curator of exhibits and programs at the center, says giving these tours is often therapeutic. "For many people still going through the anguish of the loss, they can't just turn to a coworker or family member and keep talking about it, because they probably don't want to hear about it anymore," she said. "It's psychologically beneficial to be able to retell the story to people eager to hear what happened."
It was this therapeutic practice that eventually drew many 9/11 docents to Japan to tell their stories and listen to those of 3/11 victims. But long before the 2011 earthquake, Japan had already been inexorably linked to September 11. Twenty-four Japanese citizens were among those killed when the World Trade Center buildings collapsed. In the months after the attacks, origami cranes began to appear among the tributes left at Ground Zero — a nod to an enduring Japanese tradition.
In 1955, when a 12-year-old Japanese girl named Sadako Sasaki was dying of leukemia stemming from her exposure to the Hiroshima atomic bomb fallout a decade earlier, she began folding a thousand origami cranes. "Please treasure the life that is given to you," Sadako reportedly said shortly before her death in 1955. "It is my belief that my small paper crane will enable you to understand other people's feelings, as if they are your own."
The tradition stuck. In 2007, families of Japanese 9/11 victims organized the folding of 10,000 origami cranes to be put on display at the 9/11 Tribute Center. These were capped by one of the original cranes that young Sadako folded in 1955, donated by her then 68-year-old brother, Masahiro Sasaki. "I thought if Sadako's crane is placed at Ground Zero, it will be very meaningful," he said at an education program produced by the tribute center and the Manhattan-based non-profit group Japan Society in 2009. "Commonly, in Japan, the crane is regarded as a symbol of peace. But for us, in the Sasaki family, it is the embodiment of Sadako's life, and it is filled with her wish and hope."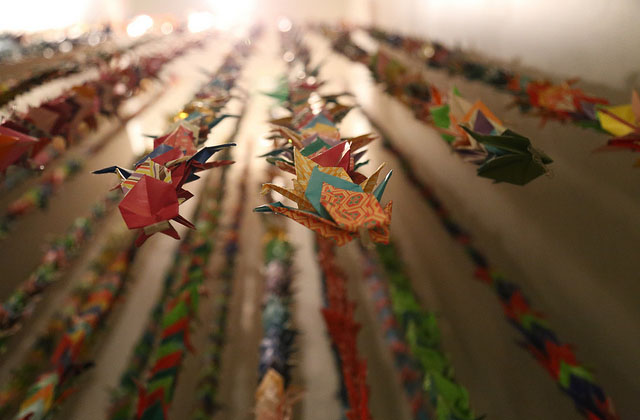 10,000 origami cranes hang at the 9/11 Tribute Center, folded by students in Japan and families and friends of Japanese victims of 9/11. (Nuno Cardoso/Flickr)
When the 3/11 disaster struck in 2011, the tribute center's link to Japan prompted the idea of 9/11 survivors reaching out to give support. "We started saying — we've lived with 9/11 and have been moving forward for 10 years," Lobel said. "We thought maybe we could go there and talk to survivors and tell them what has been most helpful to us as a community."
Through the help of the Japan Society and various Japanese diplomats, the 9/11 Tribute Center arranged a trip in the autumn of 2012 for eight 9/11 docents to visit schools, hospitals, Rotary clubs, temporary housing facilities, and other communities affected by the tsunami or nuclear fallout.
Another party interested in the exchange was New York's Mount Sinai Hospital, which had been running a World Trade Center Health Program to give physical and mental health treatment for 9/11 survivors. "We'd known World Trade Center survivors for 10 years, and knew there were some ongoing issues," said Robert Yanagisawa, a doctor at Mount Sinai and vice president of the Japanese Medical Society of America. "As a group, we wanted to do something more long-lasting for people in Japan than just something immediate. We felt that this was an overwhelming disaster people would have to struggle with for a long time."
Yanagisawa and Mount Sinai disaster psychiatrist Craig Katz, who had founded the World Trade Center Health Program, did some research and found that there was little precedent for this sort of intercultural post-trauma outreach. So they contacted psychiatric teams in Japan, wondering how exchanges by people of such different backgrounds affected by such divergent disasters would respond to one another. "Nobody really had the answer," Yanagisawa said. "We weren't sure how it would go, so the first time we said we'll have to just try it out and see."
This uncertainty was shared by the 9/11 docents who had volunteered for the trip. New Yorker Jim Giaccone had lost his then 43-year-old brother Joe Giaccone when the World Trade Center collapsed; Joe's body was never recovered. Having become a docent for the 9/11 Tribute Center in 2009 as a way to cope and keep his brother's memory alive, he hoped the trip to Japan would have a similar effect and possibly help others. "But we were all very apprehensive," Giaccone said. "We had no idea what we were coming into, no idea how we'd be received."
The group's first stop in Japan was Rikuzentakata — a fishing town that had been decimated by the tsunami and lost nearly 1,700 of its residents. When Giaccone arrived, he immediately noticed mountains of debris from the disaster that were still piled together. "It brought me right back to September 11," he recalled. "So the visceral reminders and the similarities were there."
During his first speech, a Japanese man who'd survived the tsunami challenged Giaccone on how different the respective disasters were. But after the talk, the two men spoke privately and Giaccone stressed that "a loss is a loss" and that they were traumatized in similar ways. It led to "a nice intimate conversation" that ended in the two men exchanging gifts. "It started out as a challenge and it wound up as a common bond," Giaccone said. "I think they all came to realize that we were there to help in what little way we could and give them moral and emotional support."
These common bonds were found in many different ways. At a subsequent trip the following year, Giaccone met a man who'd lost his wife and daughter in the tsunami. Like Giaccone's brother, their bodies were never recovered. "That seemed to be a very deep commonality that I had with him, and I told him that my brother would be very proud and humbled that I dedicate a lot of my time to make sure that his memory is still alive."
The man was just starting to become a docent himself and giving tours of the area to visitors. "He was finding the same thing," Giaccone said. "He was opening up and speaking to other Japanese people instead of being reserved and swallowing it."
Ann Van Hine also immediately recognized parallels between her experience and those of the Japanese survivors she was meeting. "When we first met people, there was that blank look on their faces," she recalled. "I knew that look, of just being on autopilot, because I'd had that look at one point."
Van Hine remembered that after losing her husband, all sorts of unexpected questions started popping up in the months and years that followed — like her daughters wondering what would happen when they eventually married and had no one to walk them down the aisle. Japanese survivors seemed to feel that these recollections hit close to home. "Stories like that give hope that there will be a solution," Van Hine said.
Most people on both sides of these meetings couldn't speak the other's language, but participants largely reported that this did not hinder communication. Non-professional interpreters, who were chosen not for their experience but for their enthusiasm toward the project, accompanied the groups, but many participants found that body language expressed more than words could. Van Hine recalled one interaction with a young Japanese girl who had been displaced because of radiation. The move had interrupted her study of ballet — something Van Hine also had a passion for — so the two spontaneously began practicing moves together. "We could both speak that language of dance," Van Hine said. "So that was really special for me to be with this girl and share something so special."

9/11 docents participate in a procession at the annual Uneme Festival in Koriyama, Fukushima Prefecture at the invitation of the Koriyama West Rotary Club. Members of the club felt that participation by the 9/11 outreach group would be an important way to reinforce the sense of solidarity between the two communities. (9/11 Tribute Center)
Since the first trip in 2012, 9/11 docents have returned to Japan three times. Each subsequent outreach has included returnees and first-timers, as well as trips to both new areas and returns to survivors reached on previous visits. Organizers say this approach is important for maintaining a sense of continuity and long-term commitment, as well as providing a chance to see how individuals are progressing.
By the third trip, Robert Yanagisawa's team from Mount Sinai was ready to begin empirically assessing the impacts. In a study later published in the book Mental Health and Social Issues Following a Nuclear Accident: The Case of Fukushima, a survey was conducted with Japanese participants in the exchanges. The results showed overwhelming support for the program. "There are unique sentiments shared only by those who experienced disasters. Please continue this support program," said one respondent. "Regardless of the cause, disaster always brings tragedy. We always need to support each other and I would like to continue such efforts," said another.
Yanagisawa noted that such large disasters spawn many different experiences and many different struggles among those impacted, but both sides repeatedly found common threads with one another, such as "survivor's guilt," or one situation where firefighters on both sides were able to relate the trauma involved with being first responders. But there were also cultural differences, such as a higher aversion in Japan to discussing problems and personal feelings so openly. But even this issue was overcome in most cases. "After hearing the 9/11 stories, [the Japanese] really approached [9/11 docents] individually," Yanagisawa said. "In the end, we created a situation for Japanese survivors to talk about their losses and what happened. Nobody really had to pry information out of them."
Yanagisawa also noted that, while support groups are common all over the world — including in Japan — the international element of the 3/11-9/11 exchanges appears to have added benefits. He says that despite the vast media coverage disasters initially receive, the general public's interest inevitably wanes as time goes on. This leaves many survivors feeling that people have forgotten. "But having a really international outreach signifies that someone they never imagined still knows what's happening and cares about them," he said. "So I think it's even more dramatic when someone from the other side of the Earth comes with open arms and wants to be like a family and stay connected."
Another finding from the survey suggested that these exchanges can have "a ripple effect" in the communities they reach. One respondent emphasized the Japanese concept of otagaisama (lending a helping hand), and said that after being "deeply touched" by the 9/11 docents' efforts, he wanted to support shelters that still house victims. According to the report, "several expressed interest in incorporating what they had learned about disaster psychiatry into their vocational work as public speakers, firefighters, and radio show hosts."
The exchanges have also left lessons that could potentially be applied to future tragedies. The authors of the study concluded that such programs represent "untapped potential" in the form of peer support in sustained disaster response. "We traditionally think of disaster relief as involving the deployment of supplies and professionals into disaster-affected communities," the study said. "But, we propose that such a view overlooks as inexpensive and natural of a resource for recovery that exists — the human reflex to comfort and to gather in the face of adversity."
Ann Van Hine recalled that on her second trip to Japan in 2014, she noticed that the looks of being on "autopilot" had begun to dissipate among many of the Japanese survivors she'd met on her previous visit. "There were more smiles — they'd sort of established their new normal," she said. "That's what my daughters and I started calling it a couple years after September 11. It will never be normal again, but there's a new normal, and that's what I felt they were doing in Japan — they were working on their new normal."