25 Remarkable Images Provide Rare Glimpse of 1956 China

Tom Hutchins walks on the Great Wall of China. (Unknown)
In 1956, the New Zealand photographer Tom Hutchins traveled to the People's Republic of China on a freelance assignment, earning a rare opportunity to document what was then one of the world's most isolated countries. Following his return home, Hutchins attempted to publish a book of his work — but was unsuccessful. He then put the trip behind him. Hutchins stored the vast majority of his images underneath his house, and seldom mentioned his China work in subsequent decades. Years later, the photographer and photo historian John B. Turner located the invaluable trove and began the painstaking work of preserving Hutchins' photographs of China.
The photos reveal a country that, in 1956, was enjoying a rare moment of calm and optimism — the combination of World War II, Japanese occupation, and civil war that upended China in the 1940s had ended, and the convulsions caused by the Great Leap Forward and Cultural Revolution had not yet begun. Included among the images are portraits of China's top leadership: Chairman Mao Zedong and his longtime premier, Zhou Enlai. But Hutchins' most moving work profiles ordinary men and women, including a rare glimpse of ethnic minority populations living in China's remote west. 
Asia Blog recently caught up with Turner, now in Beijing, to discuss his friendship with Hutchins (who died in 2007), how he came across the China photographs, and why he believes Hutchins' images rank among the best ever taken from this era in China's history. The conversation has been condensed and edited for clarity. For a complete selection of Hutchins' photographs from China, please visit Turner's website.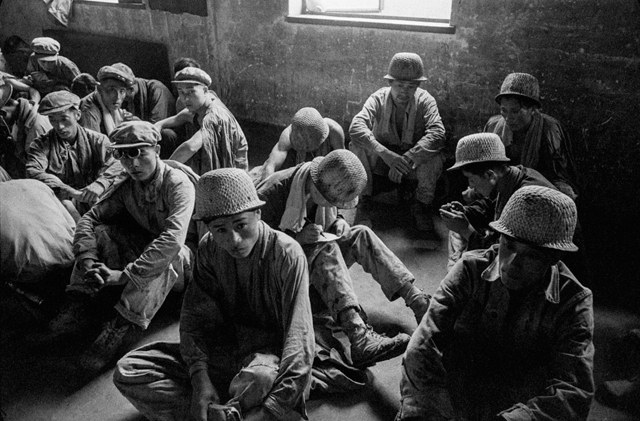 Steel workers in Anshan, China, receive a briefing before beginning their shift. (Tom Hutchins)
When did you first learn about Hutchins' China photographs? Why did they captivate you so much?
I first met Tom Hutchins in 1969, when I visited Auckland in order to meet local photographers in search of quality work to include for a survey of contemporary photography. I was the photographer at the National Museum in Wellington at the time and aiming to become a photography curator. I discovered that Tom had started teaching photography and film at the University of Auckland's Elam School of Fine Arts in 1965, and was annoyed, because, as a self-taught photographer, I would likely have shifted to Auckland and enrolled in their Diploma of Fine Arts program to study under him.
He never mentioned his Chinese work, but later invited me to join him as a photography lecturer at Elam, and due to his determination, I was offered that job in 1971. Tom became a friend and mentor.
He seldom talked about his own work, which included a stint as a stringer for Time/Life in the South Pacific. I found out about his China visit, and decided to get him to show it. In 1989, my then-wife Mala Mayo and I visited Tom to search under his house, where his China papers and books had unwisely been stored and forgotten. Among the rotted and severely damaged documents were nearly 600 rich Agfa Brovira gelatin silver prints made for a book on China that he could not find a publisher for during the 1960s. Ninety percent of his prints had rotted away, and his negatives, proof sheets, and transparencies were missing — only to be rediscovered three years later inside his house. His China correspondence with his wife Florence has still not been found.
With student help financed by university research grants, I dried and catalogued what could be salvaged of captions, part-captions, and image catalogue numbers from the ruined damp prints and manuscripts made for his intended book.
When we found his negatives, I coordinated the production of new archival proof sheets, and subsequently 10x8-inch archival file prints from which exhibitions and publications could eventually be made.
Sixty years after his photographs were made, and 27 years after I embarked on this part-time, voluntary project, our work is finally paying off.
I am an editor, curator, and historian of photography as well as photographer and teacher, so it is not difficult for me to see that Tom's China work is the equal of other foreign visitors of the 1950s such as Marc Riboud, Brian Brake, and Rene Burri, if not Henri Cartier-Bresson, the greatest of them all. Tom went to some of the same places they did, but also got to Xinjiang, where he took remarkable photographs of minority populations in places like Urumqi.
Brought up on avant-garde films and photography, the images of Andre Kertesz, Cartier-Bresson, Walker Evans, Dorothea Lange, U.S. Farm Security Administration work, and the photojournalism of Life and Picture Post, Hutchins adopted this style and ethic — he tried to be a good anthropologist by minimizing his own presence and effect on the subjects of his photographs. This was rather difficult to do in China, where foreigners were rarely seen in many communities, so Hutchins inadvertently become the center of attention rather than a fly on the wall.
That's why I call my debut exhibiton of his work, to be shown at the upcoming 2016 Pingyao International Photography Festival, Seen in China. Tom Hutchins. 1956. And why the filmmaker Han Niu and I will be soon on the road seeking people who were photographed by Hutchins, or their children who were told about the foreigner who visited in the summer of 1956. We are currently seeking crowd funding to finance a full-length documenary on Tom's China work.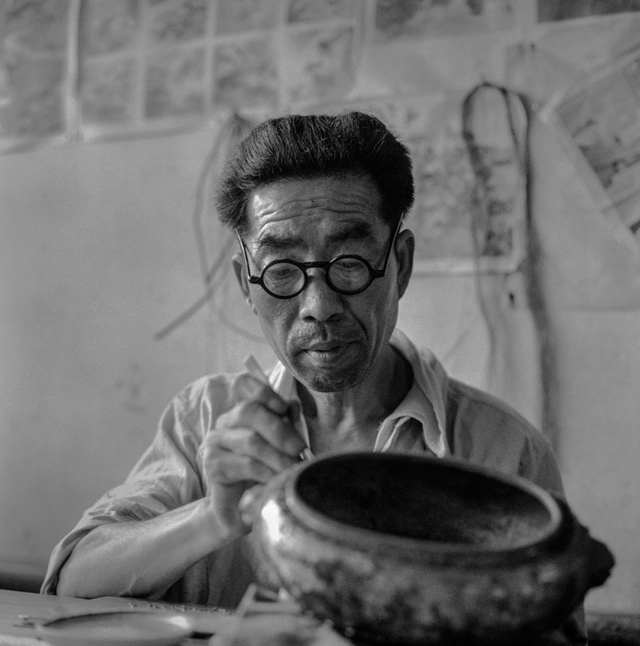 An elderly man works at the Coisonne co-operative, Beijing. (Tom Hutchins)

A boy herds a camel in the Gobi Desert near Urumqi-Manass road, Xinjiang. (Tom Hutchins)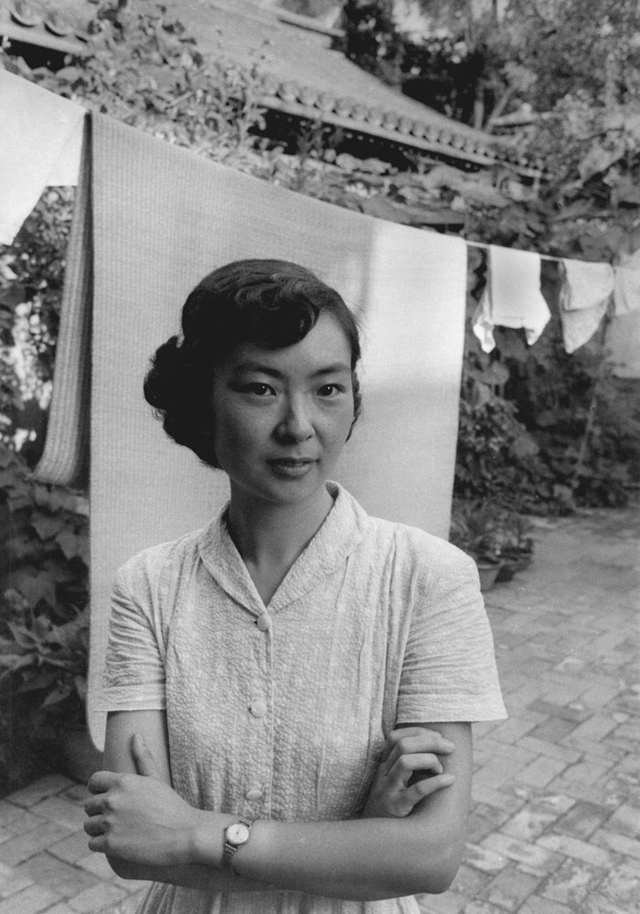 The wife of a musician stands in her garden, Beijing. (Tom Hutchins)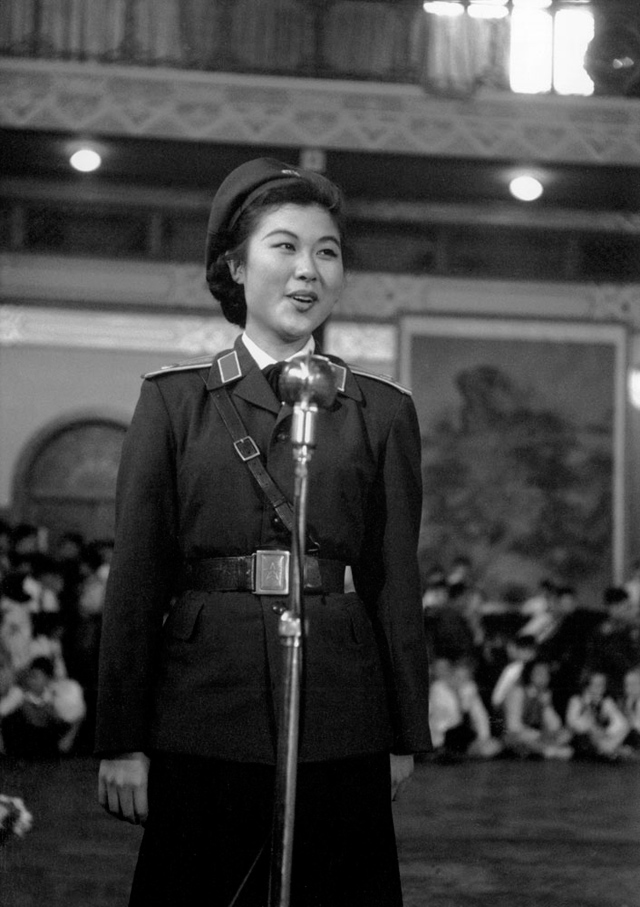 A People's Army announcer wearing lipstick, a rarity at the time, speaks at the International Children's Day celebrations, Beijing. (Tom Hutchins)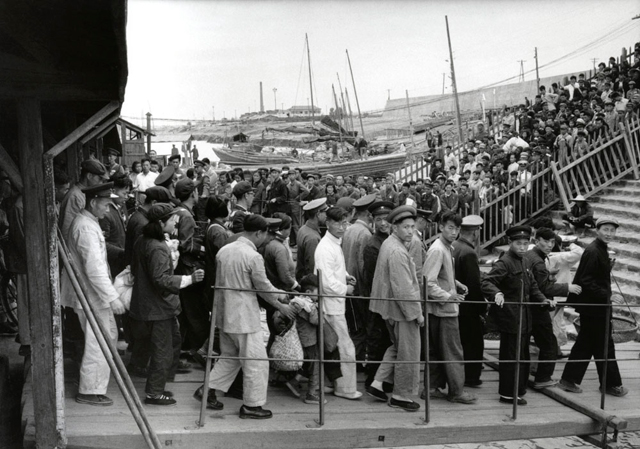 People disembark and embark on a ferry, Hunan Province. (Tom Hutchins)

A girl operates a milling machine at a truck assemlby and repair plant, Urumqi. (Tom Hutchins)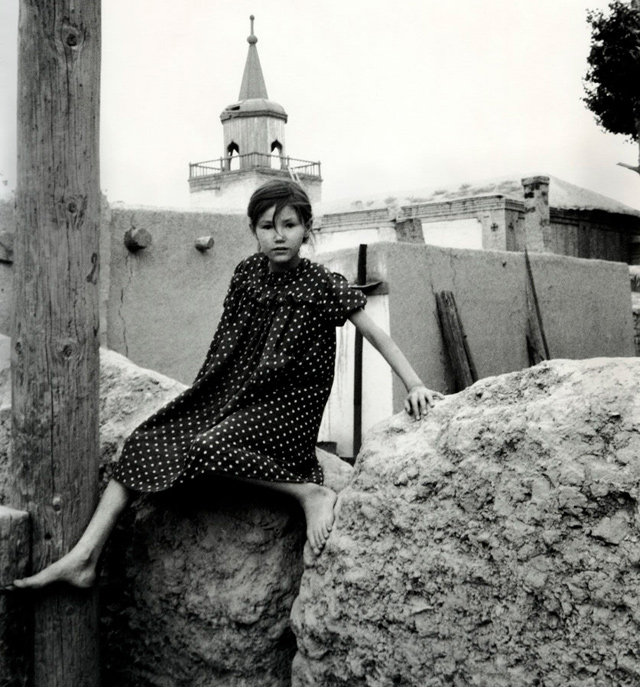 A Uighur girl sits near a mosque, Urumqi. (Tom Hutchins)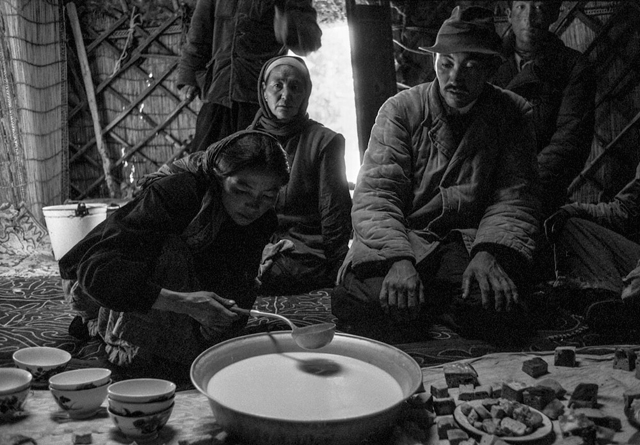 Men and women drink mare's milk in a yurt at a Kazakkh camp, Tian Shan mountain range. (Tom Hutchins)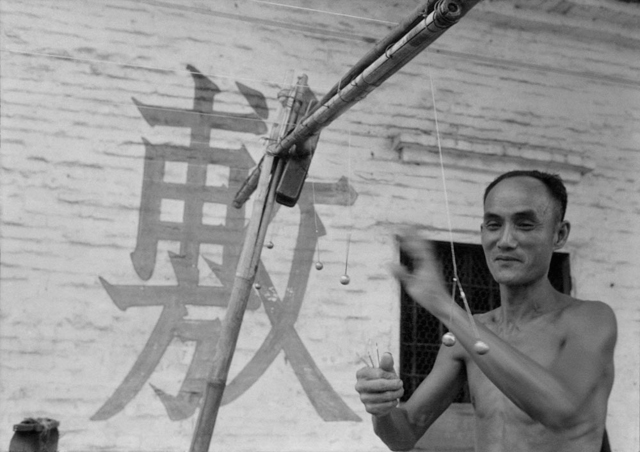 A man spins thread outside of a building supply store on a back street, Guangzhou. (Tom Hutchins)

Young Pioneers and soldiers mark in front of Tiananmen Gate, Beijing (Tom Hutchins)
Few foreigners gained permission to travel to China in the 1950s. How did Hutchins get invited?
Tom was a socialist and not a Marxist, as he chastised me for mistaking in 1999. His father, a dock worker from Australia, was active in New Zealand's small communist circle, which became split over whether the Russian Revolution or the Chinese was closest to the ideals they espoused. Tom grew up with Chinese friends in Auckland, aspired to be an outstanding photographer — and realized his dream. He was the chief photographer at the Auckland Star newspaper when he was forced to choose between keeping his job or going, at the displeasure of his U.S.-supporting bosses, to China. His first photograph for Life was published in 1948, and he was a member of Howard Chapnick's Black Star picture agency in New York.
He went to China as an independent photojournalist with the informal support of Time/Life, which processed most of his film, catalogued it, and published a nine-page spread called "China on the March" in its January 1957 U.S. and international editions. Hutchins had applied several times to go to China, and received only two weeks' notice that he had been granted a six-month visa. Originally he had hoped that Florence, his wife, could accompany him, but she had to stay home and look after their two children instead.

A local Uighur man stands in front of the Soviet consulate, Urumqi. (Tom Hutchins)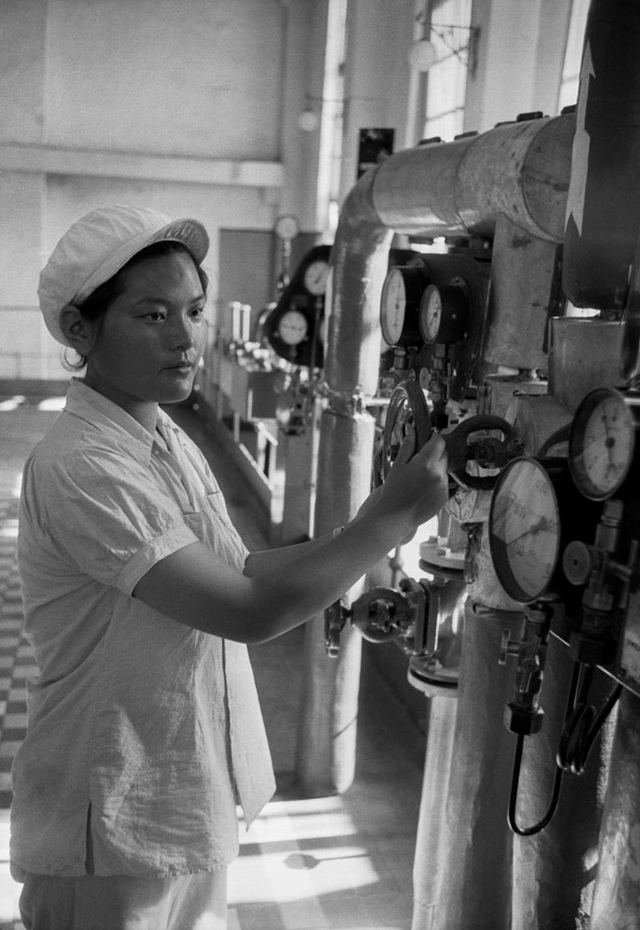 A girl operates a diesel generator at a power station, Urumqi. (Tom Hutchins)
Did Hutchins have any memorable anecdotes about this trip to China?
One thing he did mention early was that he had met and been touched on the elbow by Chairman Mao — this became a standard joke. His Reuters colleage David Chipp actually wrote an essay and book called Mao's Toe because he had accidently stood on the leader's foot. Tom very much enjoyed meeting the people of Xinjiang and enjoyed their hospitality and lifestyle.
Hutchins was, of course, frustrated by the mysterious delays and political whims and fairly constant surveillance that he encountered in China — and that he tried to escape from. Fighting was going on in Vietnam, Tibet, and Taiwan, so he was forbidden to visit those places. He spent more time in Beijing than he wanted to, but had some freedom to roam the streets on his own. But he told me that an elderly man was too frightened to be discovered speaking to him in English.
Not surprisingly, some of his earliest photographs, like that of the Sumchun-Lowu border crossing, were rather tentative, but they represent an essential beginning for the four months of non-stop activity that followed. 

A portrait of Mao Zedong hangs over a musician's committee at the First National Music Festival, Beijing. (Tom Hutchins)

Steel workers depart for the day, Anshan. (Tom Hutchins)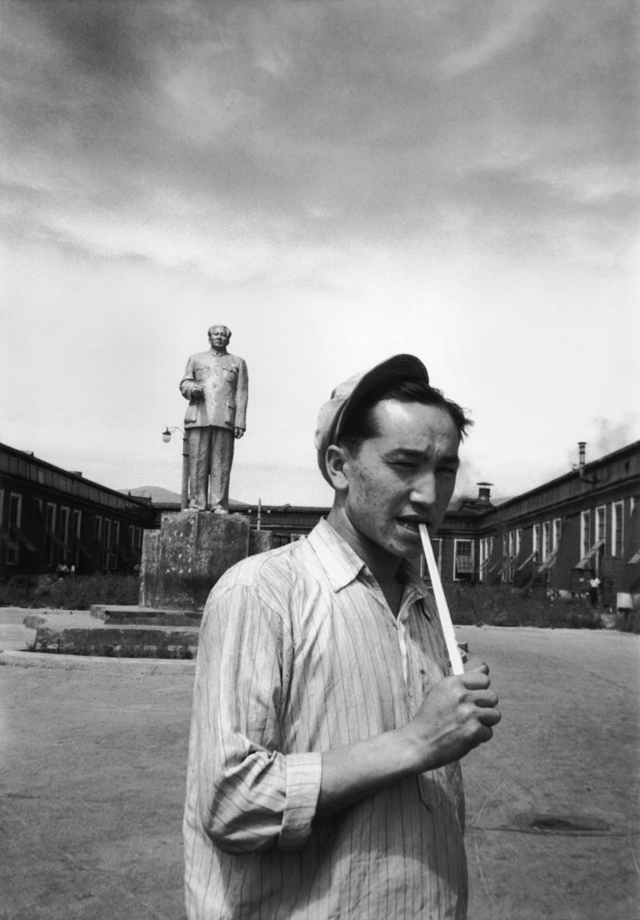 A Uighur worker at a truck repair and assembly plant stands in front of a statue of Mao Zedong, Urumqi. (Tom Hutchins)
I was struck by the number of photographs you've included from Xinjiang, China's remote far-western province. What drove Hutchins' interest in traveling to the area?
Tom had a major interest in how minority cultures were being treated in the PRC, which is consistent with other themes in his life: He later became a tutor in anthropology at the University of New South Wales in Australia, before joining Auckland University to teach photography and film. He was a humanist, first and foremost.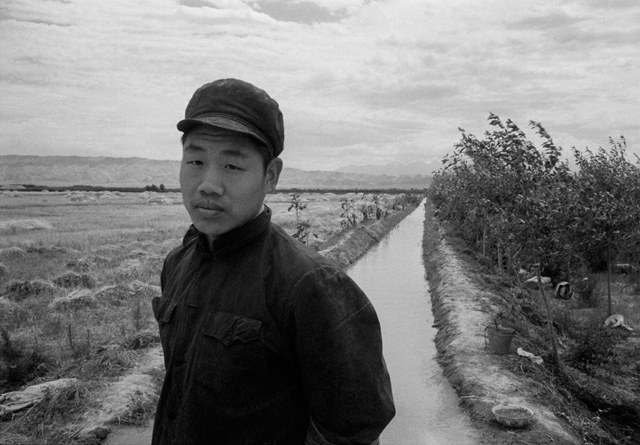 A soldier-peasant stands on an Army farm at Manas, Xinjiang. (Tom Hutchins)

Men play checkers at a small park, Hami, Xinjiang. (Tom Hutchins)
How was Hutchins able to get access to prominent figures like Mao Zedong, Zhou Enlai, and Liu Shaoqi? Did he share any anecdotes with you about his brushes with China's leaders?
Hutchins was among a handful of hand-picked foreign journalists invited to the PRC in its early days. At the time, he said, Chairman Mao seldom appeared in public — but he did on this occasion in order to celebrate a valued new friendship pact with Egypt.
He also attended the 8th National Congress of the Communist Party and took every opportunity to photograph all kinds of leaders — political, military, ethnic delegates, et cetera. I think his photographs of Zhou Enlai quietly talking — listening, actually — to delegates and visiors say a lot about why Zhou was so universally admired.
His portraits of Liu Shaoqi show a very different — though equally debonaire — character. When I first visited China in 2007, just a month or so after Tom died, I was delighted and surprised to see that Liu's portrait was shown in the window of a prominent Wangfujing photo studio alongside Mao and Zhou.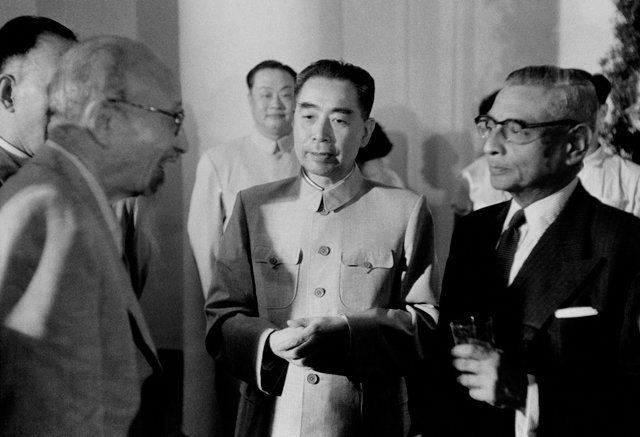 Premier Zhou Enlai talks to Nepal's Ambassador to China, Beijing. (Tom Hutchins)

Chairman Mao Zedong toasts the Egyptian attache on Egypt National Day, Beijing. (Tom Hutchins)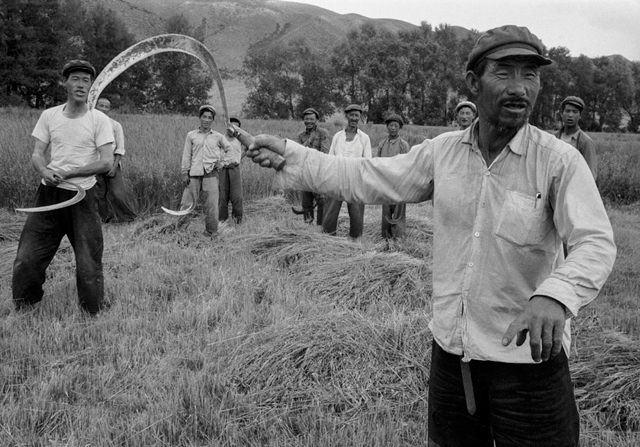 Hui peasants with sickels show the way to a Kazakh village, Tian Shan mountains, Xinjiang. (Tom Hutchins)
What was Hutchins' impression of China before he left? How did it change after his visit?
He wanted to see for himself a new revolutionary communist society in the making, and make up his own mind about its successes and failures. But things in China went downhill after 1956. People he had interviewed and befriended disappeared, for all intents and purposes, from 1957 through the end of the Cultural Revolution in 1976. He feared for their lives and constantly fretted over the fate of his favorite translator when he was unable to find out where she was or what she had experienced. Around 2000, I think, he was truly relieved to find that she was alive and living in Beijing.
Always a critical, independent-minded intellectual, Tom was extremely disappointed by many of the later developments in China — the crackdowns, the censorship, the lack of humanity shown towards political opponents or anyone daring to question the Communist Party line. His visa was canceled five weeks before it was set to expire for asking too many questions about the migration of Han to China's western provinces, he said. Later, when he applied to return to China, he was refused.
Hutchins wasn't allowed to photograph the Peking Opera Company in China during his visit there. But when a group toured New Zealand in October 1956, he photographed them behind the scenes, helping New Zealanders understand key character types and the mysteries of Chinese opera. Most of the 5x4 negatives he made, I discovered on my recent visit to Auckland, had dramatically deteriorated since I last checked them a few years ago and had become unusable. As for much of his work, finely crafted digital copies have had to be made from existing contact prints to capture the look and feel of his own prints — the rare vintage prints and modern copies. They form the basis for this reconstruction of his essay and, eventually, the world's view of it. There's a lot more work to be done to make a higher percentage of his 6,000 images available.
At present, it is Brian Brake (1927-1988), a former Magnum photographer, whose work on China is best known through books and magazines, and in New Zealand art circles. Not least because Brake, quite the opposite of Hutchins, was highly competitive and constantly sought and gained recognition. He was an outstanding photographer in his own right, and when he found out at the Melbourne Olympics in 1956, when both men were covering the events, that Hutchins had just returned from four months in China, he registered utter disbelief and virtually called his fellow New Zealander a liar.
New Zealand's art scene has yet to register how differenty these brilliant photographers saw the world, and that, of course, is part of my motivation as an art historian and admirer of both of these men who wanted to see "Red China" for themselves.
I'm also very interested in seeing how Chinese photographers recorded this time in their country's history, because so much of the historical photography we've seen is the work of foreigners. But that's another story.

A man works on an Army farm, Manas County, Xinjiang. (Tom Hutchins)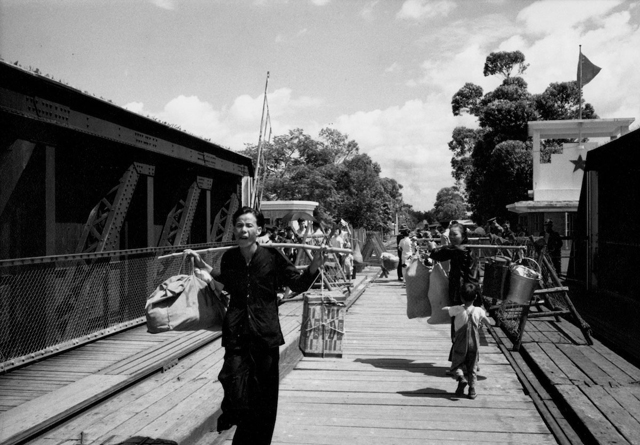 The Sumchun-Lowu border crossing between British Hong Kong and Guangdong Province, China. (Tom Hutchins)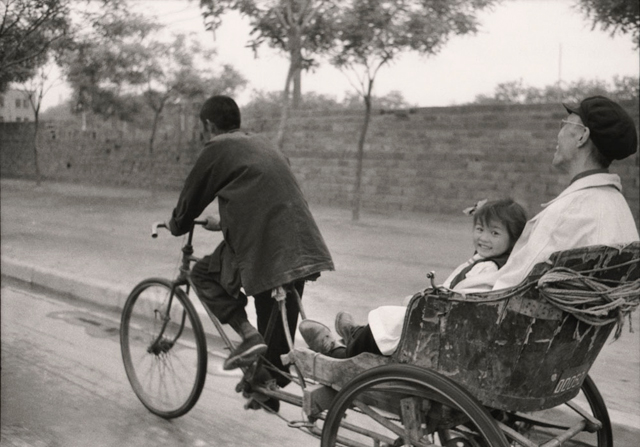 A little girl smiles at the photographer as she and her father, a doctor, ride their pedicab along Chang An Street, Beijing. (Tom Hutchins)
All of the photographs are copyright of Tom Hutchins Images Ltd., New Zealand.