Southeast Asia's Activist Art Revolution
History's darkest periods have inspired excellent art. During times of political and social tumult, many contemporary artists are pushed toward creating work that is a direct reflection of its socio-political context; in effect, they become activists as well as artists. Activist art is unique for serving as a mirror to personal or community encounters with a specific period and is to be experienced with particular attention to the context of its production.
The medium of a particular piece of artwork is also political as well — directly or subversively. According to Michelle Yun, senior curator of modern and contemporary art at Asia Society Museum in New York, activist art frequently lends itself to diverse forms of media, like performance art, video, and interactive art, because it creates a narrative that some static images or other forms of traditional high art may not convey as effectively. These abstracted forms of expression aim to produce an environment — through light, sound, or space, triggering other senses — that "elicits a visceral experience," she said.
When Demise Gives Rise to Art
In Southeast Asia, a region that has endured devastating conflicts in the past and faces challenges in the future, contemporary art frequently becomes synonymous with activist art. In the catalogue essay "The Perils and Promises of Art in Post-Transition Societies," which accompanies the exhibition After Darkness: Southeast Asian Art in the Wake of History, co-curators Yun and Asia Society Museum Director Boon Hui Tan ,explained that "the notion of art for art's sake never took hold in the region."
"Instead, the societal purpose of art and the relationship between the art object and the context of its production have been a marked feature in Southeast Asian modern and contemporary art," they wrote.
Indonesia's Reformasi period in the late 90's, for example, was characterized by a more liberal and open society following the resignation of authoritarian President Mohamed Suharto and the end of his New Order government. The developments in this period gave contemporary artists a new impetus for incorporating political actions into the artistic process.
"This set the tone for provocative, socially engaged art practices and created a structure for subsequent generations of artists to build upon," Yun and Tan added. "By challenging what they felt to be an outmoded, Western definition of fine art, these artists strove to create an interdisciplinary, non-elitist art system that designated contemporary art as a form of activism."
In Vietnam, the artistic legacy is influenced by the many periods of conflict in the nation's history: French colonization, a war for independence that split Vietnam in half, and the subsequent war with the United States that resulted in reunification. In the aftermath of decades of violence, Vietnam's creative class has struggled to reconcile the country's new socialist-capitalist dual identity and thrive in an environment where art, particularly that inspired by political history, is subject to censorship and government intimidation.
Meanwhile, a six-decade-long civil war in Myanmar between the government and armed ethnic groups that ended only in 2015 continues to be a principal influence on contemporary art in the country. The manifestation of the art scene during a period of conflict that is much more recent is a testament to the creativity and necessity of the contemporary artists in Myanmar, who accomplished poignant work in adverse conditions and with minimal means.
Whether it's making sense of the Suharto regime in Indonesia, dealing with ethnic conflict in Myanmar, or unraveling the lasting impact of the U.S. in Vietnam, the core of contemporary art in the region became an exploration of the intersection of artistic expression and reconciling history.
'After Darkness Comes the Light'
A collection of Southeast Asia's most daring political art can be seen in the exhibition After Darkness: Southeast Asian Art in the Wake of History. The title of the exhibition comes from the phrase "after darkness comes the light," a quote from Indonesian icon and women's rights advocate Raden Adjeng Kartini. The words resonate the sentiment shared by the artists who reconcile their community's darkest days through artistic expression.
Artist FX Harsono stands next to his piece 'The Voices are Controlled by the Powers' at Asia Society New York on September 8, 2017. (Asia Society/Maria Baranova)
Among Southeast Asia's group of political art pioneers is FX Harsono, one of the most distinguished contemporary artists from Indonesia. An elder statesman who has been a prominent activist artist for over four decades, his work focuses on the upheaval of Suharto's New Order government and exemplifies the use of the medium as a political statement. As Yun and Tan write, Harsono and his contemporaries "rejected painting and other traditional modes of 'high art' practices in favor of using performance, site-specific installations, and video that incorporated local imagery better suited to illuminating sociopolitical issues relevant to domestic audiences." This includes his installation piece Burned Victims, a display of charred torso-shaped forms made from wood, which commemorates the civilians who died after being locked inside a burning building during a violent anti-Suharto protest in 1998.
Harsono's work can be seen alongside six other artists and one artist group from Indonesia, Myanmar, and Vietnam. Other artists featured in the exhibition are Nge Lay, Nguyen Thi Thanh Mai, and Htein Lin — artists who capture the adversity of their respective community's past and continue to navigate and document ongoing displacement, upheaval, and oppression: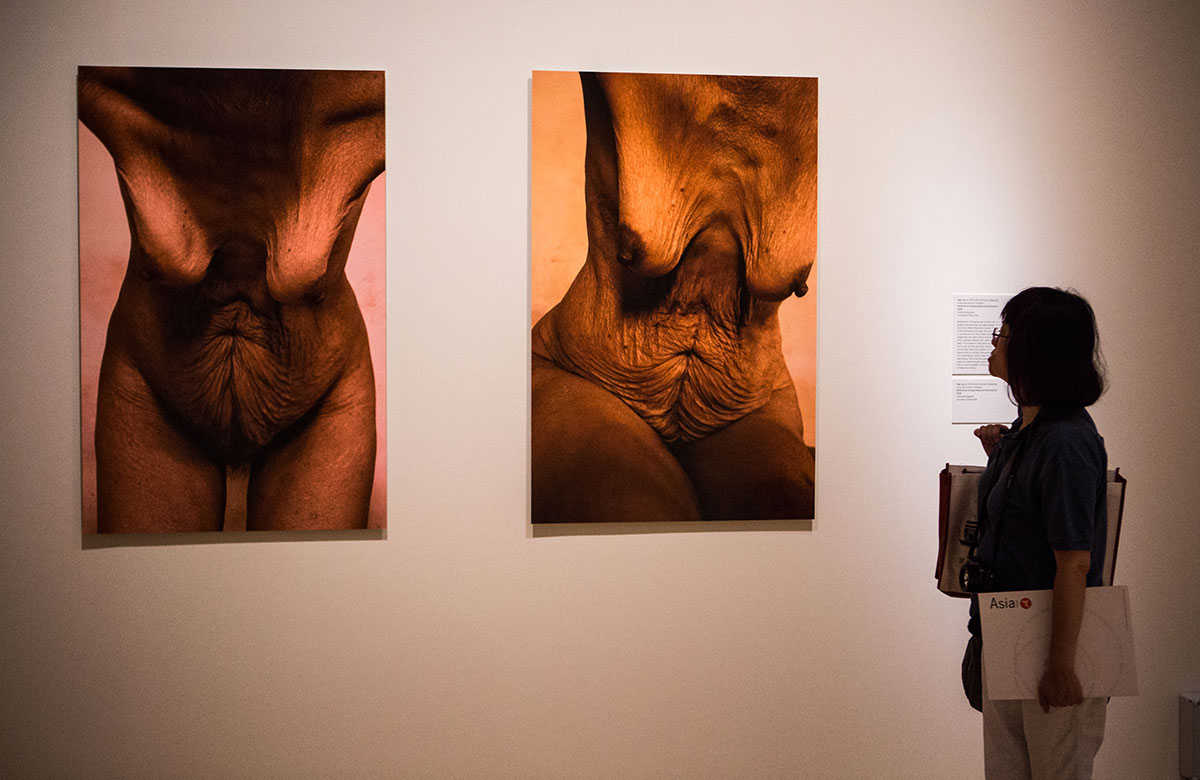 Photos from Nge Lay's photography series 'Reflections of Experiences of the Icons' on display at Asia Society New York on September 8, 2017. (Asia Society/Maria Baranova)
Nge Lay, one of Myanmar's most prominent artists, began working with photography in 2007. Her photo series Imagination Sphere featured in the exhibition comments on the ambiguity and mystery of discovering her own personal history. As a result of political sensitivities, families in her rural community were not always honest about their past. In another series, Reflections of Experiences of the Icons, she documents the aged and scarred bodies of her own mother and other elderly Myanmar women who were required to make huge physical and emotional sacrifices. The personal connects with the political, reflecting a universal experience for many Burmese women that endured the harsh conditions of the civil war.
Nguyen Thi Thanh Mai's interactive piece "ID Card" on display at Asia Society New York on September 8, 2017. (Asia Society/Maria Baranova)
Nguyen Thi Thanh Mai is a young Vietnamese artist focusing on the plight of refugees of war and how displacement shapes a person's identity and citizenship. Her projects worked directly with refugee communities in Tonle Sap Lake in Siem Reap province, Cambodia, and the border province of Long An, Vietnam whose populations are stateless and in the shadows of legitimacy; neither Vietnamese nor Cambodian. One of her interactive installations, "ID Card," is a collection of recycled fabric fashioned into identification cards for 340 refugees that have no official form of identification and therefore cannot secure employment, go to school, or establish residency.
Htein Lin's installation "A Show of Hands" on display at Asia Society New York on September 8, 2017. (Asia Society/Maria Baranova)
Htein Lin was first an activist — as a law student in Myanmar, he became active in the demonstration movement at his university and even participated in the failed 1988 uprising. His involvement as a political protester eventually landed him in prison for six years. Htein Lin's mixed media installation "A Show of Hands" makes plaster casts of various fellow imprisoned political prisoners. During the casting process, dissidents give detailed and cathartic testimonies of their imprisonment and experience. Just as the plaster heals a broken bone, Htein Lin hopes that the casting process will heal the broken bones of the country.