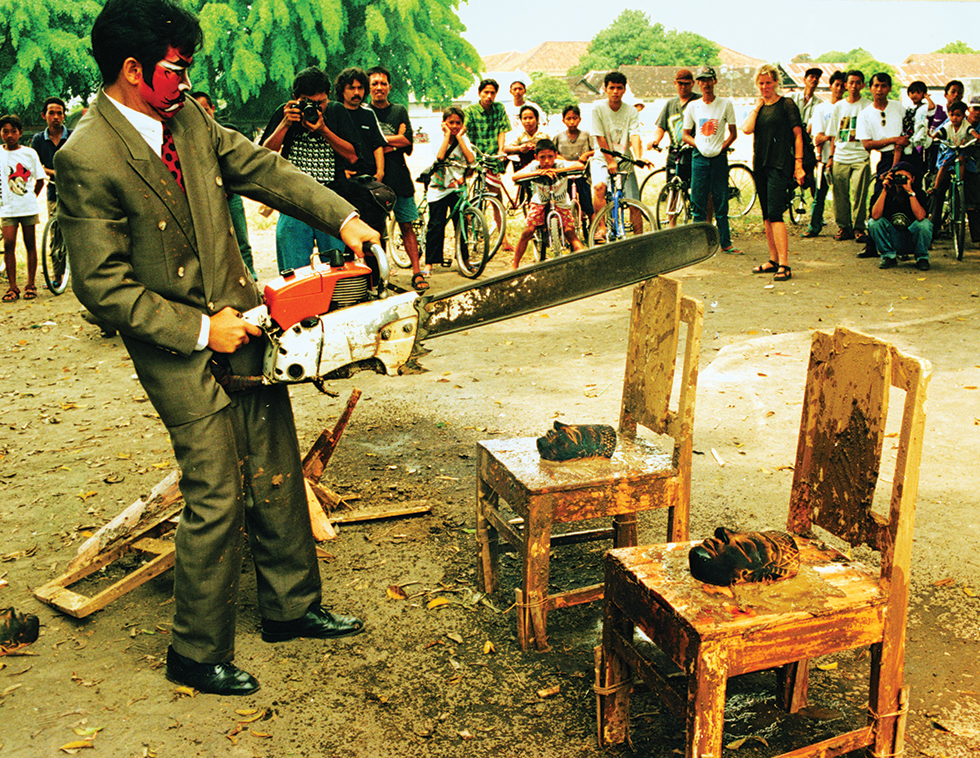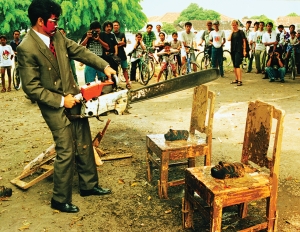 FX Harsono. Victim - Destruction I, 1997.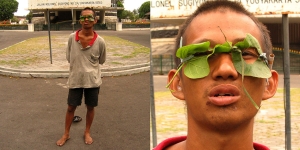 Angki Purbandono. (Detail) Beyond Versace, 2005–10.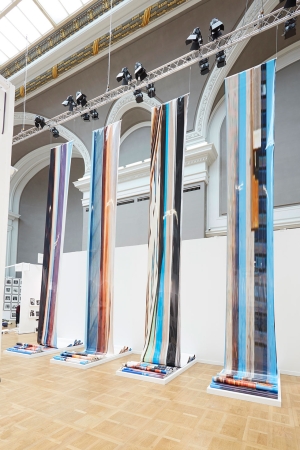 Dinh Q. Lê. Installation of Scrolls #1–4 from WTC from Four Perspectives, 2016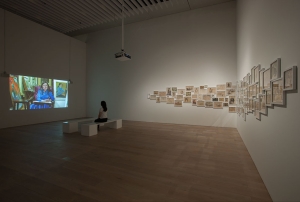 Dinh Q. Lê. Light and Belief: Sketches of Life from the Vietnam War, 2012.
FX Harsono. (Still) Destruction, 1997.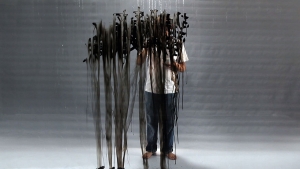 FX Harsono. (Still) Writing in the Rain, 2011.
"enlightening"
—The New York Times
"moving"
—The New Yorker

"poignant....This concise, impactful show is succinct and timely."
—Art Radar

At a time of social and political tension, how should art and artists respond to the challenges of the moment? Does art have the power to change the world or does the world shape the evolution of art? After Darkness: Southeast Asian Art in the Wake of History considers these questions through the work of seven contemporary artists and one artist group from Indonesia, Myanmar, and Vietnam, whose lives and artistic practices have intersected with defining periods of socio-political transition in their respective societies. Indonesian artists FX Harsono and Tintin Wulia have each created powerful work following the turmoil and intermittent violence that erupted in Indonesia during the 1998 Reformasi period, the country's politically motivated transition to a democratic government. Their practices before and after this period illustrate the complex ways in which artists participated in this transition and were also changed by it.
While Harsono and Wulia drew power from their position as insiders, the artists from Vietnam featured in the exhibition may be seen as part of the legacy of the American-Vietnam War. Dinh Q. Lê and Tuan Andrew Nguyen of The Propeller Group collective came to the United States as refugees in their youth and returned to Vietnam in recent years, not only to focus on their own practices but also to rediscover their cultural roots. In the process, they have played pivotal roles in helping to rebuild the cultural infrastructure of Vietnam.
From Myanmar, Htein Lin and Nge Lay's intense and personal work reflects not only their responses to the dramatic transformation within the country as it undergoes reform and political transition but also their powerful attachment to and regard for their society and kin. Alongside these established artists, the exhibition includes work by two emerging artists. Angki Purbandono and Nguyen Thi Thanh Mai, from Indonesia and Vietnam respectively, became active long after the moment of political transition in their home countries. While removed from the more direct experience of their elder counterparts, the work of these two artists continues the long tradition of socially engaged art that marks much contemporary art from the Southeast Asian region.
The title of the exhibition originates in the phrase "after darkness comes the light" from the writings of Raden Adjeng Kartini, the daughter of the Regent of Jepara in Java and an icon and champion of women's emancipation in Indonesia. The words of Kartini echo the desire of artists to find light after days of darkness, and their struggle to give a voice to the disenfranchised and those on the margins of society.
Featured artists: FX Harsono, Htein Lin, Dinh Q. Lê, Nge Lay, Nguyen Thi Thanh Mai, The Propeller Group, Angki Purbandono, and Tintin Wulia.

See FX Harsono's Writing in the Rain in Times Square - Presented Nightly at Midnight during January 2018
Purchase the richly illustrated exhibition catalogue online at AsiaStore.
Interview: Introducing 'After Darkness: Southeast Asian Art in the Wake of History'
FX Harsono
FX Harsono is one of the foremost contemporary artists from Indonesia. His artistic practice, spanning four decades, takes the country's contentious socio-political history as its primary subject. His art has been a consistent call to give voice to those who have been silenced by history and power. The artist began his formative period as part of the Group of Five (Kelompok 5) in the mid-1970s. This collective and their contemporaries rejected traditional modes of high art-making practices in favor of performance, site-specific installations, and video art that incorporated local imagery better suited to illuminating social issues relevant to a domestic audience. This shift toward a social intention liberated Harsono's practice and allowed him to engage more directly with sociopolitical themes, including the legacy of Reformasi, and the rediscovery of minority ethnic identity within Indonesian culture.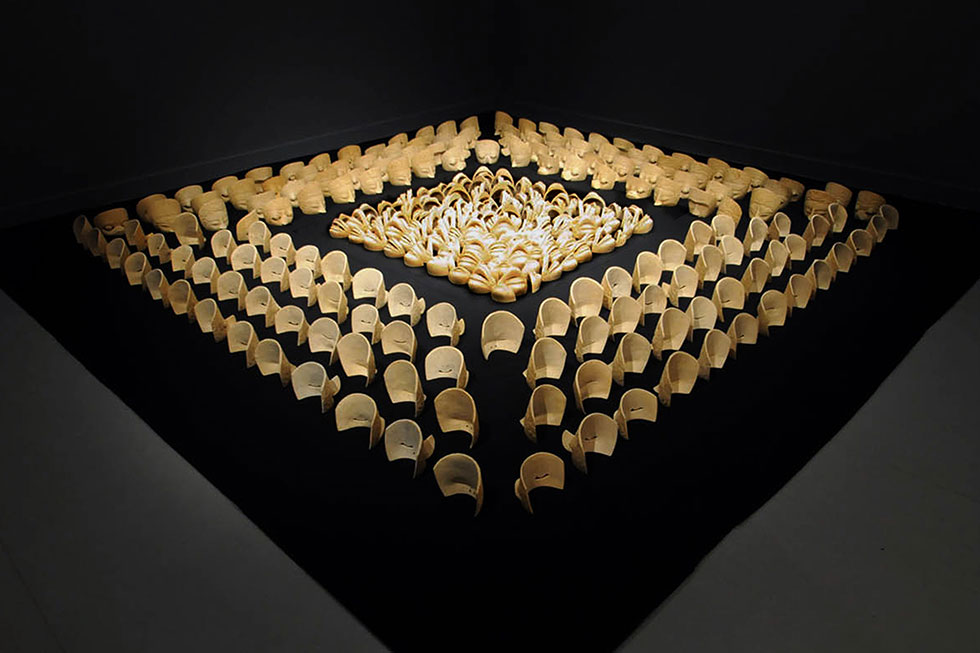 FX Harsono (b. 1949 in Blitar, Indonesia; lives and works in Jakarta, Indonesia). The Voices are Controlled by the Powers, 1994. Wooden masks and cloth. Courtesy of the artist and Tyler Rollins Fine Art
The Voices are Controlled by the Powers comprises traditional Wayang masks meticulously arranged in four radiating squares. The jaws have been sawed off each mask and piled in the center of the configuration. The artwork serves as a metaphor for the Indonesian government's censorship of free speech during Suharto's New Order regime, which spanned from the 1960s to the late-1990s. FX Harsono's performances and installations often feature violent undertones that illuminate the subjugation of the Indonesian people under Suharto's authoritarian regime and serve as a protest against the political system on behalf of the oppressed. He often employs culturally specific references to cloak his political critique. This artwork was first shown in the United States in 1996 as part of the exhibition "Contemporary Art in Asia: Traditions/Tensions," organized by Asia Society.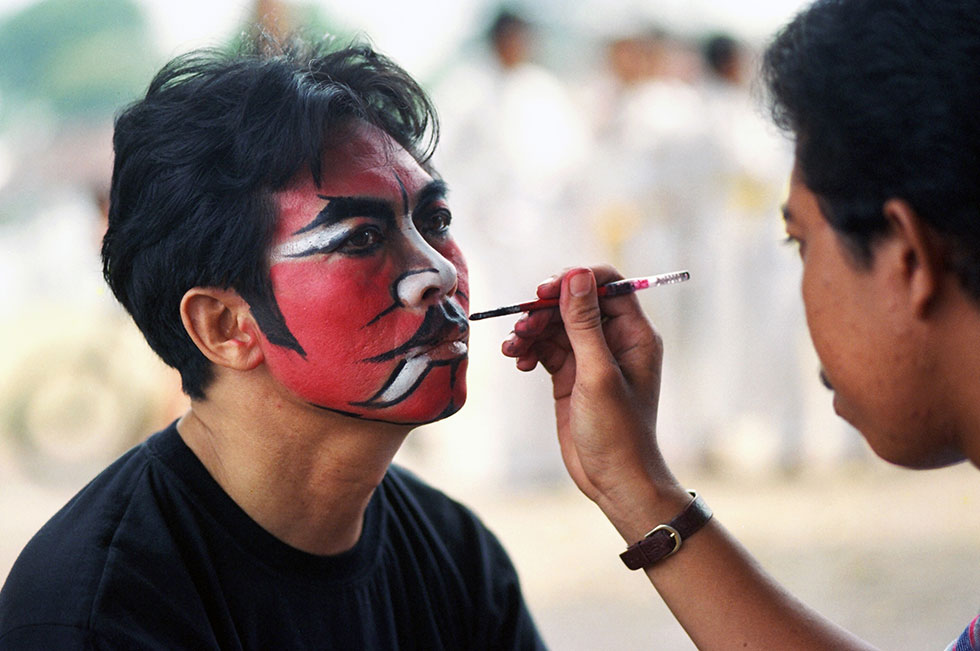 FX Harsono (b. 1949 in Blitar, Indonesia; lives and works in Jakarta, Indonesia). (Still) Destruction, 1997. Single-channel video with sound. Duration: 6 minutes, 28 seconds. Courtesy of the artist and Tyler Rollins Fine Art
Destruction, a video documenting a performance included in the 1997 group exhibition Slot in the Box at the Cemeti Art House in Yogyakarta, was created in response to accusations of voter fraud during the New Order period. In this work Harsono dons the persona of Ravana, the Demon King from the Ramayana—albeit in a western business suit—and proceeds to burn and destroy three wayang masks, each of which is placed on a chair, representing the three political parties vying for power. This act of resistance was performed in a public square just prior to elections when the assembly of more than five people was deemed illegal, and was publicly couched as a wayang, or traditional puppet theater performance.
FX Harsono (b. 1949 in Blitar, Indonesia; lives and works in Jakarta, Indonesia). Burned Victims, 1998. Burned wood, metal, shoes, and performance video with sound. Video duration: 8 minutes, 41 seconds. Singapore Art Museum Collection
Burned Victims memorializes the casualties of a violent protest in 1998 against Suharto and the New Order when rioters locked innocent civilians in a Jakarta mall and set the building on fire. The charred, torso-shaped wooden forms serve as symbols of those who were sacrificed. A pair of burned shoes placed at the foot of each figure emphasizes the horror of the incident. In a performance of the same title that was realized in conjunction with the artist's solo exhibition at the Cemeti Art House in 1998, FX Harsono affixed nine wooden torsos to stakes and doused them with gasoline. The torsos were accompanied by placards bearing slogans such as "Rusuh (Riot)" that were subsequently set on fire alongside the torsos. As the figures and placards burned, Harsono paced in front of the audience with a sign asking "Siapa Bertanggung Jawab? (Who is responsible?)," highlighting not only the senselessness of the carnage but also the fear that shadowy forces may have been behind the tragedy.

FX Harsono (b. 1949 in Blitar, Indonesia; lives and works in Jakarta, Indonesia). (Detial) Blank Spot on My TV, 2003. 20 digital prints. Courtesy of the artist and Tyler Rollins Fine Art
Blank Spot on My TV is a series of twenty photographs from 2003, created during the Reformasi period that followed the end of Suharto's New Order government and led to the transition to a democratic government. Each photograph is an appropriated television still featuring various Indonesian politicians and media commentators with their faces covered by a white circle. These anonymous "talking heads," obliterated by the white circles, suggest the lack of meaningful dialogue about the changes that came into effect during the Reformasi period and the tendency at the time for gratuitous rhetoric instead of thoughtful discourse as these figures exercised their new freedom of speech.
Htein Lin
Htein Lin has con¬sistently advocated for the importance of freedom of speech, particularly in his native Myanmar, through his paintings, installations, and performances. Following the failed 1988 uprising in Myanmar, in which he participated, Htein Lin was forced to flee to a refugee camp. Upon his return to Yangon in the early 1990s, he was arrested and jailed for six years (1998–2004). During his time in prison, he turned toward art and subsequently developed his artistic practice using the meager materials available, such as bowls and cigarette lighters. After his release, Htein Lin moved to London in 2006 but returned to Myanmar in 2013 to continue his practice. The mixed media installation A Show of Hands is about reconciliation. It is anchored by a series of plaster of Paris casts of the hands of individuals who had been political prisoners in Myanmar. Although the artist's aim is to collect one thousand hands, ultimately the installation insists on the individuality of each person's cast. Each cast is identified as a specific past political prisoner by a name label, and the installation is accompanied by interviews and a slideshow, on view nearby. The power of the work comes from the seemingly anonymous first impression of the plaster casts, which is then countered by the archival material that returns the identity, and agency, back to the "owner" of each cast hand.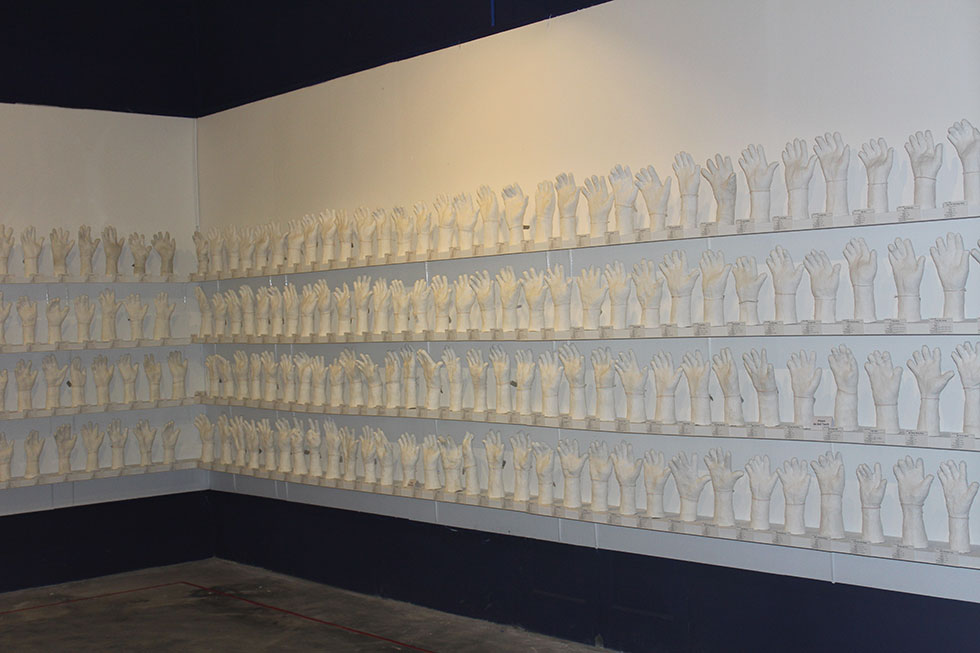 Htein Lin (b. 1966 in Ingapu, Ayeyarwady Division, Myanmar; lives and works in Yangon, Myanmar). A Show of Hands, 2013–present. Surgical plaster and multimedia installation. Courtesy of the artist
Dinh Q. Lê
Dinh Q. Lê has emerged as one of the leaders of the avant-garde art scene in Ho Chi Minh City. Alternating among the roles of artist, curator, educator, and community activist, he has been largely responsible for nurturing the development of contemporary art in Vietnam, beginning with his cofounding of Sàn Art in 2007, the city's first nonprofit art space and reading room. As a former refugee and returning Viet Kieu artist, Lê is most interested in the role of memory in relation to personal and societal trauma, especially in the wake of the American-Vietnam War and the ongoing plight of boat refugees around the world due to regional and international sociopolitical upheavals. Born in Ha Tien, a Vietnamese town on the Cambodian border, the artist's family immigrated to the United States in 1978 shortly after the end of the American-Vietnam War, where the artist remained until his return to Vietnam in 1993. Lê's multifaceted practice deftly explores the complexities of immigration, the implicit racism in government policymaking, and the interrelations of personal history with larger cultural histories.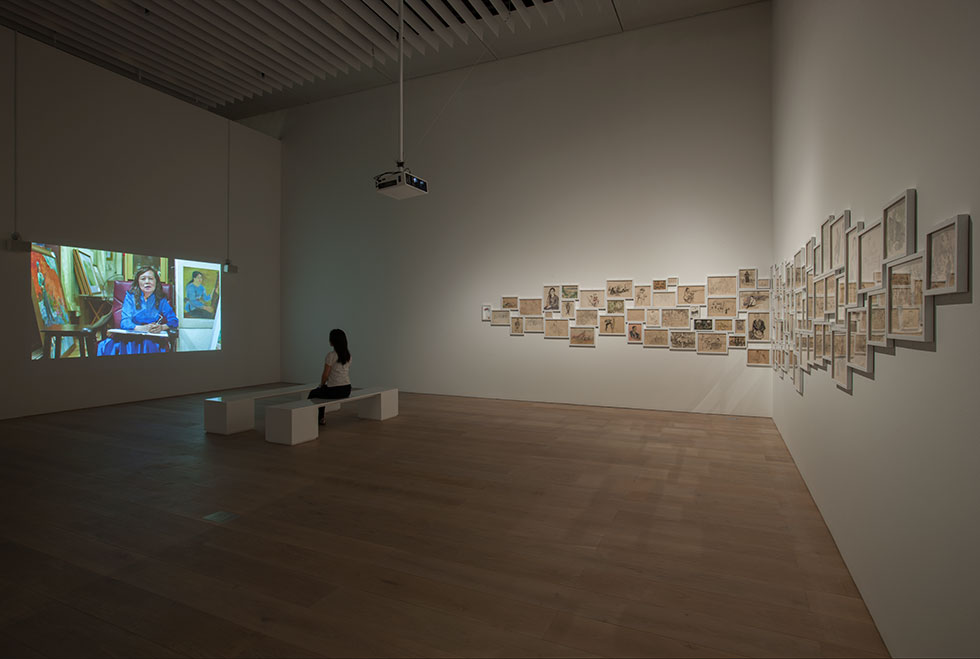 Dinh Q. Lê (b. 1968 in Ha Tien, Vietnam; lives and works in Ho Chi Minh City and Los Angeles). Light and Belief: Sketches of Life from the Vietnam War, 2012. 70 drawings in pencil, watercolor, ink, and oil on paper, and single-channel video with sound. Video duration: 35 minutes. Courtesy of the artist, Shoshana Wayne Gallery, and 10 Chancery Lane Gallery
Lê often merges traditional culture and individual experiences with official accounts of historical events to acknowledge the subjectivity of historical narratives and to memorialize the civilian casualties that result from complex international border wars and government actions. Light and Belief: Sketches of Life from the Vietnam War commemorates the experience of Vietnamese soldiers through the eyes of local artists who accompanied the military campaigns. This multimedia installation includes up to one hundred found drawings (seventy of which are on view here), made by soldiers from the North Vietnamese Army, that depict the humanity of war through the faces and everyday routines of the troops on the ground. Shown alongside these works on paper is a video of interviews Lê conducted with the artists to record their remembrances in relation to their drawings and includes animated sequences that punctuate the commentary. These personal stories amplify the individual hopes, anxieties, and sacrifices of those who believed they were serving their country. The installation also points toward the complex relationships among art, ideology, and propaganda requisitioned by government agencies during wartime activities. Through his retelling of the war, Lê not only questions the construction of history, but also attempts to initiate a meaningful dialogue about the United States' role in the American-Vietnam War and other military conflicts.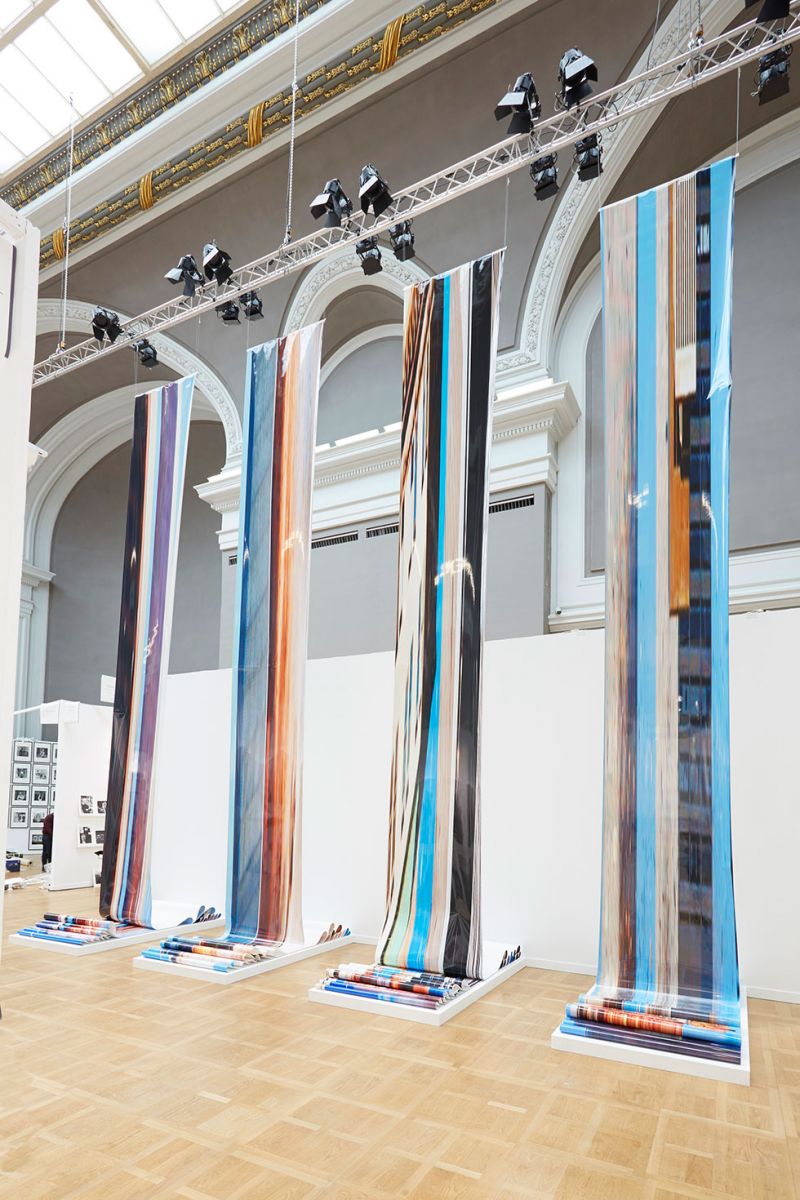 Dinh Q. Lê (b. 1968 in Ha Tien, Vietnam; lives and works in Ho Chi Minh City and Los Angeles). WTC from Four Perspectives, 2016. C-print scrolls. Courtesy of the artist and Shoshana Wayne Gallery
Dinh Q. Lê's use of photography as a material in his work has recently manifested in his focus on the mechanical process of creating photographs. In this artwork Lê has selected an image that captures the devastating moment when the World Trade Center Towers were attacked by terrorists in 2001. His use of digital technology to stretch and essentially obliterate any recognizable features within the image neutralizes the horror of the event, and this, coupled with the grand scale of the physical print, transforms the snapshot of a traumatic urban event into a lyrical abstract landscape evocative of a traditional Chinese handscroll. This series accompanies a four-channel video installation of the same name and alludes to the interrelationship of time, memory, and experience. 
Nge Lay
Nge Lay is one of the leading artists from Myanmar and among the few that have consistently exhibited artwork outside the country. The artist began working with the medium of photography in 2007 and has since created a number of series in which she uses aspects of her personal history as a way to engage with issues concerning the larger Myanmar society.

Nge Lay (b. 1979 in Pyin Oo Lwin, Myanmar; lives and works in Yangon). Imagination Sphere, 2008–09. Photography installation with 45 light boxes. Singapore Art Museum Collection
This early photographic installation composed of 45 light boxes illustrates the artist's method of using simple materials to build a conceptually rich work that conceals its political critique in a seemingly innocuous form. In this work, Nge Lay creates a digital image from a glass plate negative that depicts a deceased relative. The negative, illuminated by a flashlight, produces distorted images that conjure associations with medical negatives and render the figure as a ghostly apparition. Unidentifiable in the final digital images, the mysterious "relative" evokes the haziness of lost memories but also the limits of human recollection.
Reflections of Experiences of the Icons is a series of photographs documenting the aged bodies of the artist's mother and other elderly Myanmar women. The unflinching depiction of female bodies that bear the scars of life and time provides a counterpoint to the nubile bodies represented in fashion magazines and other forms of global popular culture that are often digitally altered and meant to represent the feminine ideal. The images on view here may be difficult for some viewers to see, as they are very realistic and direct. Nge Lay has commented that the creation of this work also gave her an opportunity to connect with and better understand her mother's experiences, which were different from her own urban upbringing. The artist has used aspects of her personal biography as a lens through which a larger, more universal narrative is communicated—in this case the difficult life of women in Myanmar society. 
Nge Lay (b. 1979 in Pyin Oo Lwin, Myanmar; lives and works in Yangon). Relevancy of Restricted Things, 2010. Print on archival paper. Courtesy of the artist
The photographic series Relevancy of Restricted Things pays tribute to the artist's father, who passed away when she was a teenager. Donning her father's clothing and wearing a mask that resembles his face, Nge Lay inserts herself into family portraits of households who have similarly lost a male figure—father, brother, son, or husband—through death, military service, economic migration, or for some other reason. This series highlights the central role of the father or male figure in the largely patriarchal system of modern Myanmar society. The artist likens the personal loss of her own father to the communal sense of loss and displacement felt throughout the country after the 1947 assassination of General Aung San who was widely acknowledged as the leader of post-independence Myanmar.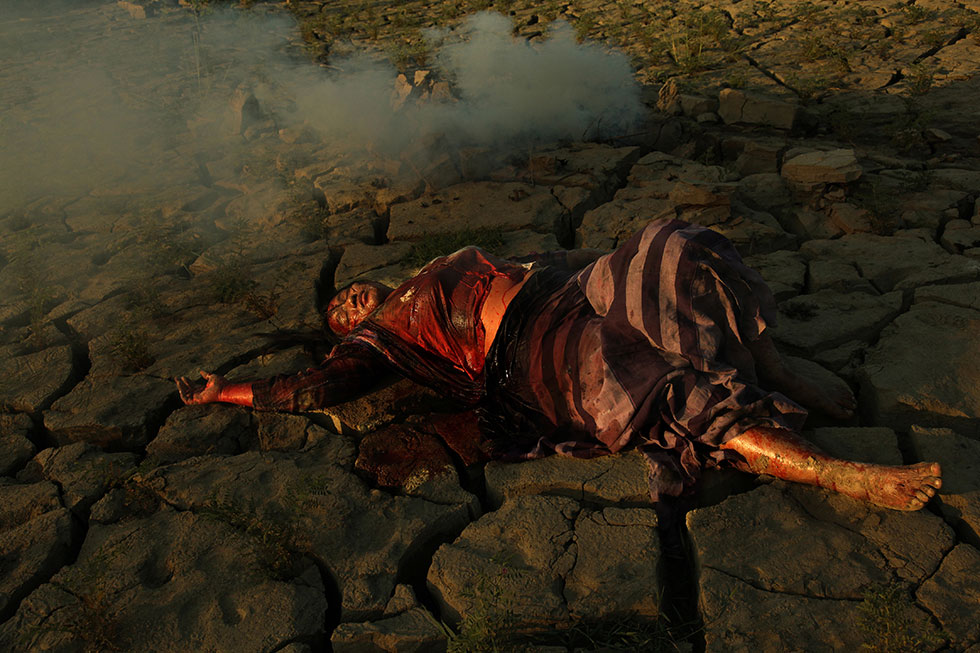 Nge Lay (b. 1979 in Pyin Oo Lwin, Myanmar; lives and works in Yangon). Observing of Self Being Dead, 2011. Color photograph. Courtesy of the artist
The series Observing of Self Being Dead employs a strategy similar to Relevancy of Restricted Things in that Nge Lay creates an empathetic connection between the personal and the political. These macabre and dramatic self-portraits depict the artist as an abandoned, bloodied corpse, most often staged on the banks of the Irrawaddy River. The images refer both to traumatic experiences within the artist's own life—her father's passing, the loss of a child due to miscarriage, and the death of many friends—and to her childhood memories of political protestors being attacked. Nge Lay stages her own death as a cathartic action and as a means of dispelling fear and uncertainty in the face of death by symbolically taking control of her own destiny.  
Nguyen Thi Thanh Mai
Nguyen Thi Thanh Mai is one of the younger generation of Vietnamese artists who became active after Doi Moi. Though born after the American-Vietnam War, her interests lie in the plight of refugees of war and especially their identity, citizenship, and migration. Day by Day, which she created in 2014 during a residency at the Sa Sa Art Projects in Phnom Penh, Cambodia, involved living within refugee communities.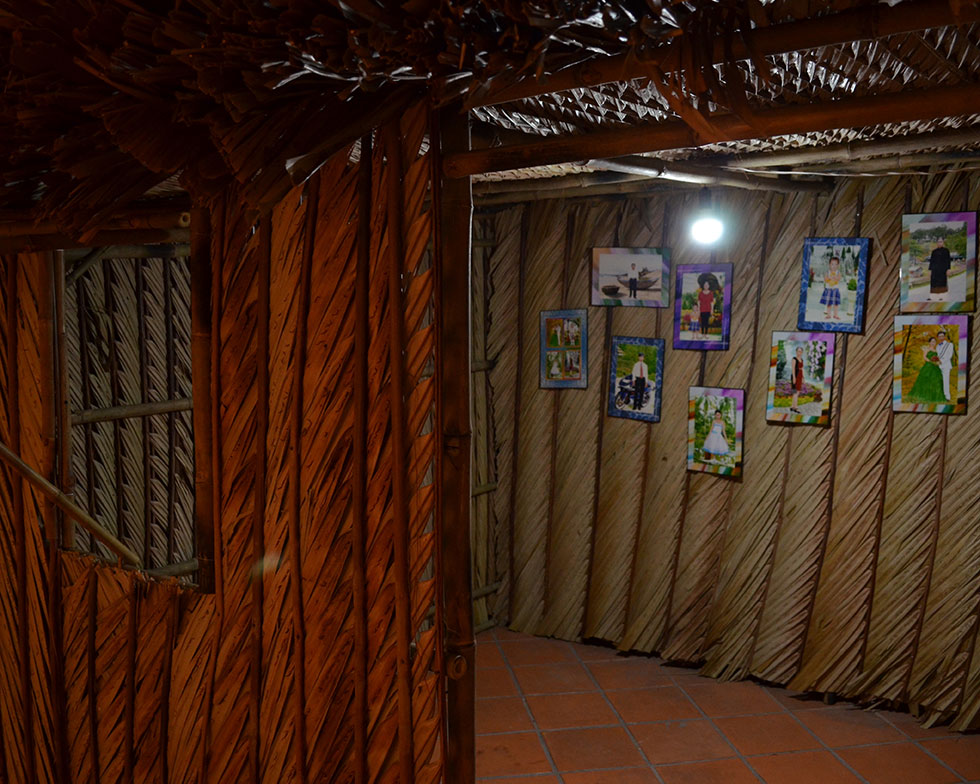 Nguyen Thi Thanh Mai (b. 1983 in Hanoi, Vietnam; lives and works in Hue). Travels, 2014. Eucalyptus, coconut leaves, 12 digital C-prints of digital collages. Courtesy of the artist
For this project she embedded herself within migrant Vietnamese communities in both a fishing village of about four hundred refugees near Tonle Sap Lake in Siem Reap province, Cambodia, and a nearby fishing village in Long An, Vietnam, in order to reveal the troubling realities for a marginalized community without legal rights or official status. As with many countries, official government-distributed identity cards provide legitimacy and protection, and without them, the Vietnamese refugees of Tonle Sap and Long An are rendered stateless—neither Vietnamese nor Cambodian. This leads to political, social, and economic repercussions resulting in corruption, illiteracy, and poverty. These people thus live an uncertain existence "day by day."
This hut constructed from eucalyptus and coconut leaves is representative of the dwellings inhabited by members of these transient communities. The work includes a series of twelve photographs that the artist commissioned from a traveling photographer. The portraits feature the face of a local refugee digitally pasted onto a body within a stock photograph selected by the client, so it appears that the refugees are posing in an idyllic scene or holding status objects. The final images, which are installed on the walls of the hut, allude to dreams of a better life—one that is most likely unattainable.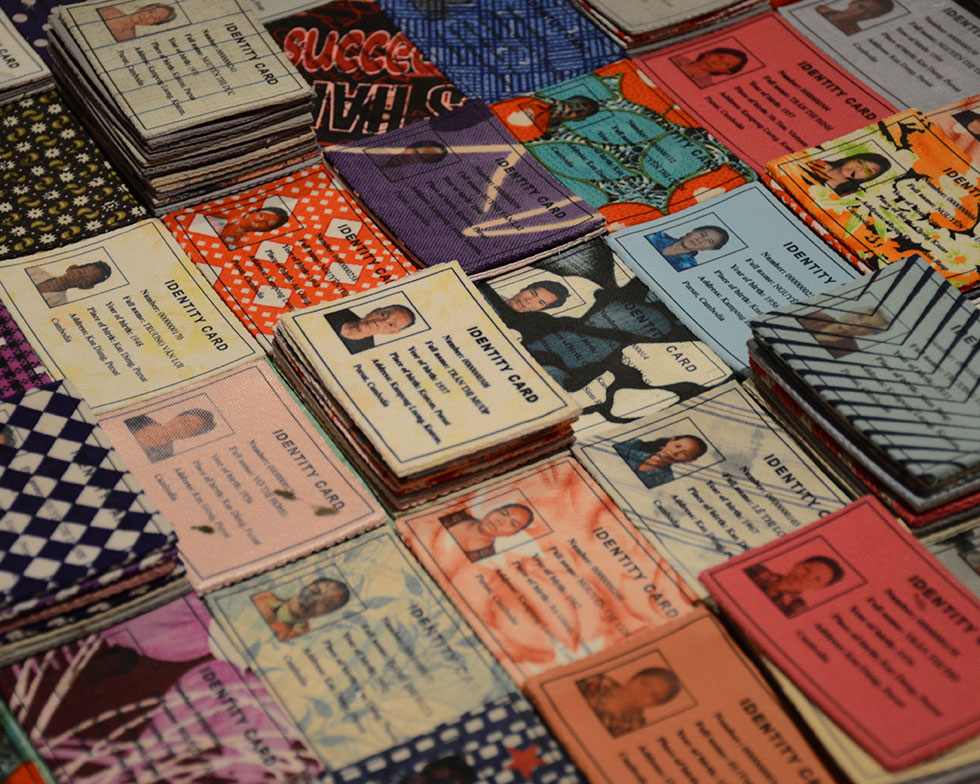 Nguyen Thi Thanh Mai (b. 1983 in Hanoi, Vietnam; lives and works in Hue). (Detail) ID Card, 2014. 340 heat transfer prints on recycled fabric on a table. Courtesy of the artist
ID Card is an installation that consists of hundreds of unofficial identity cards printed on fabric sourced from the possessions of villagers, as a surrogate for the official government-issued identification that these individuals lack, and placed on a table for physical examination by the viewer. This work considers the importance of a government-issued identity to secure employment, establish residence, and attend school, and how this status affects a person's education, socioeconomic status, and quality of life. Shadow is a series of eleven hand-colored digital photographs taken around Tonle Sap Lake, in which the figures have been blacked out, rendering them shadows within society, but also protecting their identity from government persecution. 
Nguyen Thi Thanh Mai (b. 1983 in Hanoi, Vietnam; lives and works in Hue). Shadow, 2014. Ink on digital C-prints mounted on aluminum. Courtesy of the artist
Nguyen Thi Thanh Mai (b. 1983 in Hanoi, Vietnam; lives and works in Hue). (Still) Day by Day, 2014–15. Single-channel digital video with sound. Duration: 58 minutes. Courtesy of the artist
The Propeller Group
The Propeller Group is a three-person artist collective based in Ho Chi Minh City. It was founded by Matt Lucero, Tuan Andrew Nguyen, and Phunam Thuc Ha, whose varied relationships to Vietnam inform their nuanced artworks. The collaborative relationship was first established between Nguyen, who was born in Ho Chi Minh City but came to the United States as a child refugee, and Lucero, who was born in Upland, California, during their graduate studies at the California Institute of Arts. Nguyen returned to Ho Chi Minh City where he met and began collaborating with Phunam Thuc Ha, who was also born in Ho Chi Minh City. Established in 2006, the group focuses on the disjunction among politics, power, and economies, and more specifically the tension created in Vietnam by the rapid development of a capitalist society under the mantle of the Communist regime. Their polished multimedia works employ the vernacular of street art and advertising strategies of popular culture to bring levity to otherwise difficult issues.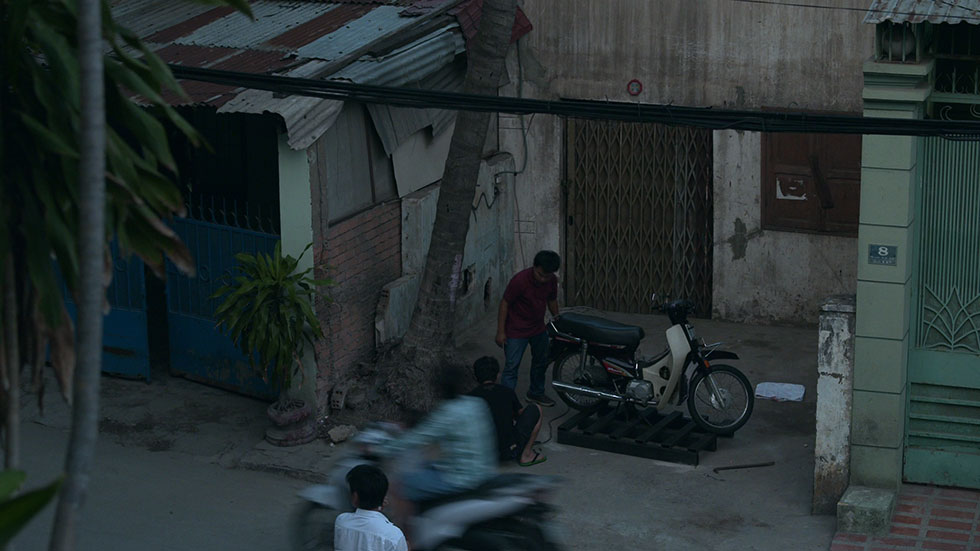 The Propeller Group. (Still) The Dream, 2012. Single-channel HD video and motorbike frame with steel pallet. Video duration: 4 minutes, 20 seconds. The Burger Collection
The Dream captures Vietnam's great economic growth and urbanization since Doi Moi, and the country's hunger for upward mobility at the expense of its ideological ideals. In this single-channel video a Honda Dream motorbike—long a symbol of quality and economic status in Vietnam—is left out overnight on the streets of Ho Chi Minh City. The time-elapsed footage shows the motorbike being stripped of its parts until it is reduced to a useless skeleton. Accompanying the video is the actual carcass of the picked-over bike as a symbol of the fallen utopia of communism and the unsavory underside of capitalism.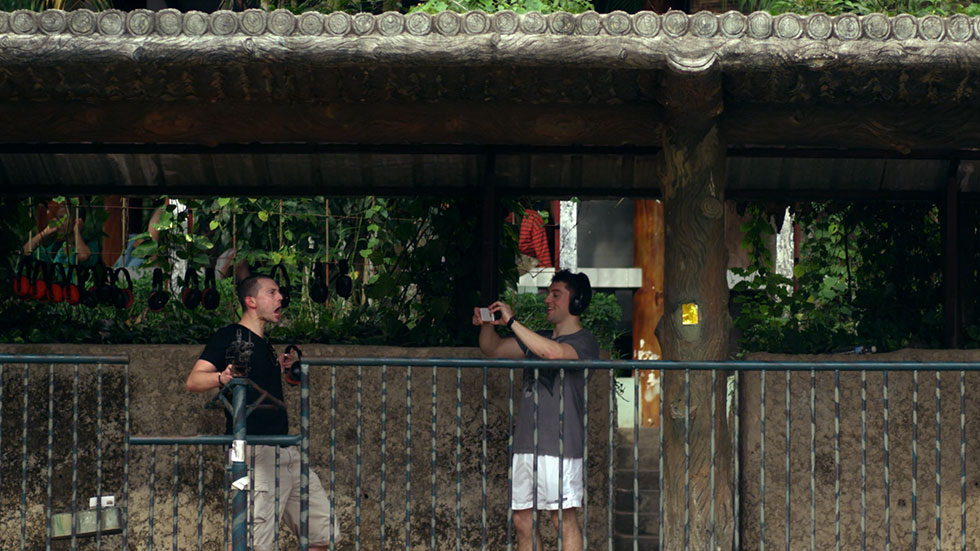 The Propeller Group. (Still) The Guerrillas of Cu Chi, 2012. Two-channel synchronized video installation with sound. Duration: 20 minutes, 4 seconds. Courtesy of the Propeller Group and James Cohan, New York
The Guerrillas of Cu Chi is a two-channel video that takes as its subject the Cu Chi Tunnels, a series of underground passages outside Ho Chi Minh City that were used by the Viet Cong to combat U.S. troops during the American-Vietnam War. These tunnels, which helped to win the war against the Americans, have been repurposed as a tourist attraction replete with firing ranges where, for $1US, visitors can shoot targets with weapons that include old M-16s and AK-47s that were used during the war. On one video screen the camera documents giddy tourists, many of them from western countries, aiming and shooting the guns toward the viewer. The amusement park-like atmosphere trivializes the carnage and loss incurred during the war and stands in stark contrast to the second video which shows Cu Chi Guerrillas, a 1963 propaganda film developed by the Viet Cong. The Viet Cong were also known as the National Liberation Front, a part of the North Vietnamese government, which fought against the South Vietnamese government and the United States. By pairing the two videos the Propeller Group underscores how the harsh realities of war are sanitized, rationalized, and repackaged to reach very different audiences.
Angki Purbandono
Angki Purbandono, one of the founders of the photography collective Ruang MES 56 based in Yogyakarta, is part of the younger generation that has benefited from the trail-blazing efforts of FX Harsono and his contemporaries. Purbandono humorously takes on current sociopolitical issues with his photographic practice, often using aspects of popular culture to create his work. In this work, the artist befriended and photographed a number of mentally ill and homeless individuals living on the streets of Yogyakarta. His satirical take on a fashion-magazine photo spread and the slick coffee table format of the books offer a poignant reflection on the plight of homelessness and mental illness in light of the country's growing material culture and disposable income of the white-collar class. Through the nuanced concepts and oftentimes ironic tone of his practice, Purbandono deftly illuminates and navigates the subtle political and social contradictions inherent in any realignment of power and the subsequent effects on the population.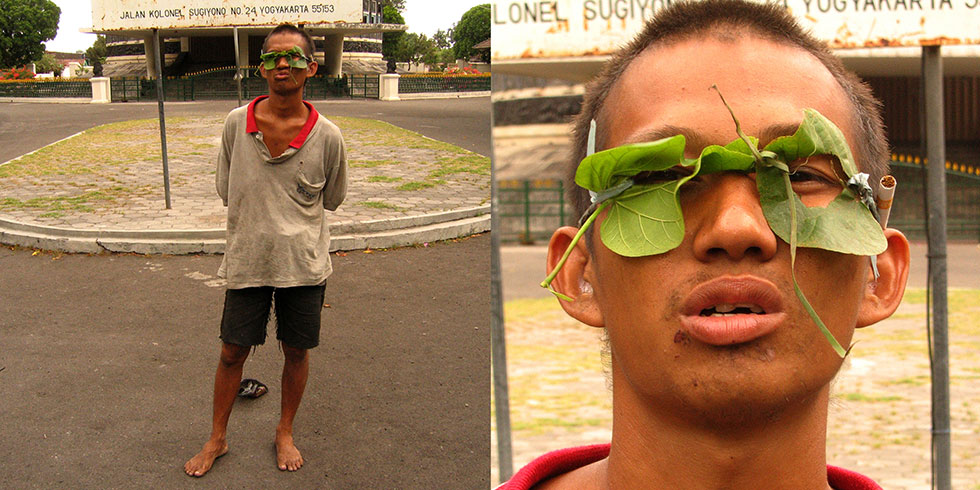 Angki Purbandono (b. 1971 in Cepiring, Indonesia; lives and works in Yogyakarta, Indonesia). (Detail) Beyond Versace, 2005–10. Two artist books: C-prints on metallic paper. Dr. Wiyu Wahono Collection
Tintin Wulia
Through her process-based multimedia practice, Tintin Wulia examines the notion of physical and psychological borders, and how the construction of geopolitical nation states impacts identity. She uses sound, video, performance, and site-specific installation as vehicles to explore the myriad experiences of refugees, the displaced, and those who must cross national borders for their livelihood. Wulia's work also addresses her identity as a minority Chinese Indonesian, especially following the 1998 riots in Indonesia that singled out the Chinese community as a target for discrimination. Initially trained as a filmmaker, Wulia's practice increasingly has turned toward performance-based installations and videos. Her early videos are distinguished by her use of simple, everyday images and materials to create compelling social narratives. Violence Against Fruits (2000) was created in response to the 1998 riots and employs exotic imported fruit as surrogates for the Chinese community in Indonesia, to reflect the uncertain position of this minority group within the larger society. Ketok (2002) takes its title from the onomatopoeic word for "knock." In this video, a couple recounts how they had once humorously mistaken the sound of a gecko—believed to bring good luck—for that of someone knocking at their door. The misidentification subtly suggests the constant threat of violence during Suharto's New Order government. Everything's OK (2003) depicts the building of a Styrofoam city that expands across the screen and is showered in a rain of money as a reference to the housing problems and overcrowding in Jakarta during the post-Reformasi period.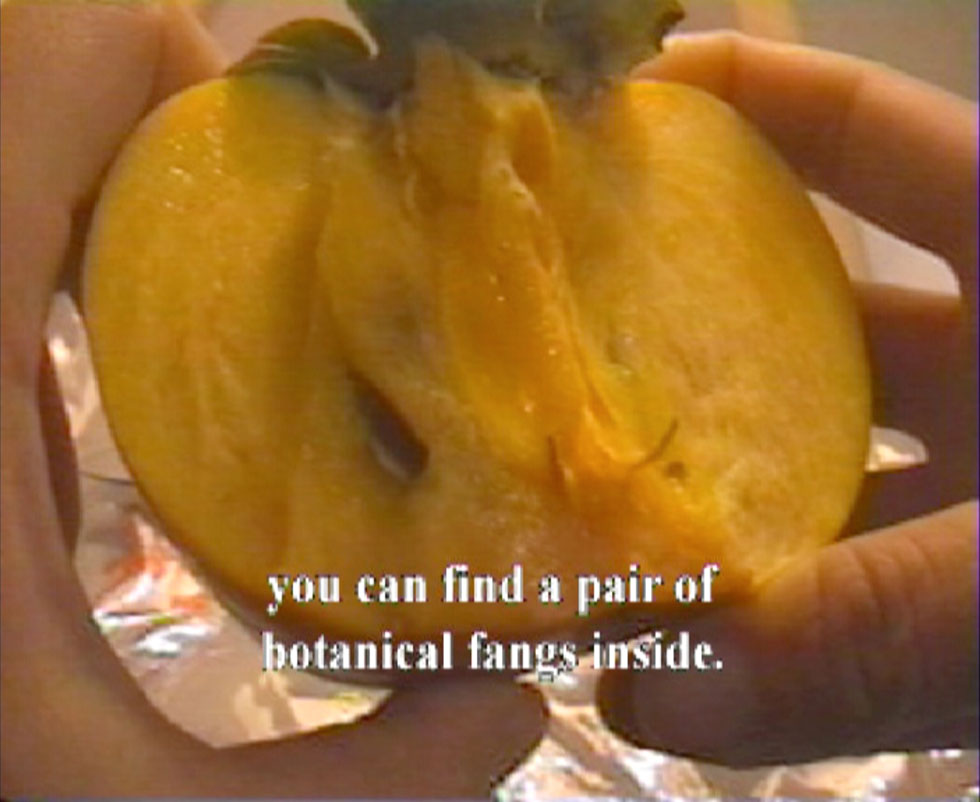 Tintin Wulia (b. 1972 in Denpasar, Indonesia; lives and works in Brisbane, Australia). (Still) Violence Against Fruits, 2000. Single-channel video with sound. Duration: 2 minutes, 56 seconds. Courtesy of the artist and Milani Gallery
Tintin Wulia (b. 1972 in Denpasar, Indonesia; lives and works in Brisbane, Australia). (Still) Ketok, 2002. Single-channel video with sound. Duration: 5 minutes, 34 seconds. Courtesy of the artist and Milani Gallery
Tintin Wulia (b. 1972 in Denpasar, Indonesia; lives and works in Brisbane, Australia). (Still) Everything's OK, 2003. Single-channel video with sound. Duration: 4 minutes, 51 seconds. Courtesy of the artist and Milani Gallery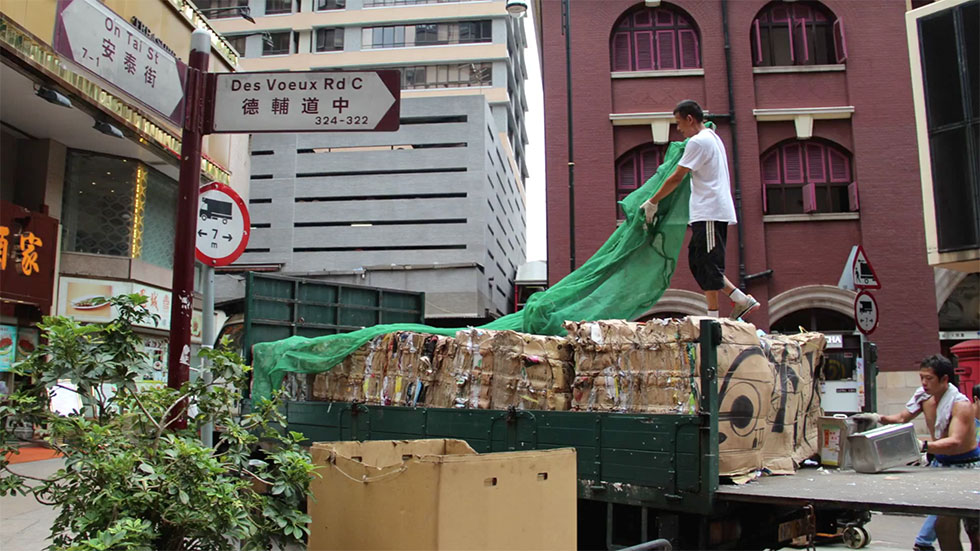 Tintin Wulia (b. 1972 in Denpasar, Indonesia; lives and works in Brisbane, Australia). (Still) Proposal for a Film: Within the Leaves, a Sight of the Forest, 2016. Single-channel video with sound. Duration: 25 minutes, 30 seconds. Courtesy of the artist and Milani Gallery
Proposal for a Film: Within the Leaves, a Sight of the Forest is part of Tintin Wulia's larger multimedia project Trade/Trace/Transit created between 2014 and 2016. This video was begun in 2014 and is composed of six chapters. The work, mixing fact with fiction, documents the artist's interventions in the course of tracing the movement of cardboard waste around Central in Hong Kong since 2014. It is startling to see how the route of this waste product of city life ends at a port where the bales of cardboard are shipped or trucked to China, and how the process involves people from a wide range of cultural backgrounds including Chinese, Filipino, and Punjabi. This narrative is juxtaposed with a fictional account of a future in which humans travel between Earth and Mars. Since 2000 the trajectory of Wulia's work has expanded beyond her earlier focus on her own personal identity and that of her city, to a global community of individuals who are participants in the movement of people, goods, and ideas.
Timeline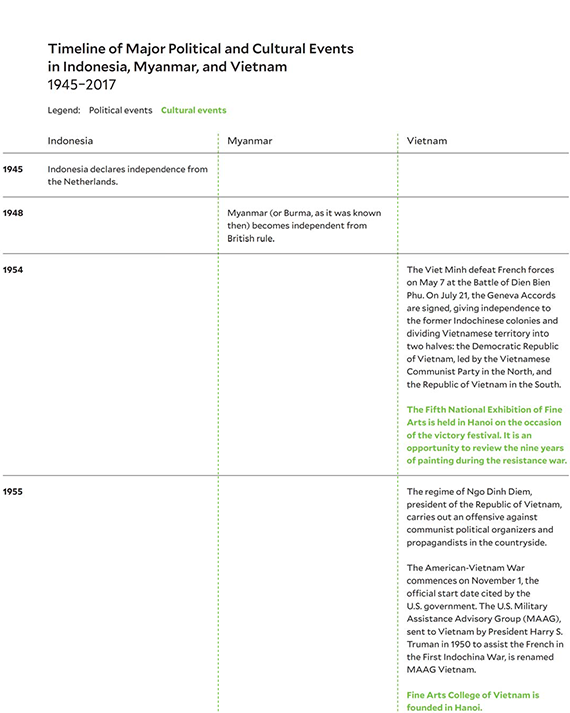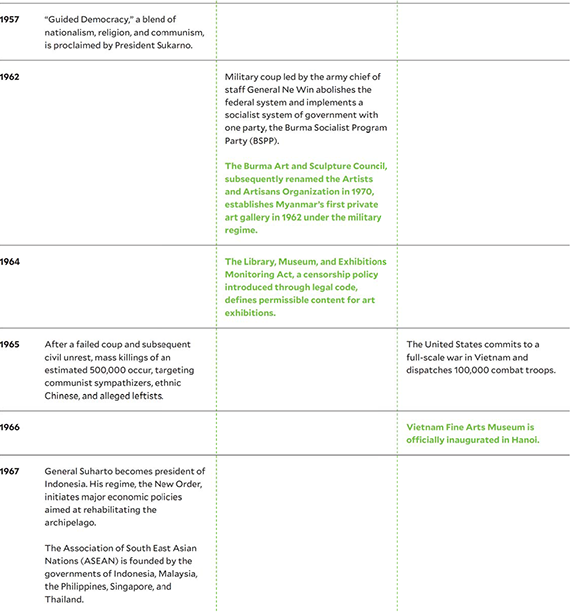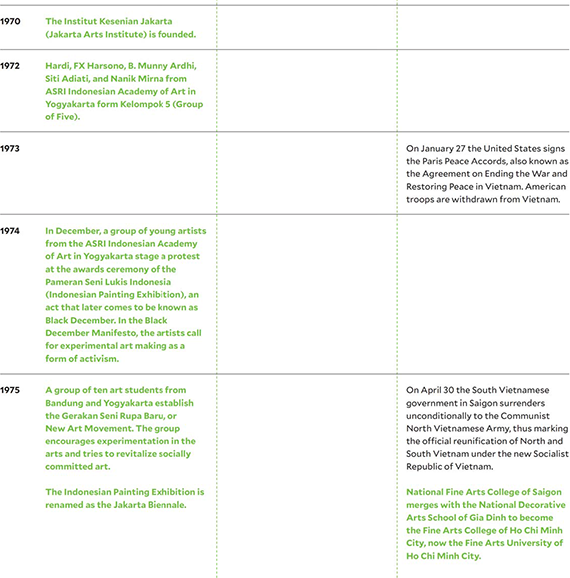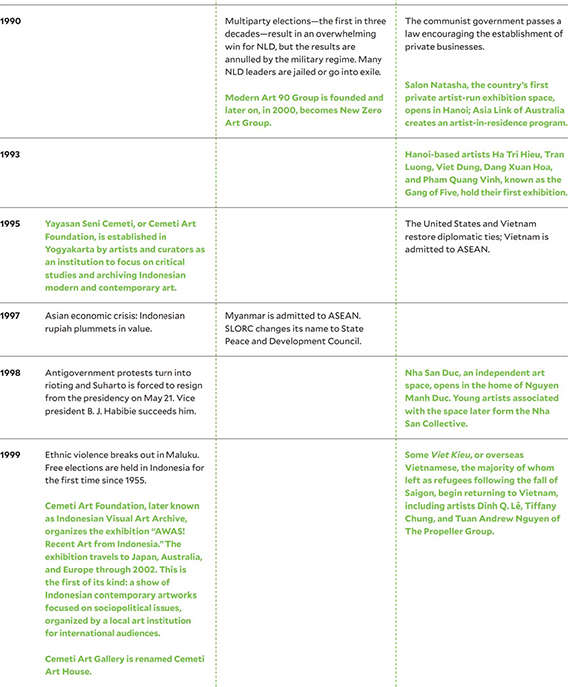 Credits
Major support for After Darkness: Southeast Asian Art in the Wake of History comes from
The Andy Warhol Foundation for the Visual Arts.
Additional support is provided by
The Horace W. Goldsmith Foundation
and the National Endowment for the Arts.

Support for Asia Society Museum is provided by Asia Society Global Council on Asian Arts and Culture, Asia Society Friends of Asian Arts, Arthur Ross Foundation, Sheryl and Charles R. Kaye Endowment for Contemporary Art Exhibitions, Hazen Polsky Foundation, The Mary Griggs Burke Fund, Mary Livingston Griggs and Mary Griggs Burke Foundation, and New York City Department of Cultural Affairs.

Related Programs
MEMBERS-ONLY ARTIST CONVERSATION
Art in Dangerous Times
Tuesday, September 12 • 6:30 pm
As part of the exhibition opening, several artists featured in After Darkness: Southeast Asian Art in the Wake of History—FX Harsono, Nge Lay, and Tuan Andrew Nguyen—come together for a thought-provoking discussion on their experiences navigating dramatic and often dangerous sociopolitical upheavals, and the profound effect these experiences have had on their artistic practices. Moderated by exhibition cocurator and Asia Society Museum Director Boon Hui Tan.
---
ARTISTS' TALK
After Darkness: Reflecting on Creativity in Times of Conflict
Saturday, September 16 • 1:00 pm
Artists FX Harsono and Htein Lin—from Indonesia and Myanmar, respectively—discuss their respective practices and deconstruct the impact that dramatic sociopolitical change had on their creative processes. Moderated by Michelle Yun, exhibition cocurator and Senior Curator of Modern and Contemporary Art.
---
FILM
The Legacy of Vietnam
Tuesday, September 26• 12:00 pm
Lynn Novick, The Vietnam War is a 10-part documentary film series on PBS that tells the epic story of one of the most consequential, divisive, and controversial events in American history. Get an inside look at the new series with the filmmakers, who are joined by best-selling Vietnamese-American author Duong Van Mai Elliott and former U.S. Senator and Vietnam War veteran Bob Kerrey. Excerpts from the documentary will be screened.
---
SYMPOSIUM
Negotiating Change: Art from Societies in Transition
Friday, October 20• 2:00 pm–5:00 pm
---
ASIA/LIVE PERFORMANCE
Passport In/Passport Out: Stories of Dinh. Q. Lê and Tintin Wulia  
Friday, October 20• 6:30 pm
Actors bring to life the personal accounts of artists Dinh Q. Lê and Tintin Wulia. Followed by a Q&A with the artists and a reception.
---
TIMES SQUARE PRESENTATION OF FX HARSONO'S WRITING IN THE RAIN
Midnight Moment presentation coincides with exhibition's final weeks
January 1-31, 2018 • nightly at 11:57 pm

Times Square Arts, the public art program of the Times Square Alliance in partnership with the Times Square Advertising Coalition, presents as part of its 2018 Midnight Moment lineup FX Harsono's Writing in the Rain. The video work, on view in the After Darkness: Southeast Asian Art in the Wake of History exhibition will be shown nightly on electronic billboards in Times Square at midnight during the month of January. The work is presented in partnership with Asia Society Museum.
---
All programs are subject to change. For tickets and the most up-to-date schedule information, visit AsiaSociety.org/NYC or call the box office at 212-517-ASIA (2742) Monday through Friday, 1:00-5:00 pm.
Plan Your Visit