The UN Security Council and Military Interventions
VIEW EVENT DETAILS
Panel Discussion and Book Launch

Antonio de Aguiar Patriota, Hardeep Singh Puri, Simon Adams, and Kevin Rudd discuss challenges for the U.N. Security Council in addressing violent conflicts through military interventions. (1 hr., 28 min.)
---
Following the conclusion of the 2016 United Nations General Assembly, the Asia Society Policy Institute (ASPI) is hosting a discussion on the challenges that the UN Security Council faces in preventing, managing, and ending violent conflicts through military interventions. The panel will also explore suggestions to improve the Security Council's effectiveness in tackling contemporary security challenges.
This special event also serves as a launch of the new book, Perilous Interventions: The Security Council and the Politics of Chaos (Harper Colins, 2016), by Ambassador Hardeep Singh Puri. The book provides a sharp analysis of the recent history of UN and non-UN military interventions and calls for reforms to Security Council working methods in the maintenance of international peace and security. Puri, who served as India's envoy to the UN from 2009 to 2013, reveals the Council's decision-making processes and members' general perspectives on intervention. Perilous Interventions shows how some recent instances of the use of force didn't go as planned, citing examples such as Libya, Syria, Yemen, and Crimea, as well as India's intervention in Sri Lanka in the 1980s.
A light breakfast will be provided. Immediately after the program, guests are welcome to attend a book signing with the author.
SPEAKERS:
Dr. Simon Adams is Executive Director of the Global Centre for the Responsibility to Protect. He has worked with governments and civil society organizations in South Africa, East Timor, Rwanda, and elsewhere. Between 1994 and 2002, Dr. Adams worked with Sinn Féin and former IRA prisoners in support of the Northern Ireland peace process. He is also a former anti-apartheid activist and member of the African National Congress in South Africa. Dr. Adams is the author of four books and numerous academic articles with a focus on international conflict. He received his Ph.D from the University of New South Wales in Australia. 
Amb. Antonio de Aguiar Patriota is Permanent Representative of Brazil to the United Nations. Previously, Amb. Patriota served as Brazil's Minister of External Relations from 2011-2013. In his long diplomatic career, the Ambassador has served as Secretary for Diplomatic Planning at the Foreign Ministry, Ambassador of Brazil to the United States, Undersecretary General for Political Affairs at the Foreign Ministry, and Deputy Foreign Minister, among several other roles. Born in Rio de Janeiro in 1954, he graduated from Brazil's Diplomatic Academy, the Rio Branco Institute, in 1979.

Amb. Hardeep Singh Puri has had a distinguished four-decade career in diplomacy spanning the multilateral arena, including as India's Permanent Representative to the United Nations in both Geneva (2002-2005) and New York (2009-2013). He is one of the few Indians to preside over the United Nations Security Council and the only one to have chaired its Counter-terrorism Committee. He has held Ambassadorial level posts in the United Kingdom and Brazil. He most recently served as Vice-President of the International Peace Institute and as Secretary-General of its Independent Commission on Multilateralism.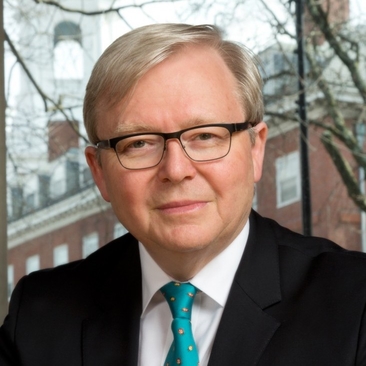 The Hon. Kevin Rudd is President of the Asia Society Policy Institute. He served as Australia's 26th Prime Minister and as Foreign Minister. Mr. Rudd recently led a review of the UN system as Chair of the Independent Commission on Multilateralism. He is a Distinguished Fellow at Chatham House in London, a Distinguished Statesman with the Center for Strategic and International Studies in Washington, and a Distinguished Fellow at the Paulson Institute in Chicago. He is proficient in Mandarin Chinese, serves as a Visiting Professor at Tsinghua University in Beijing, and co-chairs the World Economic Forum's China Global Affairs Council.
This program is presented by:

Event Details
Asia Society 725 Park Ave New York, NY 10021
Buy Tickets
Members $15; Students/Seniors $20; Nonmembers $25

Add to Calendar
20160930T123000
20160930T140000
UTC
Asia Society: The UN Security Council and Military Interventions
Asia Society 725 Park Ave New York, NY 10021
---
If you bought tickets or plan to watch the webcast tell your friends on Facebook!
Join the Facebook Event »