Before the Summit: The Obama-Xi Meeting and U.S.-China Relations
VIEW EVENT DETAILS
AsiaConnect Briefing with Kevin Rudd, President of the Asia Society Policy Institute
The September summit meeting between U.S. President Barack Obama and China President Xi Jinping has the potential to be one of the most momentous state visits in recent memory for both countries. Even as leaders in China and the U.S. — two countries with greatly different capabilities and values — search for common ground on how to respond to a range of shared challenges, the relationship continues to be tested by disagreements over issues in the bilateral, regional, and global spheres. Can the two presidents find a new register for their dialogue and restore the sense of optimism and possibility that followed their 2013 meeting at Sunnylands?
The Asia Society Policy Institute is pleased to present this AsiaConnect teleconference with ASPI President Kevin Rudd. Having recently visited Beijing and met with various senior Chinese officials, he will share his insights on China's outlook for this summit and offer thoughts on how the two sides might make the most of the summit's opportunity to begin engineering the "new model for great power relations" that President Xi has advocated.
To register and obtain call-in information, please email AsiaDC@asiasociety.org.
ASPI's AsiaConnect is a telephone briefing series on pressing issues in Asia and U.S.-Asia relations, made possible through the generous support of Asia Society Trustee Mitch Julis.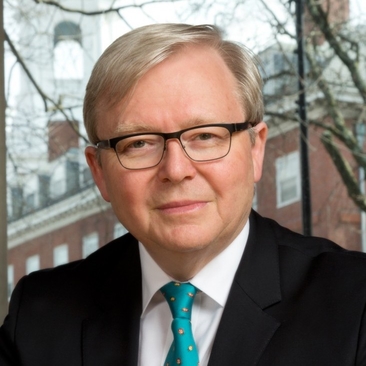 The Hon. Kevin Rudd is President of the Asia Society Policy Institute. He served as Australia's 26th Prime Minister and as Foreign Minister. Mr. Rudd conducted a major research project on the future of U.S.-China relations at Harvard's Kennedy School. As Chair of the Independent Commission on Multilateralism, Mr. Rudd is also leading a review of the seven-decade-old UN system. He is a Distinguished Fellow at Chatham House in London, a Distinguished Statesman with the Center for Strategic and International Studies in Washington, and a Distinguished Fellow at the Paulson Institute in Chicago. He is proficient in Mandarin Chinese, serves as a Visiting Professor at Tsinghua University in Beijing, and co-chairs the China Global Affairs Council of the World Economic Forum.

Event Details
This briefing will be conducted by teleconference. To register, please email AsiaDC@asiasociety.org.

Add to Calendar
20150918T160000
20150918T164500
UTC
Asia Society: Before the Summit: The Obama-Xi Meeting and U.S.-China Relations
---