Jake Sullivan: Hillary Clinton's Senior Policy Advisor
VIEW EVENT DETAILS
*This event will not be webcast.
Every four years, the world watches as the U.S. goes to the polls, and already the 2016 campaign has proved one of the most-watched and most unpredictable in memory. Asia Society has reached out to the candidates' chief foreign policy advisors, inviting each to present perspectives on Asia, and potential policy prescriptions for the region should their candidate become president.
Asia Society is pleased to welcome Jake Sullivan, senior policy advisor to the Hillary Clinton Presidential Campaign. Sullivan will participate in a conversation with Asia Society Policy Institute President Kevin Rudd on what are arguably the most consequential and challenging global issues and relationships the next U.S. president will have to manage—those between the United States and Asia, and China in particular.
As Secretary of State, Clinton was a central actor in the Obama administration's so-called "pivot to Asia." As a 2016 presidential candidate, she has questioned one of the strategy's main pillars: the Trans-Pacific Partnership. There are profound challenges looming across the continent—from Afghanistan to Iran, the Korean Peninsula to the South China Sea, along with other issues such as cybersecurity espionage, counter terrorism, and climate change.
How would a Hillary Clinton administration manage these challenges? What would the potential implications be for U.S. relations with China, India, and ASEAN? Join us for this special event.
Speakers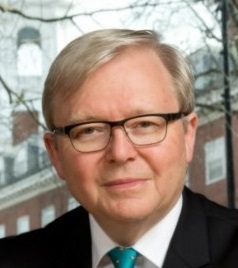 The Hon. Kevin Rudd is President of the Asia Society Policy Institute (ASPI). He served as Australia's 26th Prime Minister and as Foreign Minister. He is a fluent Mandarin speaker and the author of the recent report U.S.-China 21: The Future of U.S.-China Relations Under Xi Jinping.
---

Jake Sullivan is the senior policy advisor to Hillary Clinton' s 2016 presidential campaign. He is also the Oscar M. Ruebhausen Distinguished Senior Fellow in National Security and Visiting Lecturer in Law at Yale Law School. Until 2014 he served as a national security adviser to Vice President Joe Biden. Sullivan holds undergraduate and law degrees from Yale and a master's degree from Oxford.
Event Details
6:30 - 8 p.m.
Asia Society 725 Park Avenue New York, NY 10021
Buy Tickets
Members $20; Students/Seniors $25; Nonmembers $30
If you bought tickets or plan to watch the webcast tell your friends on Facebook!
Join the Facebook Event »