Asia and the U.S.: Trump's First 100 Days
VIEW EVENT DETAILS
Asia: Beyond the Headlines | Sponsored by Delta Air Lines
NEW YORK, May 10, 2017 — Former U.S. National Security Adviser Thomas E. Donilon, Eurasia Group President and CEO Ian Bremmer, and Johns Hopkins School of Advanced International Studies Vali Nasr discuss President Trump's policies, accomplishments, and missteps in the first 100 days of his term. The conversation was moderated by Asia Society Policy Institute President Kevin Rudd. (1 hr., 28 min.)
---
In his inaugural address, President Donald Trump declared "America First," reinforcing the belief that he would follow through on his campaign rhetoric — confrontation with China, but also what appeared to be a wavering of support for long-standing commitments to Japan and South Korea. Elsewhere in Asia, the speech appeared to be a confirmation that U.S. policy towards Asia would no longer be business as usual ... or so it seemed.
Since the inauguration, President Trump has reversed his position on the "One China policy" — having previously regarded the position as "negotiable," and the U.S. alliances with Japan and South Korea have been reaffirmed following President Trump's meeting with Japan's Prime Minister Shinzo Abe, Secretary of Defense James Mattis' trip to both Japan and South Korea, and Secretary of State Rex Tillerson's meetings with his counterparts from both Japan and South Korea on the sidelines of the G20 meeting in Germany. President Trump's Asia policy appears to be moderating over time, but on almost every front, questions remain as to how the U.S. will proceed in Asia under his leadership.
Join us as Ian Bremmer, Tom Donilon, Vali Nasr, and the Hon. Kevin Rudd review President Trump's early moves in Asia in the first 100 days of his presidency, outstanding issues he will have to consider, and the challenges on the horizon.
Speakers
Ian Bremmer is president and founder of Eurasia Group, and Harold J. Newman distinguished fellow in geopolitics at the Asia Society Policy Institute. He has published nine books, including the national bestsellers Every Nation for Itself: Winners and Losers in a G-Zero World, The End of the Free Market: Who Wins the War Between States and Corporations?, and his latest: Superpower: Three Choices for America's Role in the World. He serves on the President's Council of the Near East Foundation, the Leadership Council for Concordia, and the board of trustees of Intelligence Squared.
Thomas E. Donilon is Vice Chair of the international law firm O'Melveny & Myers, where he serves on the firm's global governing committee. He is also Senior Director at the BlackRock Investment Institute. From 2010 to 2013, he served as National Security Advisor to President Barack Obama. He is a distinguished fellow at the Asia Society Policy Institute and the Council on Foreign Relations, a non-resident senior fellow at Harvard Kennedy School's Belfer Center for Science and International Affairs, a member of the U.S. Defense Policy Board, and a member of the Central Intelligence Agency's External Advisory Board.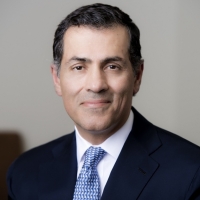 Vali Nasr is Dean of the Johns Hopkins University's School of Advanced International Studies. He is the author of The Dispensable Nation: American Foreign Policy in Retreat, Forces of Fortune: The Rise of the New Muslim Middle Class and What It Will Mean for Our World, and The Shia Revival: How Conflicts within Islam Will Shape the Future. From 2009 to 2011, he was special adviser to the president's Special Representative for Afghanistan and Pakistan. He is currently a member of the U.S. Department of State's Foreign Affairs Policy Board and is a life member of the Council on Foreign Relations.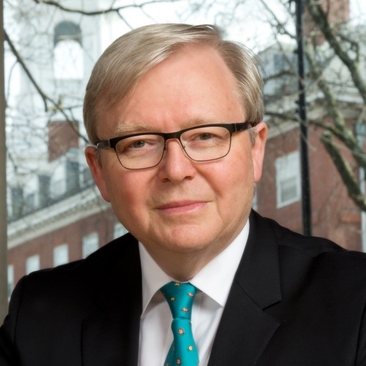 The Hon. Kevin Rudd is president of the Asia Society Policy Institute. He served as Australia's 26th prime minister and as foreign minister. Mr. Rudd led a review of the U.N. system as chair of the Independent Commission on Multilateralism. He is a distinguished fellow at Chatham House in London, a distinguished statesman with the Center for Strategic and International Studies in Washington, and a distinguished fellow at the Paulson Institute in Chicago. He is proficient in Mandarin Chinese, serves as a visiting professor at Tsinghua University in Beijing, and co-chairs the World Economic Forum's China Global Affairs Council.
This program made possible through the generous support of Delta Air Lines.

Event Details
6:30 - 8 p.m.
Asia Society 725 Park Avenue New York, NY 10021
Buy Tickets
Members $12; Students/Seniors $15; Nonmembers $20
If you bought tickets or plan to watch the webcast tell your friends on Facebook!
Join the Facebook Event »