The Xi-Modi Agenda: Centering China-India Relations on Economic Cooperation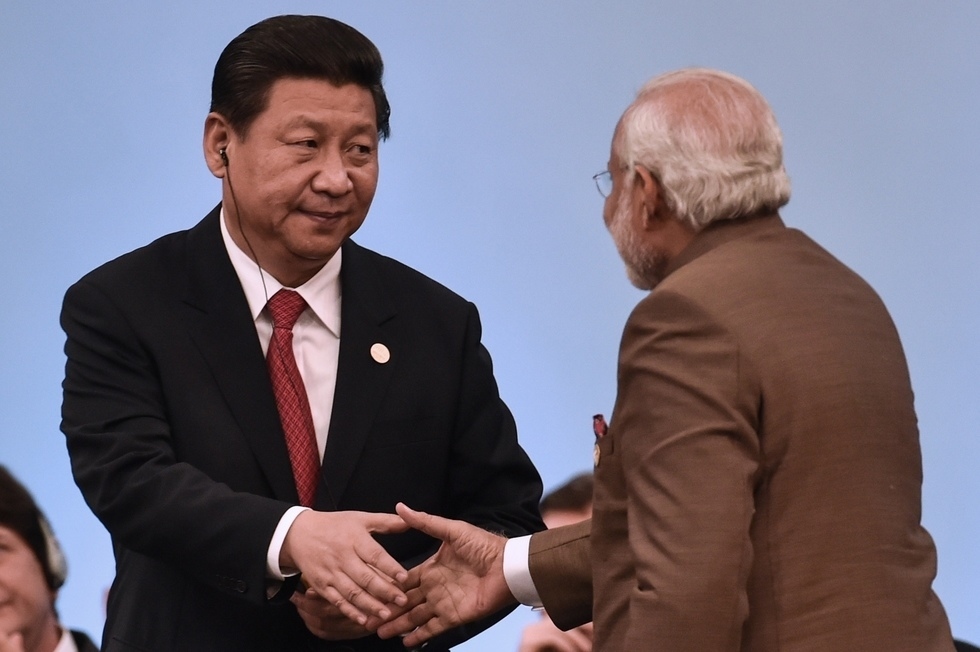 China's President Xi Jinping (L) shakes hands with India's Prime Minister Narendra Modi during the 6th BRICS Summit in Fortaleza, Brazil, on July 15, 2014. (Yasuyoshi Chiba/Getty Images)

Read commentary from nine experts on the prospects for Xi Jinping and Narendra Modi to strengthen economic ties between China and India and use those ties to improve overall relations between the two countries.
Indian National Security Advisor Ajit Doval was in Beijing last week doing something government officials rarely do in the lead up to important state visits between two countries: stoking expectations instead of tamping them down. Saying that the two nations were at the cusp of an "orbital jump" in relations, he signaled that President Xi Jinping's visit to India this week would consist of more than empty pomp and timid pronouncements. With reports coming out that Xi will unveil plans to invest a staggering $100 billion plus in India over five years—an average amount that is more than twenty times China's investment into India in 2013—Doval appears not to have been exaggerating. China's President Xi Jinping and India's Prime Minister Narendra Modi will announce a number of initiatives this week, placing economic ties at the top of their bilateral agenda. Economic cooperation may thus revitalize what has long been a fractured relationship.
The $100 billion investment pledge will likely be the centerpiece of Xi's visit, with other initiatives being announced alongside. The Chinese Consul-General in Mumbai suggested China's investments would focus on industrial parks, infrastructure, and key sectors including power, manufacturing, food processing, and automobiles. The Economic Times reported that Xi will commit Chinese investment of more than $7 billion for two industrial parks to be located in the Indian states of Maharashtra and Gujarat. The two countries will also reportedly sign a Memorandum of Understanding on Chinese investment and cooperation to enhance India's railways. In addition, a number of Chinese companies are expected to sign purchase agreements with Indian companies. The details may take some time to emerge, but the ambition of the investment goal is extraordinary. Less than two weeks ago, India was delighted to secure a remarkable $35 billion investment commitment from Japan's Prime Minister Shinzo Abe during Modi's visit to Japan. China's commitment, surely by design, dwarfs that number and should excite businesses and policymakers in India.
The timing couldn't be better. After rapid and consistent growth in trade between China and India during the past decade, their bilateral trade relationship has stagnated over the last three years. Bilateral trade fell from a high of $75 billion in 2011 to approximately $69 billion in 2012, and to $65 billion in 2013. A joint goal of reaching $100 billion in trade by 2015 appeared to have moved out of reach. India's trade deficit with China, amounting to $31 billion in 2013, was further straining relations. Moreover, foreign direct investment (FDI) flows between the two countries have remained paltry even as both have increasingly invested abroad. Most estimates place annual China-India bilateral FDI flows since 2000 to be under $1 billion, with Chinese FDI in India and vice-versa accounting for less than one percent of each country's worldwide investment stock.
Xi's visit to India presents a perfect opportunity for Asia's two rising powers to set a new and ambitious agenda for economic cooperation focused on enhancing market access and growing cross-border investment. China, sitting on $4 trillion in reserves and in the midst of reforming and rebalancing its economy, has in India a ripe investment destination that is urgently seeking to enhance its infrastructure and manufacturing capacity. It's a great match, and the two economies finally appear ready to exploit the vast untapped potential they offer one another.
Xi and Modi have been central figures in this bilateral economic awakening. In these two new executives, India and China have politically confident leaders who share a commitment to improving bilateral ties with the other country, especially on economic issues. Modi's economic engagement with China while he was Chief Minister of Gujarat raised hopes that he would look to bolster economic ties with China. And within months of Modi being sworn in as India's Prime Minister, China and India announced a major collaboration. Xi and Modi met at the BRICS summit in July and, together with the leaders of Brazil, Russia, and South Africa, they declared the formulation of the BRICS Development Bank. At their meeting, Xi also invited India to participate in an Asia-Pacific Economic Cooperation (APEC) meeting for the first time, a noteworthy overture and a signal that the countries were ready to enhance economic ties. These developments provided an opportunity for both countries to redouble diplomatic cooperation and deepen their economic relationship.
The initiatives announced during Xi's visit could mark the culmination of a great deal of proactive diplomacy and planning by both governments in a very small period of time. Even before Modi's election victory, China had indicated plans to bolster economic ties. For example, in February China indicated a desire to finance 30 percent of India's plan of $1 trillion investment in infrastructure development. But the foundation for a groundbreaking visit by Xi to India was laid over several months by both governments. Indian Commerce Minister Nirmala Sitharaman has visited Beijing twice in the past few months, indicating that economic issues are the priority for both governments. In June she visited China to meet her counterpart Gao Hucheng and reached an agreement to have Chinese industrial parks set up in India. And a Chinese delegation recently visited India to identify the specific locations for these parks.
These developments represent a critical and pragmatic shift in policy for both countries, with economic cooperation finally being given priority. Border disputes and security concerns have repeatedly stymied bilateral relations, and it remains unclear whether the two leaders will be able to make any progress on those issues this week. Xi and Modi are sending a strong signal that they are ready to move forward on mutually beneficial issues even as tensions persist on other fronts. Strengthening economic ties between the two countries is a prudent way to build trust and develop interdependencies that may well deter future conflict and competition. A bilateral economic agenda that matches the size and trajectory of these two neighboring economies has long been missing. This week, Xi and Modi will declare that China and India grow together and not apart.