Why a Proposed Chinese Takeover is Washington's Latest Pork Outrage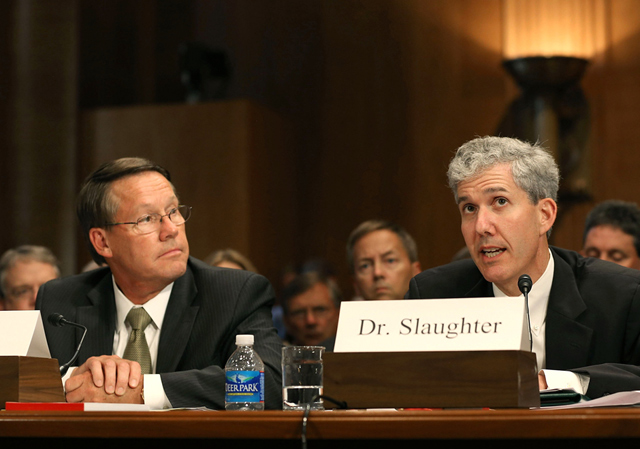 Larry Pope (L), CEO of Smithfield Foods, and Matthew Slaughter (R), director of the Center for Global Business and Government, answer questions during a Senate Agriculture, Nutrition and Forestry Committee hearing, July 10, 2013 in Washington, DC. (Mark Wilson/Getty Images)
It's potentially the largest-ever Chinese acquisition of an American company: China's largest pork processor, Shuanghui, agrees to buy Smithfield Foods, the world's biggest pork processor, for over $4.7 billion excluding net debt.
The colossal bid not only sheds light on Chinese foreign direct investment in the United States, but also China's heightened presence in merger and acquisition deals involving foreign companies. As China's demand for U.S. pork continues to skyrocket amid domestic food safety scandals and a growing middle class, Shuanghui must look outside China's borders to match the market's demand. Smithfield maintains that the deal would open up opportunities for American pork producers while the company retains its American operations under U.S. law, even after a Chinese buyout.
The Shuanghui-Smithfield deal now faces one of its last hurdles: U.S. regulators. The Committee on Foreign Investment in the United States (CFIUS), the inter-agency federal entity that reviews all foreign investment in American companies, must now decide whether the acquisition poses a national security threat. Not everyone in Washington is sold, including one senator who has called Shuanghui's food safety track record into question during last week's Senate hearing. Others expressed concern about the protection of sensitive technology and intellectual property.
Experts from ChinaFile weigh in on the implications of the takeover, the CFIUS review, and the trajectory of bilateral trade relations.
Arthur Kroeber, managing director at GaveKal Dragonomics and editor of China Economic Quarterly, notes:
And as China threats go, the pork problem is surely one of the silliest. Shuanghui International, an arm of China's biggest and best pork producer, wants to take over Smithfield Foods, America's biggest pork company. Smithfield is happy to sell, and Shuanghui's most likely motive is that it wants to learn from Smithfield how to improve the notoriously unreliable Chinese pork supply chain and meet international quality standards so that it can consolidate its domestic market position and increase exports. It's hard to see how a Chinese company's effort to clean up its own country's food safety system, and perhaps increase the globally traded pork supply, could be construed as a threat to U.S. national security.
Nonetheless, some committee members and their chosen experts gave it their best shot. Three reasons were given why the Treasury Department's Committee on Foreign Investment in the United States (CFIUS) should block the deal. Two are utterly specious and one points to a real problem — but not one that would be solved by preventing the takeover.
James Fallows, national correspondent of The Atlantic, adds:
We can all imagine Chinese takeovers of U.S. firms that would raise questions — for instance, if Huawei wanted to buy Intel, or Baidu bought Google, or the China Daily purchased the New York Times. But by any sane analysis, a meat-packing deal comes nowhere on this list.
Click here to read the full conversation on ChinaFile.