What Questions Do You Have for the US Ambassador to China? #AskAmbLocke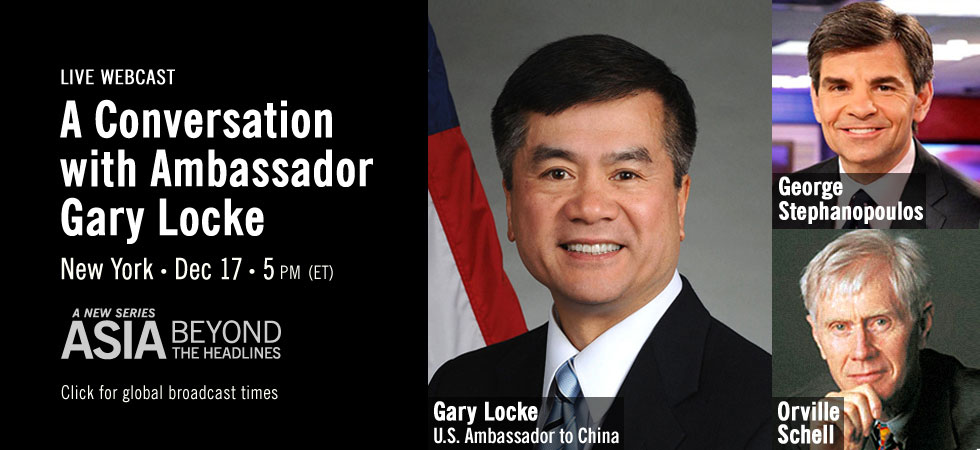 On Monday, December 17, at 5 p.m. ET, Asia Society will launch its Asia: Beyond the Headlines discussion series with U.S. Ambassador to China Gary Locke, who will be joined on our New York stage by George Stephanopoulos, of ABC News, and Asia Society's own Orville Schell. The event will be webcast live at AsiaSociety.org/live (see below for global broadcast times).
China has just completed a once-a-decade leadership transition, with Xi Jinping taking over as Party chief and effective head of the military. It's a crucial time and there are key questions as the change unfolds: How likely is political and economic reform? Will the Party succeed in reining in corruption and reducing income disparities? What will the continuing Chinese military buildup and the U.S. "pivot to Asia" mean for stability in the region? How will the new team approach U.S-China relations during a second Obama Administration?
Surely these topics will be discussed on Monday — but what else would you like to hear from Ambassador Locke? What are your questions for him? We will use some of the questions submitted by our web audience at the event in New York.
Please leave your questions in a comment below. You can also pose your question on Facebook or on Twitter, using the hashtag #AskAmbLocke.
We look forward to hearing from you!
Local viewing times:

Los Angeles/San Francisco: 2 pm
Houston: 3 pm

New York: 5 pm

Mumbai: 3:30 am
 (Tue., Dec. 18)
Hong Kong/Manila: 6 am (Tue., Dec. 18)

Seoul: 7 am (Tue., Dec. 18)

Sydney: 9 am (Tue., Dec. 18)