Weekly Rewind: Rap in China, Tokyo Without Ads, and Rebuilding Nepal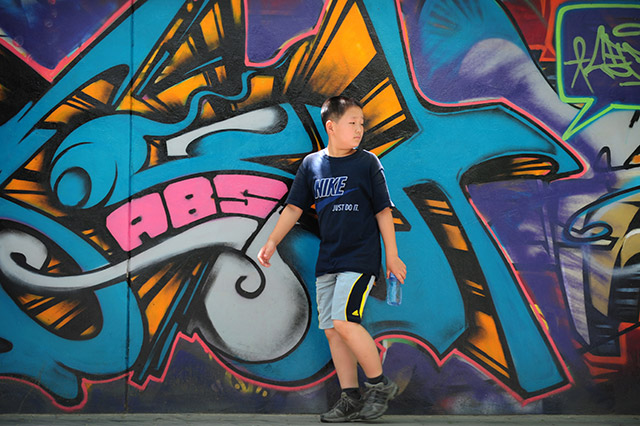 A boy looks back while walking past graffiti on a wall in a street in Beijing. (Frederic J. Brown/AFP/Getty Images)
Welcome to Asia Society's Weekly Rewind, featuring some of the best Asia-related content you may have missed. This week:
Stories
Meet The Chinese Rappers Bringing Hip-Hop To The Middle Kingdom
Matt Sheehan | The WorldPost
Earlier this week, China's Ministry of Culture banned 120 songs for "containing content that promotes sex, violence or crime, or harms public morality." At least 50 of the blacklisted songs are by Mainland Chinese and Taiwanese rappers. Reporting from Chengdu, Matt Sheehan takes a closer look at a local rap collective and its ambitions for the Chinese hip-hop scene.
Japan Returns to Nuclear Power for the First Time in Two Years: Now What?
Marina Koren | The Atlantic
On Tuesday, Kyushu Electric Power announced it had restarted a nuclear reactor at its Sendai plant. This marks Japan's first nuclear reactor to be brought back since a September 2013 ban on all nuclear-power generation, which came in the aftermath of a nuclear crisis following a devastating 2011 earthquake and tsunami.
Google CEO Sundar Pichai Symbolizes the New India: IT Industry
Times of India
Indian-born Sundarajan Pichai, age 43, was named the CEO of Google Inc. earlier this week. Pichai joins a growing number of Indian immigrants who lead companies including Microsoft, Adobe Systems, Nokia, and Mastercard.
How the Uighurs Keep Their Culture Alive in Pakistan
Shumaila Jaffrey | BBC
Insa Khan recounts the childhood journey she made with her parents in 1949 with her parents from Xinjiang province in China to Gilgit in northern Pakistan, where they found religious freedom.
Multimedia
Tokyo Without Ads: Japan's Capital Stripped Bare – In Pictures
Nicholas Damiens | The Guardian
What would Tokyo look like stripped of the neon and billboards that are "so central to [its] buzzing visual identity?" French graphic designer Nicolas Damiens explores.
Returning to a Rebuilding Nepal
Kevin Bubriski | New York Times
Fine art photographer Kevin Bubriski chronicles Nepal's recovery from the devastating earthquakes that took place earlier this year.
Overheard This Week
"Back in old-school China... the emperor was like, 'If there's more land and we don't use it, we're fools. There's only one standard for success: using rap, using my fame and my music, to earn enough money to really make it rain, get that paper.'"
—Chinese rapper Xie Yujie aka Melo [The WorldPost]
By the Numbers
549 million — The number of active users on WeChat, China's most popular social networking app, which announced the upcoming launch of a stock trading platform [Bloomberg]
$99 million — The amount the Indian government is seeking in damages from Nestlé over a recent food scare involving Maggi instant noodles, a "household staple" in India [NPR]
10,000 — The number of manufacturing workers per industrial robot in Indonesia, Malaysia, and Thailand, the leading developing Asian nations in robot density [Bloomberg]
---
Each week, Asia Blog will feature highlights from Asia-focused feature writing, photography, and multimedia. Do you have recommendations? Please email a link and any related details to blog@asiasociety.org (we regret that we won't be able to respond directly to each inquiry).
Opinions expressed on highlighted articles are solely those of the author(s), not of the Asia Society.