Weekly Rewind: Planet Tajikistan, The First 'Smart Nation,' and Thailand's Museum of Corruption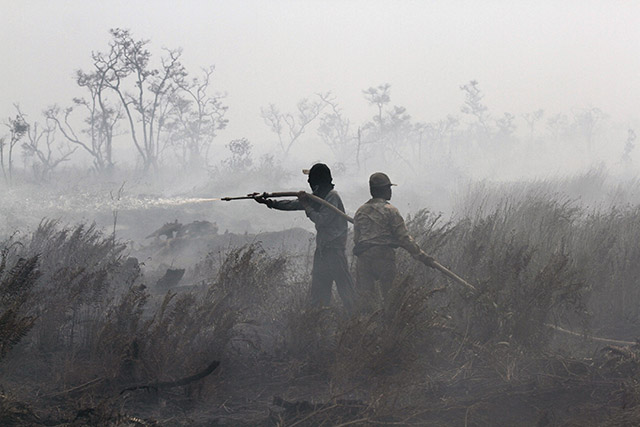 Indonesian firefighters work to extinguish a peatland fire in South Sumatra on September 11, 2015. (Abdul Qodir/AFP/Getty Images)
Welcome to Asia Society's Weekly Rewind, featuring some of the best Asia-related content you may have missed. This week:
Stories
On The Line
Rucha Karkarey and Shreya Yadav | The Caravan
Two Nature Conservation Foundation marine biologists profile a tiny village in India's Lakshadweep archipelago that is trying to save the country's largest fish spawning aggregation site.
Tajikistan Names 'Planet' After ... Tajikistan
The Guardian
Tajikistan's state news agency has announced that a planet has been named after the country, "in recognition of contributions made by its scientists to astrophysics and space studies." The planet is located between Mars and Jupiter, more than 140 million miles from Earth.
Smartphones Bring Happiness And Headaches To Myanmar
Lauren Leatherby | NPR
In Myanmar, the number of mobile subscribers has increased from 500,000 to over 22 million in just the last five years. This growth has benefited agriculture, health care, and disaster relief in the country, but it has also generated a new set of challenges — many rising from the mass adoption of social media.
New Generation of Japanese Anti-War Protesters Challenge Abe
Justin McCurry | The Guardian
Japanese students are protesting in anticipation of Prime Minister Shinzo Abe's support of of security bills that "reinterpret parts of Japan's war-renouncing constitution."  
Multimedia
Singapore Aims to Be the First 'Smart Nation'
BloombergBusiness
Singapore Minister for the Environment and Water Resources Vivian Balakrishnan speaks with Bloomberg about the city-state's "Smart Nation" initiative.
Thailand Launches Museum of Corruption
Panu Wongcha-um | Channel NewsAsia
A new museum in Thailand showcases big corruption cases through sculptures.
Overheard This Week
"We cannot be defensive, we cannot future proof ourselves. We have to recognize that the disruption that we see driven by technology, the volatility and change is our friend, is our friend if we are agile and smart enough to take advantage of it."
—New Australian Prime Minister Malcolm Turnbull in a statement after being elected [Mashable]
By the Numbers
246.1 — Japan's gross government debt as a percent of gross domestic product (GDP), the highest of any advanced country. Standard & Poor's downgraded its rating on Japanese debt from AA- to A+ earlier this week. [Financial Times]
83 — The number, out of 89 contested seats, won by the governing People's Action Party of Lee Kuan Yew in last week's parliamentary election [New York Times]
---
Each week, Asia Blog will feature highlights from Asia-focused feature writing, photography, and multimedia. Do you have recommendations? Please email a link and any related details to blog@asiasociety.org (we regret that we won't be able to respond directly to each inquiry).
Opinions expressed on highlighted articles are solely those of the author(s), not of the Asia Society.