Weekly Rewind: Pakistan's Scrabble Geniuses, Monet on Display in Tehran, and the World's First Hello Kitty Restaurant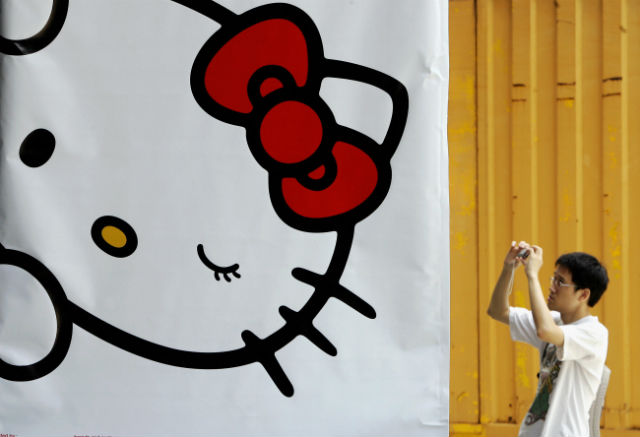 A man takes a picture next to a banner set up for an exhibition for popular animation character Hello Kitty in Hong Kong, 29 August 2005. (Phillipe Lopez/AFP/Getty Images)
Welcome to Asia Society's Weekly Rewind, featuring some of the best Asia-related content you may have missed. This week:
Stories
The World's First Hello Kitty Chinese Restaurant Has Opened in Hong Kong
Sabrina Toppa | TIME
Hello Kitty is an obsession in Hong Kong, where there is even a Hello Kitty organic farm. Now, Hong Kongers can also dine at the world's first Hello Kitty-inspired restaurant: "The pink-bowed fur ball is emblazoned on Chinese restaurant mirrors, faux wood screens, teapots and chopstick holders, while pictures of her as the Four Beauties of ancient China adorn the walls."
Meet Pakistan's junior Scrabble geniuses
Saba Imtiaz | The Guardian
In Pakistan, a new generation of schoolchildren is "establishing the country as a Scrabble powerhouse," writes Saba Imtiaz in The Guardian. In Karachi alone, there are over 20 Scrabble clubs, and a Pakistani player won the World Youth Scrabble Championship in 2013.
Why is Monet in Iran?
Alexander Sehmer | The Independent
Across the city of Tehran, billboards featuring the artwork of Monet, Rembrandt, van Gogh, and others were on display this past week. They were part of 'An Art Gallery the Size of the City,' a 10-day exhibition initiated by Tehran mayor Mohammad Bagher Qalibaf. The exhibition has received a mixed response from Iranians.
Migrants From Myanmar, Shunned by Malaysia, Are Spotted Adrift in Andaman Sea
Thomas Fuller and John Cochrane | New York Times
Tens of thousands of Rohingya, an ethnic Muslim minority group from Myanmar, have fled the country in the last several years due to ethnic persecution, with many recent migrants fleeing by boat to Malaysia and Indonesia. Recently, however, both Malaysian and Indonesian governments have declared their intention to turn away any more migrants, leaving thousands adrift at sea. "What we have now is a game of maritime Ping-Pong," said Joe Lowry, a spokesman for the International Organization for Migration.
Nepal's Peaceful Revolution: Citizens Rise Up To Aid Mountain Villages
Donatella Lorch | NPR
Recovery efforts following Nepal's recent earthquake have been hampered by the inaccessibility and dangerous conditions of many of the most affected areas. This was further complicated by a major 7.3 earthquake aftershock earlier this week. Donatella Lorch reports on how an "informal, chaotic and yet highly successful volunteer workforce of Nepalis … has stepped into the void" that exists due to the barriers for aid groups.
Multimedia
Al Jazeera
Meet Afghanistan's first four female park rangers, who are "challenging stereotypes" through their work of protecting Band-e-Amir Park, the country's first national park.
Watch: Basketball star Jeremy Lin raps in Chinese to celebrate upcoming Mother's Day
Shanghaiist
NBA player Jeremy Lin uploaded an original Chinese rap video to his Facebook page titled "I heard you don't believe I can speak Mandarin." His mother makes a cameo appearance.
Video: Jeremy Lin saying Chinese tongue twister to celebrate Mother's Day (YouTube)
Overheard This Week
"Korea has a long history in performing traditional magic. It was well evidenced by an old album published by a neighboring country 1 500 years ago. According to historical data, the magic developed to a higher level in the period of Koryo Kingdom (918-1392), the first unified state of the Korean nation. Typical of the magic pieces were the magic with fire and the one with knife. Today magic has made a big stride forward in the Democratic People's Republic of Korea."
—A bulletin published this week by North Korea's KCNA (Korean Central News Agency) celebrating its "long history of magic" [Washington Post]
By the Numbers
$341 million – The current amount of funding for the "Cool Japan" campaign, funded by the Japanese government to promote the country's cultural capital [CNBC]
25,000 – The estimated number of Bangladeshis and Rohingya Muslims from Myanmar who have boarded smugglers' boats in the first three months of 2015 [Reuters]
40 – The number of stores Apple hopes to have in China by 2016. There are 22 stores currently. [Reuters]
 
---
Each week, Asia Blog will feature highlights from Asia-focused feature writing, photography, and multimedia. Do you have recommendations? Please email a link and any related details to blog@asiasociety.org (we regret that we won't be able to respond directly to each inquiry).
Opinions expressed on highlighted articles are solely those of the author(s), not of the Asia Society.