Weekly Rewind: North Korea's Girl Band, Candy-Colored Apartments in Singapore, and One Million Mandarin Students in America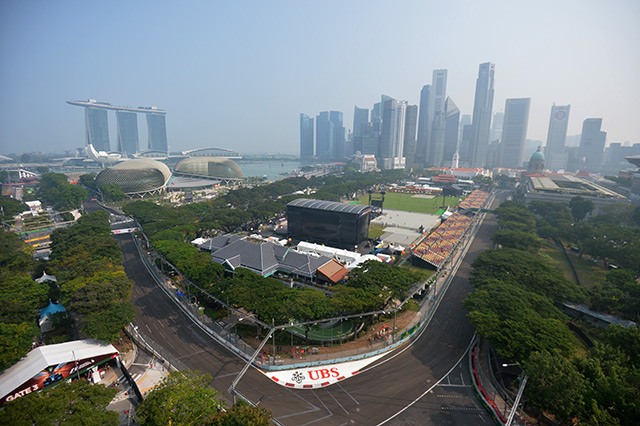 Hazy conditions cover the Marina Bay Circuit before the start of the practice session for the Formula One Singapore Grand Prix in Singapore on September 19, 2015. (Mohd Fyrol/AFP/Getty Images)
Welcome to Asia Society's Weekly Rewind, featuring some of the best Asia-related content you may have missed. This week:
Stories
Can One Million American Students Learn Mandarin?
Bethany Allen-Ebrahimian | Foreign Policy
In a joint press conference on Friday with Chinese President Xi Jinping, U.S. President Barack Obama announced the launch of One Million Strong, an initiative to increase the number of Chinese language students to one million by the year 2020.
Rescuing Ancient Seeds From a War-Torn City
Ross Andersen | The Atlantic
Aleppo, Syria, one of the longest continuously inhabited cities in the world, has been devastated by the Syrian civil war. One of the consequences has been the removal of ICARDA, an Aleppo-based seed bank that collected seeds from crops adapted to arid environments.
Is South Korea Now 'Hell Chosun'?
Steven Denney | The Diplomat
"Hell Chosun" is the name of a popular Facebook group and online forum composed mainly of young South Koreans who are "growing increasingly dissatisfied or disillusioned with the state" of their country. While the group's descriptions of contemporary South Korean society is "extremely hyperbolic," it nonetheless reveals shifting attitudes, particularly among the nation's youth. 
Multimedia
New North Korea: Short Skirts and Synthesizers?
Kyung Lah | CNN
The girl band Moranbong bears "all the markings of your average pop music girl band, down to their fitted outfits and perfectly coiffed tresses" — but they are, in fact, a North Korean ensemble whose lyrics extol their leader, Kim Jong Un.
Video: Moranbong Band - Without A Break (Lorenzo Franceschi-Bicchierai)
From Amateur to Professional: A 25-Year Photographic Journey
Mark Leong | National Geographic
Mark Leong reflects on his journey as a photographer in China, where he has been shooting pictures since 1989.
Singapore's Funky Apartments Are Like Candy for the Eyes
Zachary Slobig | Wired
Photographer Peter Steinhauer documents the massive, candy-colored apartment buildings that serve as subsidized housing for more than 80 percent of Singapore's population. 
Overheard This Week
"I was most captivated by Ernest Hemingway's The Old Man and the Sea and its descriptions of howling wind, driving rain, roaring waves, small boat, the old man and sharks. So when I visited Cuba for the first time, I paid a special visit to the breakwater in Cojimar where Hemingway wrote the book. And in my second visit of Cuba, I dropped by the bar Hemingway frequented and ordered a mojito, his favorite rum with mint leaves and ice. I just wanted to feel for myself what was on his mind and what the place was like as he wrote those stories. I believe that it is always important to make an effort to get a deep understanding of the cultures and civilizations that are different from our own."
—Chinese President Xi Jinping delivered a speech on China-U.S. relations in Seattle on Tuesday. [Xinhuanet]
By the Numbers
$38 billion — The value of a deal, announced during Xi Jinping's United States visit this week, signed between Boeing and Chinese companies agreeing to buy 300 jets and build an aircraft assembly plant in China [Seattle Times]
42.22 — The 100 meter race time for Japan's Hidekicki Miyazaka, age 105, also known as "the Golden Bolt," who earned a place in the Guinness World Records as the fastest man in the world in the over-105 age group. [The Guardian]
---
Each week, Asia Blog will feature highlights from Asia-focused feature writing, photography, and multimedia. Do you have recommendations? Please email a link and any related details to blog@asiasociety.org (we regret that we won't be able to respond directly to each inquiry).
Opinions expressed on highlighted articles are solely those of the author(s), not of the Asia Society.