Weekly Rewind: The First Indian-Origin NBA Hoopster, China's Robot Workforce, and Mongolia's Eco-City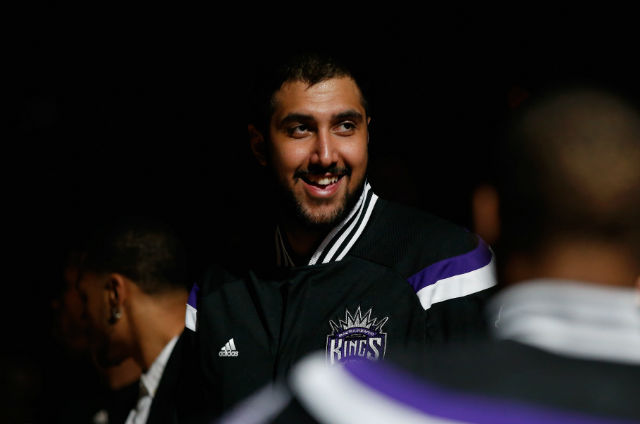 Sim Bhullar, #32 of the Sacramento Kings, is the first NBA player of Indian descent. (Ezra Shaw/Getty Images)
Welcome to Asia Society's Weekly Rewind, featuring some of the best Asia-related content you may have missed. This week:
Stories
Robots Leave Behind Chinese Workers
Adam Minter | Bloomberg View
China's purchase of industrial robots increased by 54% in 2014, a trend fueled by increasing wages and cheaper labor in Southeast Asia. But what happens to the workers who are displaced by robots? And what are the longer implications for China's working class? Adam Minter analyzes the economic forces at play and the Chinese government's approach so far.
An eco-city in the Mongolian steppe
Thomas Latschan | Deutsche Welle
This piece looks at a fascinating eco-city project — Maidar City — planned for construction in the middle of the Mongolian steppe, and how it seeks to address larger urban development issues in the country. Mongolia has the lowest population density in the world, and a large proportion of the population is concentrated in Ulan Bator, the capital.
7'5" giant Sim Bhullar takes baby steps
Shahid Judge | India Express
This week, the Sacramento Kings' Sim Bhullar became the first person of Indian descent to play in an NBA game, soon after signing a 10-day contract on April 2. The 7'5" Canadian-born 22-year-old made brief appearances in games against the Minnesota Timberwolves and the Utah Jazz. What does the "first Indian-origin hoopster" bring to the court? Shahid Judge of the India Express considers.
One Woman's Mission to Free Laos From Millions of Unexploded Bombs
Thomas Fuller | New York Times
During the Vietnam War, Laos became "one of the most heavily bombed places on earth." This article retraces a nine-year American air campaign known as the "Secret War" and follows the work of Lao-American Channapha Khamvongsa, who has spent the last decade campaigning to rid the country of millions of bombs still buried there.
Are the days of Cambodia's cowboys numbered?
May Titthara | Phnom Penh Post
In Cambodia, the wealthy elite face few barriers in bringing firearms with them during a night out. And "when booze and guns mix, the consequences can be tragic," writes the Phnom Penh Post's May Titthara, who traces the history of gun ownership in Cambodia, where guns fell into the hands of civilians after the fall of the Khmer Rouge.
 
Multimedia
Singapore Zoo to welcome four koalas from Australia
Jack Board | Channel News Asia
Meet four Australian koalas who will be making a new home in Singapore to celebrate 50 years of Australia-Singapore diplomatic relations.
Video: Singapore Zoo to welcome four koalas from Australia (Channel News Asia)
Kashmir's Colorful Tulip Garden Opens With Margaritas and Laptops
Aditi Malhotra | Wall Street Journal
Take a tour of Asia's largest tulip garden, which opened to the public this week in the northern Indian city of Srinagar, close to the shores of Kashmir's Dal Lake.
Overheard This Week
"Leading us forward, a red star on our heads and revolutionary red banners planted either side! ... What kind of costume is that?" — Chinese TV star Bi Fujian, whose improvised lyrics criticizing the late Mao Zedong were caught on camera at a dinner party. [New York Times]
By the Numbers
$164 billion — The amount of global outbound spend by Chinese travelers in 2014 [South China Morning Post]
56,000 — The number of industrial robots China purchased in 2014 [Bloomberg View]
227,000 — The number of industrial robots purchased worldwide in 2014 [Bloomberg View]
---
Each week, Asia Blog will feature highlights from Asia-focused feature writing, photography, and multimedia. Do you have recommendations? Please email a link and any related details to blog@asiasociety.org (we regret that we won't be able to respond directly to each inquiry).
Opinions expressed on highlighted articles are solely those of the author(s), not of the Asia Society.