We Asked Our Experts: What Does Obama's Re-Election Mean for Asia?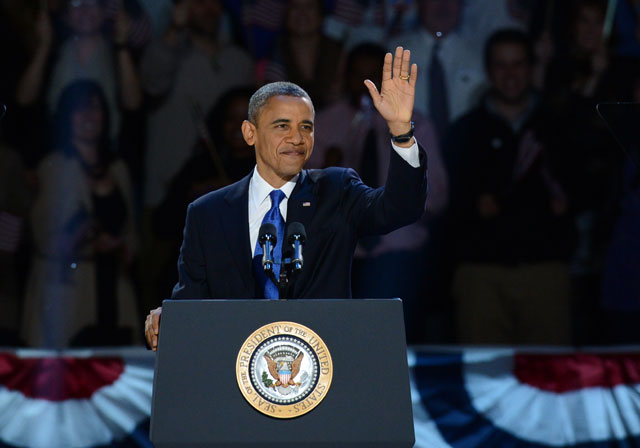 U.S. President Barack Obama arrives on stage after winning the 2012 U.S. presidential election in Chicago, Illinois on November 7, 2012. (Saul Loeb/AFP/Getty Images)
In the wake of U.S. President Barack Obama's re-election late Tuesday night, Asia Blog has reached out to Asia Society's network of fellows and experts in a variety of fields for their reactions to the vote.
How is a second term for the Obama administration likely to affect relations with China, Myanmar, Pakistan, and Afghanistan — to name just some of the Asian nations that have featured most prominently in recent headlines? Read our experts' commentary below, and click here for Asia Society's complete coverage of the 2012 U.S. presidential campaign.
Michael Anti
Journalist; Asia Society Asia 21 Young Leader

It's good news for China that the United States will not change its administration while China is changing its own group of leaders. It means China doesn't need to study a new U.S. president from scratch. However, after the end of China's 18th Party Congress, China will enter the decade-long of Xi Jinping era, and the Sino-U.S. relationship will see changes. This new "Xi Administration" will consist of more princelings, more Western-educated people and fewer engineers, which suggests they are more confident about using power, know more about the U.S., and are more likely to bring forth disruptive changes at some point (although for the most part they will maintain the status quo of our relationship). These are things a second-term Obama administration may need to study from scratch.
Charles Armstrong
Director of the Center for Korean Research at Columbia University; Asia Society Associate Fellow

After an election campaign that largely neglected foreign policy and almost completely ignored Asia, with the exception of attacks on China's economic threat, newly re-elected President Barack Obama must now deal with long-simmering challenges in the Asian region. Above all, the second Obama administration must take a more pro-active approach to North Korea than we've seen the last four years. The threat of a growing North Korean nuclear program and the promise of a new, potentially reform-reminded Kim Jong Un regime can give a second Obama administration — in coordination with the South Korean administration due to take power next February — the opportunity to bring North Korea out of the cold and achieve a lasting peace on the Korean peninsula.
Ummu Salma Bava
Professor of European Studies, Jawaharlal Nehru University; Asia Society Associate Fellow

As the clock ticked towards the closing of the polls on the West Coast, anticipation gripped the audience, whose eyes were glued to the large screen as the red and blue changing color matrix kept flashing across the U.S. map. Early Wednesday morning, a shout rippled across the lawns of a five-star Hotel in New Delhi, India, where a diverse audience had gathered to experience the presidential elections along with an American breakfast. Obama was also overwhelmingly endorsed by those present.
This was a historic election in the U.S. and the Obama victory is a story of the American Dream — an ordinary life achieving extraordinary results and an inspirational story that resonates deep within Indians. The victory is a symbol of hope and transformation not once but twice and signals the change within America — of diversity, demography and age converging to a new political aspiration.
A second term for Obama will focus on economy and on foreign relations that will define his legacy. Jump starting the economy and converting the endorsement of hope into a reality for millions of Americans will be crucial for the president. Globally, the election sent a positive signal through major stock exchanges and business in India was buoyant despite the issue of outsourcing that figured in the election speeches. Beyond ideational proximity, India-U.S. interest convergence will assume criticality with the rebalancing of U.S. policy towards the Asia-Pacific, that will further boost the bilateral and enhance opportunities to work together on political, economic and security issues at the regional and global level.
Andrew Billo
Assistant Director, Policy and Business Programs, Asia Society New York

President Obama's victory bodes well for resolution of conflict in the Southeast Asian region through multilateral channels. For example, evidencing his preference for pursuing diplomatic solutions, President Obama sent America's first Ambassador to the Association of Southeast Asian Nations (ASEAN) in 2011. ASEAN countries lean strongly toward multilateral resolution of disputes, based upon principles of non-interference.
After the Obama administration's 2011 pronouncement of a strategic "pivot" to Asia, we will see a continued emphasis on policies that align themselves with trade and investment opportunities in this relatively stable and rapidly developing region. Doing so will benefit U.S. firms looking for an inexpensive and reliable manufacturing base, while still leaving open the door for innovation of new products in America.
Protection of human rights in ASEAN will remain a challenging issue for the Obama administration, but they will make progress by increasing cooperation across all sectors, thereby building mutual respect and trust. If the U.S. can prove that it is aligned with ASEAN states on issues like regional security, that will likely open the door for more frank discussions in respect to human rights abuses.
Michael Buehler
Assistant Professor of Political Science, Northern Illinois University; Asia Society Associate Fellow

The second Obama administration will continue to see Jakarta as an important ally in addressing a broad range of challenges that the United States faces in the region, such as the growing influence of China, Islamic radicalization and climate change. Obama continues to be highly popular among the majority of Indonesians, not least because he spent four years of his childhood in Jakarta and speaks a few words of Bahasa Indonesia. However, many Indonesians see the Obama administration's policy towards Israel as too lenient.
The fact that during Obama's presidency attacks by U.S. drones have increased in Afghanistan and Pakistan has also caused concern in Indonesia. Many citizens in the world's largest Muslim-majority country expect Obama to deliver during his second term on his promises made to the Islamic world in his Cairo speech.
Sanjay Chaturvedi
Director, Centre for the Study of Mid-West and Central Asia, Panjab University; Asia Society Associate Fellow
The Obama administration's "pivoting" with maritime Asia and the Indian Ocean received a tremendous fillip with the Indian Ocean Rim Association for Regional Cooperation (IOR-ARC), admitting the U.S. as a dialogue partner (along with the admission of Cameroon as the 20th member) at the 12th Meeting of the Council of Ministers, recently held in Gurgaon, India. It is worth noting that this was achieved by consensus (in the presence of Iran as an active and full member and China as one of the five existing dialogue partners) and at a time when India is serving as the chair and Australia as the vice-chair of IOR-ARC.
With geopolitical boundaries getting increasingly blurred between the Indian Ocean and the Pacific Ocean, the multifaceted and multi-scalar challenge of maritime security (including the security of energy flows and the sea lanes) in the so-called "Indo-Pacific region" demands and deserves an inclusive and cooperative "maritime regionalism." An increasingly complex and compelling agenda of international cooperation in this expanded region (about which one did not hear much during the presidential election campaign/debate) calls for a nuanced, multi-institutional approach and engagement by the Obama administration.
Vishakha Desai
President Emerita of Asia Society

Watching the American presidential election results in Abu Dhabi at a breakfast hosted by the American Chamber of Commerce with oil and gas executives from America and the elites of Abu Dhabi was like having blue states and red states in one place. The American business community was visibly disappointed, while the Abu Dhabi leaders were visibly relieved.
But both groups agreed that now the challenge is to come together to improve the American economy. As a business leader mentioned, "I am a country club Republican. It's time to get beyond the ideological wars and get going on the economy." An American citizen of Middle Eastern origin responded: "I hope it's now time to go beyond the extreme rhetoric and get back to finding a solution for the thorny issues of Palestine-Israel in a concrete way without the interference of the political consideration."
Suzanne DiMaggio
Vice President of Global Policy Programs at Asia Society
On U.S.-Iran Relations
The biggest foreign policy challenge facing newly re-elected Barack Obama is to figure out what to do about Iran. The immediate issue is reaching a political solution with Tehran on its nuclear program. Demanding that Iran give up enrichment is a non-starter, but the contours of a deal based around limiting enrichment in exchange for carrots from the West, including the lifting/waiving of sanctions, are already quite clear.
A second Obama administration now has the political space to think more boldly and pursue direct bilateral talks with Tehran on its nuclear program as well as a full range of issues that are significant to the U.S.-Iran relationship, including Syria, Afghanistan, and Iraq, just to name a few. The Iranians have sent signals through back-channel and Track II interactions that they are preparing the groundwork for some form of engagement with the U.S. This will not be an easy process. At the heart of the American-Iranian conflict is a deep mistrust. What is needed is a way forward that builds trust and communication so that the give-and-take of negotiation is perceived as advancing mutual interests rather than serving up insults to national dignity or identity.
On U.S.-Myanmar Relations
A key foreign policy success story from Barack Obama's first term is U.S. re-engagement with Myanmar following decades of estrangement. A second Obama term brings an opportunity to deepen diplomatic relations at an important moment in Myanmar's transition. Over the past year, the Obama administration has been following an "action for action" approach towards Myanmar and, as such, U.S. policy has been by-and-large reactive. Looking ahead, the United States and Myanmar must work together toward a bigger goal — one that will enable the two countries to get beyond the transactional nature of the current relationship and move towards greater normalization.
The U.S. needs to recognize that Myanmar's transition to a democratic system and an open economy after decades of authoritarian rule and isolation will be a bumpy process that will take time. The United States should do all that it can to be a reliable partner to President Thein Sein and his government as they move forward on this transformative journey. A visit to Myanmar by President Obama, which is anticipated in late November, is the right next move.
Tony Jackson
Vice President for Education at Asia Society

More than any previous administration, education policy under President Obama has been open to innovations from high-performing education systems around the world, especially those in Asia such as Hong Kong, Japan, South Korea and Singapore. On issues from developing a world-class teaching force to improving the performance of children in under-resourced communities, the president's re-election means the door remains open to learning from and with Asian educators to solve high-priority problems in education equally important on both sides of the Pacific.
Education Secretary Arne Duncan has said, "Ultimately, the United States will not thrive unless progress is shared worldwide." A second Obama Administration signals a continued era of cooperation with Asian educators toward improving student learning and a productive shared future.
Mira Kamdar
Senior Fellow at the World Policy Institute in New York; Asia Society Associate Fellow

Obama was the favored candidate in India, where he represents for many the promise of democracy to deliver opportunity to any citizen regardless of minority status or lack of a family dynasty. Obama's remarks on offshoring provoked the usual jitters in India, and India has expressed frustration with many of his policies toward Pakistan, Afghanistan and Iran.
There is a value in consistency, however, and India will benefit from an administration that is not needlessly belligerent and which recognizes a more circumspect international role for the United States. Obama's positions on climate change and women's rights are positives for India's development.
Mike Kulma
Executive Director of Global Leadership Initiatives at Asia Society

As President Obama settles into a second term, and as I settle back into New York, having just returned from Asia Society's Afghanistan 21 Young Leaders Forum in Kabul, thoughts of next steps in Afghanistan are front and center. While 2014 and the troop withdrawal dominate the U.S. conversation on Afghanistan, they are but a piece of the puzzle in Kabul.
More pressing than troop withdrawals are what will happen to Afghanistan's economy once the massive influx of aid leaves the country, and related, what will happen to the over 60 percent of the population under the age of 25. Equally concerning is the 2014 election, which if not seen as free and fair, can have disastrous consequences. The young leaders of Afghanistan are incredibly hopeful and motivated for change, the U.S. and the international community need to match those sentiments.
Duncan McCargo
Professor of Southeast Asian Politics at the University of Leeds; Asia Society Associate Fellow

Almost exactly three years ago, on his inaugural official visit to Asia, Barack Obama told his Japanese audience that he was America's first Pacific president. I was in Tokyo that day, and I still have the clipping. Despite the talk by his administration of an "Asian pivot," the promise of the Pacific presidency has yet to be really fulfilled. Yet for many in Asia, this Hawaiian-born and Indonesian part-raised president has a special appeal. For most people across the region, Obama's re-election is a positive development.
In a recent op-ed piece Kavi Chongkittavorn, a columnist for Bangkok's The Nation newspaper, cited "10 reasons why ASEAN prefers Obama," including the strong rapport enjoyed by the American president with several key Southeast Asian leaders, and alarm that Romney's anti-China "currency manipulator" rhetoric could play badly at a time when tensions with Beijing have been rising. Obama may be in the region as early as next week to attend the forthcoming East Asia summit in Phnom Penh, which he is expected to follow up with an historic visit to Myanmar. While the Thai government is very much hoping Obama will at last take the opportunity to stop off in Bangkok, some opposition activists in Cambodia had been quietly rooting for Romney, believing that the Republicans have a much better track record in standing firm against the increasingly authoritarian Hun Sen regime.
At the same time, Obama's victory has been partially eclipsed in Bangkok media coverage by the first-time election of "Ladda" Tammy Duckworth, a Thai-American Iraq war veteran, to a Congressional seat in the president's adopted state of Illinois. While Indonesia may try to claim the American President, Thailand can now point to its very own U.S. Congresswoman.
Vasuki Nesiah
Associate Professor of Practice at New York University; Asia Society Associate Fellow

It is likely that Obama's foreign policy will continue to offer a more measured tone and a more multi-lateral style than the one that would have emerged from a Romney administration. However, as evidenced in the Obama-Romney foreign policy debate, there was little difference between Democrats and Republicans on critical issues such as the use of drones in Pakistan.
Interestingly, the Greens and some of the other third parties had party platforms that promised more significant policy differences on issues such as targeted killings on foreign soil, trade policy and international environment agreements. However, third party candidates have received little media attention in U.S. election coverage.
Bruce Pickering
Vice President, Global Programs at Asia Society
I think that the election represents a desire by the American public to continue the same basically pragmatic course charted by the first-term Obama administration.
There is a feeling that Obama has been a good steward — decisive when necessary but always measured. This is reassuring to the international community.
Orville Schell
Arthur Ross Director, Asia Society Center on U.S.-China Relation

If Obama had lost the election, Romney's first act would have been to challenge Beijing in a move that, while intended to address one problem, would have surely thrown off the overall U.S.-China relationship for many months. This would have meant that the most active element in the relationship would have come without discussion from the U.S. side and would have surely been disruptive.
But with Obama's win, and the expected continuation of his quite level-headed foreign policy towards China, the burden for change shifts to the Chinese leadership.
The second Obama administration will most likely remain open to embracing a significant breakthrough in the often root-bound relations between the two countries. But this would require the Chinese side to step away from some of the old, unconstructive and unhealthy levels of sensitivity, even suspicion, that have marked its ways of looking at the U.S. and outside world. Whether the new Chinese leadership will prove up to this challenge remains very uncertain.
Simran Sethi
Environmental Journalist, Strategist and Educator; Asia Society Associate Fellow

The re-election of President Obama offers another opportunity to strengthen seed sovereignty and food security both in the U.S. and abroad. In 2007, then-presidential hopeful Obama vowed he would "let folks know when their food is genetically modified, because Americans have a right to know what they're buying." The same holds true for consumers all over the world.
Commercial cultivation of transgenic food crops has, thus far, been banned in India, China and countries throughout the European Union. However, the expansion of genetically engineered crops for fuel and textiles have grown exponentially in developing nations. The Obama administration has the opportunity and responsibility to ensure that the crops we cultivate and export all over the world are not at the expense of public health, environmental degradation or the loss of agricultural biodiversity.
Shen Dingli
Executive Dean of Fudan University's Institute of International Studies; Asia Society Associate Fellow

Obama's second term would likely continue to be mired in its partisan struggle with the House of Representatives. Instead, his administration would focus more on foreign policies, especially in the Middle East and East Asia.
His choice of the next Secretary of State will very much shape the contour of U.S. relations with China for the next four years. Beijing and Washington will find new horizons of cooperation in a post-withdrawal Afghanistan. They will bargain on Iran and currency conversion, but the terms of respective rights and obligations in the South China Sea will decide the nature of their future relations.
Susan Shirk
Chair, 21st Century China Program and Ho Miu Lam Professor, School of International Relations and Pacific Studies, UC-San Diego; Asia Society Associate Fellow

Now that hundreds of millions of Americans have cast their votes and elected a new president and thousands of other representatives, our eyes turn to the way the Chinese are choosing their new leaders. It may be that for the first time the several hundred officials in the Chinese Communist Party Central Committee will get to exercise their formal right to select the leaders instead of simply ratifying the slate hammered out by current Party leaders in a smoke-filled room.
I have have long thought that if and when the problem of allocating seats in the Politburo Standing Committee and Politburo became too contentious and therefore likely to produce "disgruntled losers" who could cause trouble, that is when the leaders would let the Central Committee exercise its formal power to choose. And of course such a step in the direction of intra-party democracy would burnish retiring leader Hu Jintao's legacy.
Matt Stumpf
Director of the Washington Office at Asia Society

With the re-election of the president and the return of a similar Congress, continued gridlock on domestic issues is more likely than not. The president was re-elected on his domestic platform and personal character, but will have his greatest opportunities in foreign policy.
With the withdrawal from Iraq in his first term and a commitment to the same in Afghanistan in 2014, President Obama's greatest opportunities and challenges are now in Asia. To ensure American peace and prosperity in the 21st century and to craft a legacy worthy of a transformational president, he should have three priorities.
First, he should deepen U.S. cooperation with China and work to advance the domestic debate on China beyond the cartoonish discussion Americans saw in this election cycle. Second, the president should broaden the "pivot to Asia" by emphasizing its trade aspects, working hard at home and with America's Asian partners to realize major trade agreements over the next four years. Third, he should greatly increase U.S. attention to India, helping it to integrate further into East Asia and implementing a next generation of Indo-U.S. cooperation.