Vishakha Desai Op-Ed Discusses 'Mythical' Rise of Asian Americans in US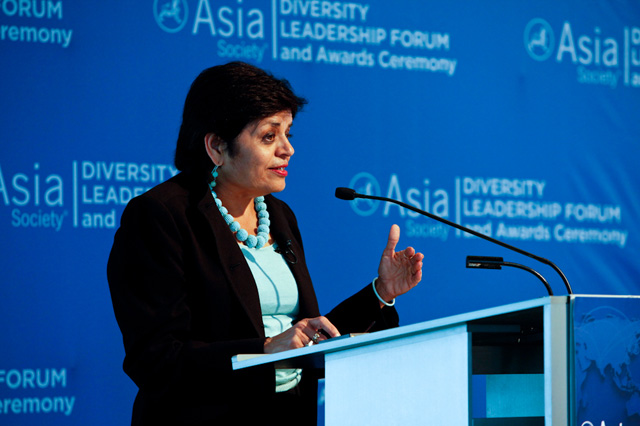 Asia Society President Vishakha Desai speaks at the Diversity Leadership Forum in New York in June 2012. (Suzanna Finley/Asia Society)
With publications such as The Economist still parsing a Pew Research Center report that shows Asians overtaking Hispanics as the biggest group of new immigrants to the United States, a recent piece by Asia Society President Vishakha Desai is important reading both in the U.S. and Asia.
In the op-ed, published by Project Syndicate and run by newspapers such as The Bangkok Post, Desai argues the Asian American success story portrayed in Pew's "The Rise of Asian Americans" is misguided. Drawing on other reports, including an original Asia Society study of Asian-Pacific American employees, Desai says that the idea that Asian Americans don't continue to face obstacles in the U.S. is a "myth."
She writes: "Asian Americans remain a relatively rare sight in leadership positions, even in the corporate world, where one would assume that their education and ambition would be most beneficial. If hard work was all it took to rise into the upper echelons of power in corporate America, one would expect to see many Asian American faces at the top, perhaps especially in financial services, accounting, technology and health care."
Many of the themes in Desai's piece were discussed earlier this year at Asia Society's Diversity Leadership Forum, where experts and employees met to discuss the challenges and opportunities for Asian-Pacific Americans in the global workforce.