Tiananmen at 25: Looking Back on a Dark Day in China's History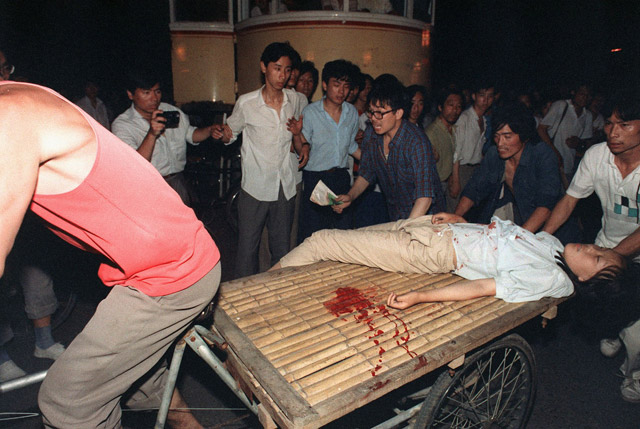 A girl wounded during the clash between the army and students on June 4, 1989 near Beijing's Tiananmen Square is carried out by a cart. (Manuel Ceneta/AFP/Getty Images)
This Wednesday marks the 25th anniversary of the deadly suppression of the 1989 Tiananmen protests on June 4. That day and its aftermath continue to haunt China today, and on ChinaFile we have been exploring different dimensions of that legacy.
Alison Klayman, who directed the film Ai Weiwei: Never Sorry, produced this short film for us, in which a Chinese exchange student in Cairo and her Chinese-speaking Egyptian friend ponder the parallels between demonstrations in Beijing and Cairo. The Chinese woman, Yitong, says she only learned about June 4th after arriving in Egypt.
Hong Kong, is the one place in China where commemoration of the massacre is permitted. For the past several months ChinaFile has been collaborating with the University of Hong Kong's Journalism and Media Studies Center and a team at The South China Morning Post on the production of a multimedia reconstruction of the spring of 1989. The Post published the resulting "Voices From Tiananmen" last night — my short introduction is here. In addition to an impressive piecing together of photography, video and archival sources, "Voices from Tiananmen" includes new video interviews with several key figures (including Mao Zedong's former secretary, Li Rui and Bao Tong, the most senior party official to be jailed for opposing the crackdown) recounting their personal experiences and reflecting on the massacre's significance for Chinese politics and for ordinary Chinese people.
In large part thanks to our partnership with The New York Review of Books, ChinaFile has a substantial archive of writing on June 4th, both historical and contemporary. We have collected some of the best in this compendium of resources. In particular, I urge you to spend time on this essay, by civil rights lawyer Pu Zhiqiang, which describes the way he tried to commemorate his days as a student activist in 1989, while in policy custody several years ago. This year, a month ahead of the anniversary, Pu and four friends were detained after holding a private commemoration in a Beijing apartment, for which Pu was charged with "creating a disturbance in a public place." Also don't miss our excerpt of NPR correspondent Louisa Lim's new book, People's Republic of Amnesia: Tiananmen Revisited; our recent ChinaFile Conversation on whether China can move past Tiananmen; Orville Schell's firsthand reporting from Beijing in the spring of 1989 and Perry Link's recent essays "The Specter of June 4th" and "Detained to Death."
Several other stories are now in the works and I encourage you to check ChinaFile over the next couple of days for updates.