In Thailand, More of the Same Versus Change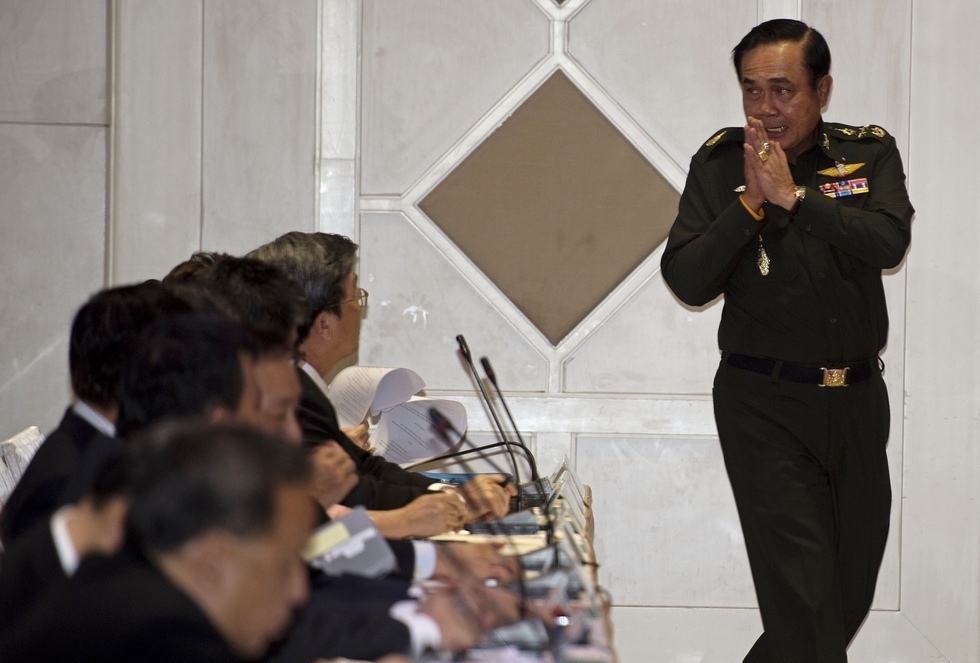 Thai army chief General Prayut Chan-O-Cha gives a traditional greeting to delegates during a meeting at the Army Club in Bangkok on May 20, 2014. Thailand's army declared martial law after months of deadly anti-government protests, deploying armed troops in central Bangkok and censoring the media but insisting the move was "not a coup". (Pornchai Kittiwongsakul/AFP/Getty Images)

This story originally appeared on CNN's GPS blog, an Asia Blog partner site.
As "change" elections and momentous transitions sweep Asia, Thailand has self-selected for stagnation. Tuesday's action by the Thai military to declare martial law while leaving the government in place continues the perpetual crisis the country has lived with since the coup that ended Thaksin Shinawatra's government in 2006.
Across Asia, public calls for a sea change in governance have brought to power new leaders with a wide range of views but a common imperative. From Narendra Modi in India to President Thein Sein in Myanmar, Prime Minister Shinzo Abe in Japan, Indonesian presidential front-runner Joko Widodo, and even President Xi Jinping in China, today's Asian leaders must promise to install reformed, more accountable, and effective governments in their countries. These leaders face headwinds in challenging political and economic environments, but know that public support is premised on their ability to lead more adept governments to deliver new prosperity.
There is no such voice in Thai politics, and the country is falling behind dramatically. The Wall Street Journal reports that Thai consumers are the most pessimistic about the economy that they have been in 12 years and that Thailand's economy has shrunk 2.1 percent in the first quarter of 2014, compared to the fourth quarter of 2013. Even before the declaration of martial law, the Thai stock market was down 15 percent over the last year. Fitch Ratings have said that the failure to resolve the impasse by mid-2014 would lead to a downgrade of its sovereign rating. Tourism, a key driver of the Thai economy, is already off 5 percent for the year. This week's news might even worsen the picture.
In contrast, the rest of Southeast Asia is growing. In 2013, Malaysia recorded 6 percent GDP growth, Vietnam achieved a 5.4 percent expansion, and Indonesia saw 5 percent growth.
Neither of Thailand's major political factions has delivered a vision or commitment that offers a realistic path toward stability and growth for Thailand. At its core, the impasse is a struggle for primacy as the major centripetal force in Thai society, King Bhumibol Adulyadej, ages, and it has only grown worse since 2006.
The charges of each side against the other – that the Thaksin era was beset by corruption and that the opposition Democratic Party ignores democratic processes as they seek their preferred solution – both likely bear some truth. The military learned from the widely criticized government of 2006-2007 that its administration of Thailand is also not a viable alternative.
The Thai people are left with a government of the lowest common denominator. One side won't let the democratically elected representatives of the Thai people govern, boycotting elections they won't win and then protesting the results. The other side has won every election since 2001, but has been unable to lead Thailand out of its impasse. The military, which has removed governments 18 times since 1932, has this week stepped in between the two sides and curbed political speech – but also does not seem to have a vision for a way forward. The only common viewpoint among the competing groups is that the others can't be trusted to remain in charge.
Thai political scientist Thitinan Pongsudhirak has said the political conflict "has become irreconcilable because both sides think that they can win." Any impartial analysis, though, indicates that in the permanent crisis both sides – and the Thai people – are losing.
The only reasonable way out is of course elections, held at an early date. But, as part of these elections, voters should favor candidates who provide a vision for a way forward that maintains Thailand's democratic institutions, promotes effective government and gets the economy back on track. No vote should go to candidates that refuse to abide by the results of the elections.
International urging has had limited effect on political affairs in Thailand, but it is nevertheless critical in encouraging a new era of leadership in Thailand. Scott Marciel, the senior State Department official for Southeast Asia, told a forum on Thailand at the Washington think tank CSIS last week, "We're not saying this is how they should be resolved, but the manner in which to resolve it. It's important that it be done constitutionally and democratically, and, of course, peacefully." This is an essential message.
Long partnership between the United States and Thailand, dating to 1833, has created enduring ties, stretched but not broken by the crisis. The United States can help encourage a successful outcome in the next elections. By working with all sides to encourage a new vision for Thailand's future and positioning diplomatic and economic support on shared priorities in the event that Thai leaders decide to step out of crisis, Washington can help the next government succeed where its predecessors have failed.
But the first step is Thailand's. In Asia, new leaders of all political stripes have found a welcoming public when they've committed to better governance and economic results. Despite the uncertainty of a time of transition, the fundamental challenges and opportunities in Thailand are not so different from those of its neighbors. Anyone who aspires to lead Thailand next would do well to listen closely to how Asia's leaders are defining the new era.