Rouhani Victory 'Major Opportunity' for U.S.-Iran Diplomacy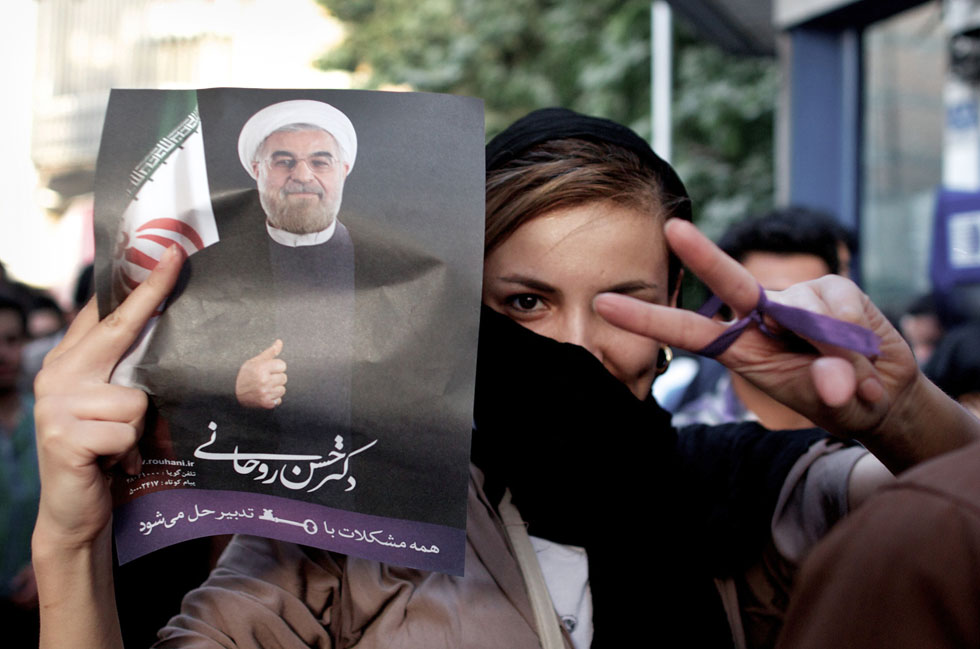 An Iranian woman flashes a victory sign as she holds a portrait of moderate presidential candidate Hassan Rouhani during celebrations in downtown Tehran, June 15, 2013. Iran's Interior Minister has said Rouhani won the election with 18.6 million votes, or 50.68 percent of the vote. (Behrouz Mehr/AFP/Getty Images)
Politically moderate cleric Hassan Rouhani, who garnered support from opposition and reformist camps, won the vote in Iran on Friday to replace Mahmoud Ahmadinejad. Rouhani is set to take office on August 3.
With voter participation reportedly at 72%, Hassan Rouhani won more than 50% of the ballots cast, scoring a decisive victory and a mandate for change. But in a society ruled by an ever-powerful "Supreme Leader," we need to keep our expectations in check. Early changes will be more in tone than in substance. Given the level of hostility between Tehran and Washington, even a modest adjustment could make a difference.
During his campaign, Mr. Rouhani's platform focused on two related objectives: fixing a seriously broken economy at home and pursuing a more conciliatory approach with the West. In order to achieve the former, he will need to find a way to get sanctions relief — and that will only come through a nuclear deal.
As a first step, watch for changes in Iran's nuclear team. Mr. Rouhani served as the lead nuclear negotiator under reformist president Mohammad Khatami and knows first-hand the importance of placing capable diplomats at the table to engage in talks. Saeed Jalili, who is currently the lead nuclear negotiator and widely viewed as ineffective, will likely be replaced. Moving Ali Akbar Salehi, Iran's current Foreign Minister who holds a Ph.D. in nuclear engineering from MIT, into the position would be a smart move.
The question remains if Supreme Leader Ali Khamenei will give Mr. Rouhani the space to forge a new path for Iran's relations with the United States and the authority to deliver. Mr. Rouhani did not support Iran's Green movement or the hardliners in 2009. He has positioned himself as a "centrist," who is able to walk the middle ground to unify the country and pursue a more pragmatic foreign policy.
For Washington, Mr. Rouhani's victory represents a major opportunity to bolster diplomacy with Tehran to defuse the standoff over Iran's nuclear program. The Obama administration has built a formidable international coalition against Iran, which has led to unprecedented sanctions and coercive measures. The time to balance sanctions with diplomacy is long overdue. Reaching a political solution should be the priority. This will require a shift from tactical maneuvers to a strategy centered on step-by-step diplomacy, including direct bilateral talks. At the same time, Iranian decision makers must commit to working with their counterparts in Washington to reach a mutually acceptable approach for heading off a disastrous confrontation. Nothing can happen without buy-in at the highest level of leadership in both countries.
Asia Society's Vice President of Global Policy Programs Suzanne DiMaggio directs the Society's U.S.-Iran Initiative and has been involved in Track II talks with Iranian officials and scholars since 2001. DiMaggio is one of 35 experts who signed the new report, Strategic Options for Iran: Balancing Pressure with Diplomacy [www.theiranproject.org], released by The Iran Project, a non-profit group that seeks to promote U.S.-Iran dialogue, resolve the nuclear crisis peacefully, and encourage greater regional cooperation with Iran.