In New Delhi, Even Mass Transit Honors Rakhi Holiday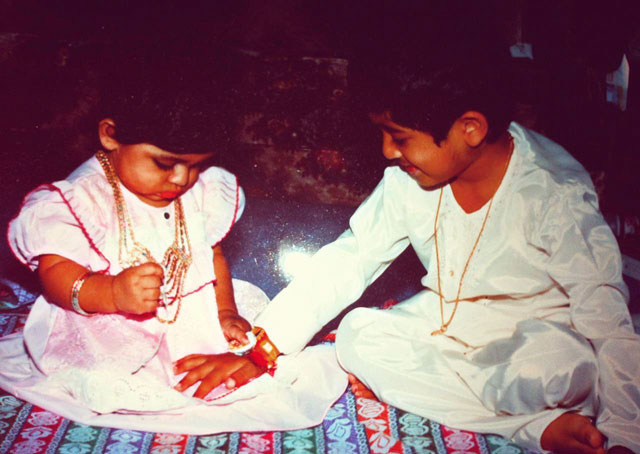 On the Indian holiday Rakhi, or Rakshabandan, brothers and sisters celebrate their relationship by tying a decorative thread (also called a rakhi) around each other's wrists. (Vivek Patel)
In anticipation of huge traffic jams on today's Rakhi holiday (a celebration of the relationship between brothers and sisters), the Delhi Metro announced it would run 160 extra stops. Last Rakhi, the Metro contended with 1.7 million passengers, and this year the Delhi Metro Railway Corporation has allocated extra personnel to field traffic. Northern Railways has even decided to run special trains between Lucknow and New Delhi in expectation of the rush.
As if that weren't enough, women will be entitled to free travel on Delhi Transport Corporation (DTC) buses until 5:00 pm. Chief Minister of the DTC Sheila Dikshit told the public, "The decision has been taken to ensure that women could easily reach the places of their brothers."
On Rakhi, or Rakshabandan, brothers bestow their sisters with generous gifts after they have tied the rakhi, or decorative thread, around their wrists. The styles of these threads tend to vary every year; this year, for instance, Firstpost reports that superhero rakhis are in vogue. Above all, the rakhi represents the sister's love and the brother's vow to protect her, a bond that isn't as clearly honored by many other cultural occasions.
Newly elected President Pranab Mukherjee, Vice President Hamid Ansari and Prime Minister Manmohan Singh also greeted the nation for Rakhi. Mukherjee stated that "The tying of a rakhi by a sister symbolizes love, affection and mutual trust between sisters and brothers. May the spirit of this festival strengthen fraternal feelings in our society, and remind us of the importance of unity and harmony, as we strive collectively for the well-being of our people." With this, Mukherjee affirmed the extent to which the ideals of family values are deeply ingrained in Indian society. When Indians expatiate on the role of the family in their lives, the rakhi is one example of what they mean.
To the delight of some, the holidays in India never seem to end. The north Indian state of Uttar Pradesh has 22 public holidays, whereas the State of New York has 11. In New York, Christmas is the only holiday with religious connotations, the rest commemorate national events. Meanwhile, only four public holidays in Uttar Pradesh are free from religion. The other 18 are Hindu, Muslim, Sikh, Jain, Buddhist, or Christian celebrations that have, in many cases, entered secular spheres. Rakhi isn't even one of these public holidays, yet New Delhi streets have changed their pace.
The pulse of Indian cities undoubtedly reflects the vitality of numerous cultural traditions. Preparing for traffic is just one way New Delhi braces itself. Diwali and Holi in New Delhi are some of the most significant causes of noise and air pollution there, and the city has taken several preventative measures in reaction. Nevertheless, the volume of constant celebration in India clearly requires its densely populated cities to prepare for traffic overflow. Since its opening in 2002, growing accessibility has led to an increased ridership for the Delhi Metro: in August 2011, ridership was approximately 1.9 million per day, and it grew by 2,500,000 in the first six months of the year. Overcrowding, coupled with public fervor for a number of cultural traditions, make transit in cities like New Delhi something to plan for in the coming years.