Listen: How Indonesia's Election Became the 'Tightest and Most Divisive' in Recent Times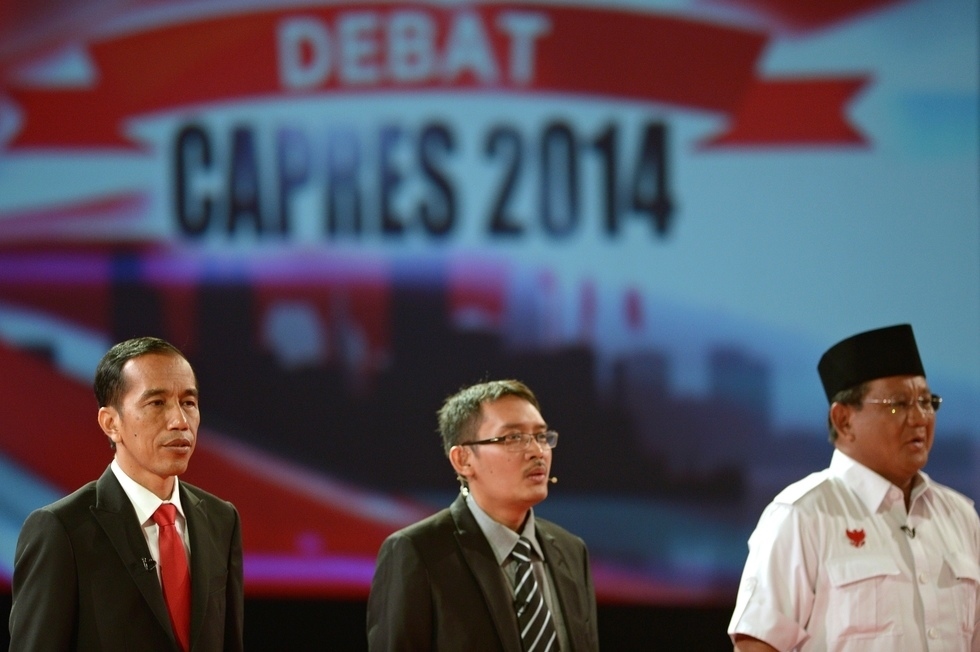 Indonesian presidential candidates Joko Widodo (L) and Prabowo Subianto (R) attend the second presidential debate in Jakarta on June 15, 2014. Campaigning for Indonesia's July presidential election officially kicked off on June 4, with favourite Joko Widodo facing a tough challenge from a Suharto-era former general with a chequered human rights record. (Adek Berry/AFP/Getty Images)
Indonesia's 185 million voters are being courted by two candidates, Jakarta Governor Joko Widodo (Jokowi) and retired Lieutenant General Prabowo Subianto. The candidates present a stark contrast in background, policy agenda, and expected governing style. For the Asia Society Policy Institute's (ASPI) AsiaConnect briefing on July 1, 2014, Ben Bland, Financial Times Indonesia Correspondent, gave his assessment of what to expect from the Indonesian elections. Bland was appointed as the Indonesia Correspondent for the Financial Times in 2012. Previously based in Hanoi and Singapore, he has reported from all over Southeast Asia over the last six years. This blog post presents a condensed, edited version of his remarks, along with an audio recording of the conversation.
How is the contest shaping up?
We have a very tight election here. Looking back to March, this election looked like it would be a walkover by Joko Widodo, the governor of Jakarta and the former mayor in his small town in central Java. Jokowi, as he's popularly known, had a 30 percentage point lead and was expected to walk straight into the presidential palace, but things haven't turned out that way. Prabowo Subianto, who is a former special forces general, has made a remarkable comeback. This has been the closest, tightest, most divisive recent election in any big democracy in the world, bearing in mind that Indonesia is the third-largest country in which voters cast their ballots directly for candidates (as opposed to a system such as the Electoral College in the United States).
What appeal does each candidate hold for Indonesia's voters?
Two years ago, when Jokowi was running for the governorship of Jakarta, many people never heard of him. He was a facing strong incumbent who was backed by the political establishment. I arrived in Indonesia when he was getting ready to run. I asked around about him and the prevailing opinion was that while he might be a good guy, he has no political power behind him and therefore no chance of winning. And he surprised everyone with a come–from-behind win. No sooner had he taken office in September 2012, than people starting saying he would be the frontrunner as a presidential candidate. Jokowi's campaign focused on fewer speeches and more personal interaction with the locals. His popularity stems from his image as a simple, honest "ordinary Joe". As mayor of Solo and governor of Jakarta, he's mostly followed through on his campaign promises by trying to improve access to health and education, cut red tape, streamline bureaucracy, and create balance between foreign investments and local economy. The rise of Jokowi is one of the most meteoric rises of any presidential candidate anywhere in the world.
The other candidate, Prabowo Subianto, is a figure from Indonesia's "New Order" past: the era of President Suharto, who ran an authoritarian regime for 32 years. Prabowo came from a family of Indonesian patriots and founding fathers. He rose through the ranks in military to become the third-highest ranking officer in the Indonesian military by 1998. His campaign style has been characterized by rousing speeches and big muscular rallies. And he has an image of being the anti-elite and anti-corruption candidate, even though he comes from the class of elites that the public has largely criticized and disliked.
Why has the race become so much tighter than expected?
I would point to four main reasons for the shift in the race, which has occurred because of stumbles on Jokowi's part and as well as savvy campaigning by Prabowo.
First, Prabowo's camp came out of the blocks early to define Jokowi negatively.
Second, Jokowi has run a rather poorly coordinated campaign.
Third, Prabowo is backed by a powerful political machine and has support from allies.
Fourth, Prabowo has tapped into a vein of nationalistic sentiment that has only been bubbling under the surface for the last five years.
How will Indonesia's choice affect its economic and political fortunes?
Whoever wins the presidency and takes office will have to tackle serious, immediate economic problems. The widening budget deficit, which is approaching Indonesia's legal limit of three percent, ballooning subsidies for fuel imports, and negotiations over new minimum wage, await the new president. The effect of the Chinese economy cooling means less demand for Indonesian exports like coal, palm oil, and rubber. In the next five years, the president will have to deal with structural problems, endemic corruption, inadequate infrastructure, the rise in social inequality, regulatory uncertainty, and a failing health and education system. It will take real leadership to overcome these problems.
In international relations, I think we might see Indonesia make an inward shift as the new President comes to grips with the country's domestic issues. The current President of Indonesia, Susilo Bambang Yudhoyono, has largely put the country's foreign policy in the hands of Foreign Minister Marty Natalegawa. We don't know whether he's going to stay or the next president will select another foreign minister. There should some a degree of continuity in foreign policy, since Indonesia has a key role to play in ASEAN and its attempt to build an EU-style economic community, by acting as an honest broker with the ASEAN states in the South China Sea disputes. But Indonesia might end up with a president who wants to retreat from the international stage in order to focus on some difficult domestic issues.
Listen to the AsiaConnect call with Ben Bland using the audio player below.