For Lessons in Governance, Could Tidy Singapore Look to New York?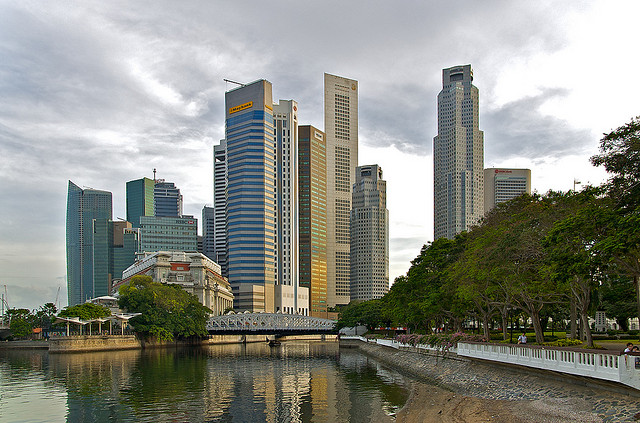 View from Marina Bay in southeastern Singapore. (Freimut/Flickr)
Singapore is a model for the world's cities: spectacular architecture, cutting-edge, efficient transportation, and some of the most phenomenal gardens and parks in the world.
Yet dissatisfaction in the country is pervasive. The country's Prime Minister, Lee Hsieng Loong, highlighted the concerns faced by his citizens at the opening of this week's World Cities Summit: too many migrants, too much congestion and outdated urban housing.
As the old proverb goes, you give a man a fish, and he eats for a day. You teach a man to fish, and he eats for a lifetime.
In Singapore, there is more giving than teaching, and for this reason the government faces a grave problem: its population, largely absent from decision-making, expects its government to land bigger and bigger fish each year.
Singapore may attribute much of its success to single-party governance, which facilitates strategic decisions being made in both the short- and long-term without dissent.
But, as Helen Clark, the United Nations Development program's top official, warned this week, "Autocracy in cities is not going to work."
It's rare, in today's Asia-centric world, that you hear success stories from the West. But in New York, winner of this year's World Cities Prize, the city's recent achievements can be attributed to a combination of top-down and bottom-up approaches.
New York has realized that government, while still responsible for implementation, should also rely on civil society, which has greater permanence than governments that change every few years.
"We come and go," New York's Commissioner for Parks and Recreation Adrian Benepe said. "But the NGOs are more permanent."
In New York, civil society forms a critical tooth in the city's political cogs. Benepe oversees US$160 million in private charitable support annually from citizen groups, which in turn transform outdated infrastructure into hundreds of acres of parkland.
Coupled with tough government-led action in cleaning up crime, putting more of its population through school and adding bike lanes, New York has created a safe operating environment. But Benepe says the most significant component of the city's recent turnaround are new parks that foster a sense of ownership in neighborhoods where community groups are largely involved in their maintenance and development.
One party, many excluded
Singapore should heed the lesson of New York to help civil society groups participate in creating the city and country that they want. In this way the Singaporeans can be content, or even discontent, but simultaneously responsible for their own fate.
Prime Minister Lee's People's Action Party (PAP), the same political party founded by his father upon the country's independence, has had a lock on Singapore's political scene for more than 50 years.
But I've found in my own past experience here that ordinary Singaporeans — from taxi drivers to university students — frequently feel left out from decision-making.
Singapore, at present, is a highly controlled timber-box. Levels of social capital — the value of relationships between members of society — are low. Singapore's rapid development is largely supported by immigrants at all levels, who, while supporting projects, often feel discriminated against. Low-skilled migrants are accused of keeping wages depressed. The so-called highly-skilled "foreign talent" is accused of taking jobs from the country's educated population.
Singapore's 2011 election showed that the PAP's lock on power won't be sustained indefinitely, as opposition parties picked up the most seats in parliament since the country's independence.
The PAP's 2011 campaign was largely based upon the premise that its own politicians are best suited to lead the country forward. Unfortunately, Singapore needs to weather a period of political change if it's to realize its political and economic sustainability fully.
Singapore's Ambassador-at-Large Tommy Koh said that what makes his country great is its emphasis on "good governance." But good governance is not enough by itself, nor are technological solutions to urban problems.
Including its people in a more participatory process would greatly benefit the country's long-term stability. Opposition political parties are largely perceived as being inadequately skilled to take over from the PAP, but despite their lack of experience, it is likely that they will eventually take over the reins. Because they have been mostly kept at arms' length, when the transition happens for the first time the country's political future will become less certain.
America's economy is currently ravaged, unemployment is high and infrastructure is inadequate.
But while the U.S. continues to weather a global recession, and a lukewarm recovery, its citizens have real choice with respect to leadership, as well as the types of community projects to get involved with.
The U.S. may be polarized by Tea Partiers and the Occupy Movement at both ends of the spectrum. But these two groups are nevertheless impacting the decisions made by American politicians, who at least are forced recognize to legitimacy of their complaints.
Singapore has experienced 8 percent growth on average since its founding in 1965; the Development Bank of Singapore, however, now only predicts growth of around 3.5 percent. Singapore's lawmakers are undoubtedly alarmed by this.
With its population pressuring for change, Singaporeans should be encouraged to get involved, and quickly. The country's young people are well-read and critical, and unlikely to watch idly from the sidelines. The example of New York should demonstrate the advantages of an active civil society and Singaporeans should be made free to pursue community development as they see fit, in spite of short-term risks to the political status quo.