Interview: William Dalrymple and the 'Very Attractive' World of the Late Mughals
Already an acclaimed travel writer and journalist known for his writings on South Asia, William Dalrymple has become, over the last decade, arguably the pre-eminent English-language chronicler of India's late Mughal period, on the basis of his books White Mughals (2002) and The Last Mughal: The Fall of a Dynasty: Delhi, 1857 (2007).
Dalrymple now adds to his portfolio by co-curating, with Yuthika Sharma, Asia Society Museum's latest exhibition, Princes and Painters in Mughal Delhi, 1707-1857, a sweeping survey of North Indian artistic and cultural activity in the roughly 150 years when the Mughal Empire gave way to the British Raj.
In conjunction with the exhibition, Dalrymple will give an Asia Society Members' lecture this Thursday, February 23; the following Sunday, February 26, he will give a special reading in which he is accompanied by North Indian vocalist Vidya Shah.
Asia Blog caught up with Dalrymple via email on the eve of his New York appearances to ask about the exhibition and his longstanding fascination with the late Mughal Empire.
We were wondering if you could describe the genesis of your involvement in the Princes and Painters exhibition. How does a historian come to co-curate a museum exhibition?
Although I trained as an art historian as an undergraduate at Cambridge 25 years ago, I have never worked as one until Vishakha [Desai, Asia Society's President] offered me the chance to curate this show in 2007. I had just written The Last Mughal, a book about the Mughal Emperor Bahadur Shah Zafar and the great rebellion of 1857, and launched the book at the Asia Society. When Vishakha saw the images from that book she realised that there was something very remarkable in the art of Delhi at that period, something few non-specialists had ever seen, and she very generously gave the chance to mount a show of the forgotten art of the later Mughals, something which has never been shown properly before.
The exhibition presents a complex interplay between Indian artists, Indian patrons and European patrons. Is it too much to see this interaction between Eastern and Western painting traditions as a precursor to today's own increasingly globalized fine art culture?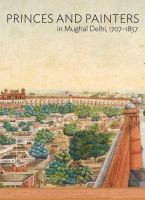 The 18th century was far more globalized than we realized. Sir David Ochterlony, who was the first British ambassador to the Mughal court, who allegedly had 13 Indian wives, for one of whom he built a Mughal tomb in the tradition of the Taj, was actually born in Boston.
Artists at this period are experimenting mixing Western and Mughal traditions of painting: depending on their patron and what is required of them, they can do flat full frontal, in the Mughal tradition, or with perspective and shadow, in the Western mode. They can use watercolors or Indian stone-based pigments, and paint on cloth, wasli or watercolor paper. It's a period of astonishing intellectual and artistic experimentation.
Reading The Last Mughal, I sometimes had the sense that you could easily have spun off the material on late Mughal literary culture (i.e., the poetic tradition that had its final flourishing in Zafar's court) into a whole separate book. Do you feel a particular attraction to that milieu?
There are many, many books waiting to be written on the late Mughal court. It's a fascinating field — all barriers are porous, religions and ethnicities and artistic traditions mingle and mix and fuse with unique ease — and it is so little studied. And yes, I find it a very attractive world, pre-dating the binaries and hatreds of Victorian colonialism. At this point cultures are much more open to one another. I first encountered this world while writing City of Djinns in 1991 and it's still keeping me fascinated two decades later.
Your two books on the late Mughal period have done an enormous amount to give English-speaking readers a new perspective on this part of history. Are there additional corners of South Asian history that strike you as needing this kind of re-examination or re-evaluation in the 21st century? (The introduction to the Prince and Painters catalogue hints at some slightly revisionist ways of thinking about Aurangzeb, for instance...)
Yes, there is much work remaining to do, and Aurangzeb is a fascinating though rather depressingly puritanical figure. My current project is called The Return of a King: Shah Shuja and the First Battle for Afghanistan, a history of the catastrophic First Afghan War, 1839-42. On that occasion the East India Company sent 18,000 men to Kabul. After that army was surrounded and defeated, only one man made it back to Jalalabad. Its a story that's been told many times before but I hope to give a new perspective on it using the fabulous array of Afghan sources in Persian that I have found on my journeys around Afghanistan. The book is nearly done and I hope to have it out by the fall.